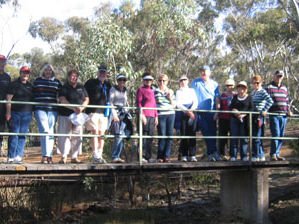 Adelaide Evening SA
---
Seven Stars Hotel Adelaide

Third Tuesday of the month at 7pm. Optional meal from 6pm.
MONTHLY BRANCH MEETINGS - SEVEN STARS HOTEL, 187 ANGAS ST ADELAIDE. THIRD TUESDAY OF EACH MONTH FOR DINNER AND MEETING. CITY VENUE WITH ON STREET PARKING FREE FROM 6 P.M.

MEET 6.00 P.M. FOR DINNER MEETING


OUR DATES FOR 2021 ARE TUESDAY EVENINGS AS FOLLOWS :

16th FEBRUARY: No guest speaker organised
16th MARCH:
20th APRIL: Guest Speaker - Hilary Amos, South Africa Holidays
18th MAY:
15thJUNE:
20th JULY:
17th AUGUST:
21st SEPTEMBER: AGM - Hilary to present her Silo Art Tour
19th OCTOBER:
16th NOVEMBER:
DECEMBER: CHRISTMAS DINNER. DATE AND VENUE TO BE ADVISED


STROLLERS WALKING GROUP MEET MONTHLY ON THE 3RD SUNDAY
Walks are generally undertaken February to November, with November being our Christmas walk and outdoor picnic.



"The Strollers" Walking Group
Our walking group meets at various times and locations. Some walks are undertaken late morning then followed by lunch at a hotel/cafe/restaurant, other times we walk in the afternoon with maybe afternoon tea part-taken of nearby or later in the afternoon followed by dinner at an appropriate eatery.

February 21st
March 21st
April 18th
May 16th
June 20th
July 18th
August 15th
September 19th
October 17th
November 21st - Christmas Picnic