Banduk Marika
---
Banduk Marika AO - artist, cultural activist and environmental adviser - is the 2020 Northern Territory Senior Australian of the Year.

By Emma Edwards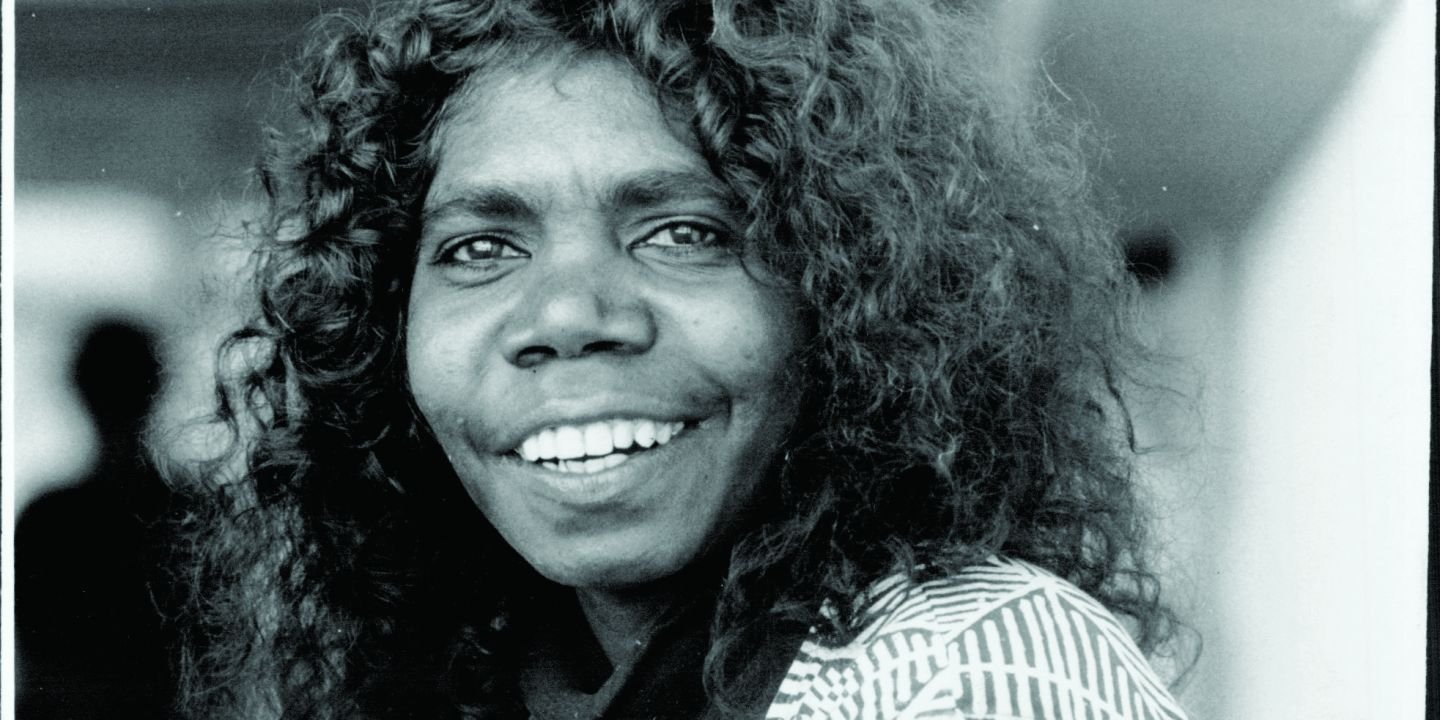 "I've never really thought of myself as a volunteer as such, more just a very lucky person," says Banduk from her home in Yirrkala, NT.
"I ask myself what my purpose is, and the only answer I have is that I get my acknowledgment spiritually, if you like. I don't have to prove anything to anyone—the trees are growing, the seedlings are coming up, the land is being rehabilitated. The land appreciates it, and that's enough."
Formerly a mission, the Yirrkala community continues to walk a complex line between its cultural heart and the pressures of the non-Indigenous world.
"I'm sitting here listening to someone preaching at the top of their voice—they're talking about how our culture cannot coexist alongside Christianity. That is just damaging. We're lucky to have the country we do up here and an abundance of natural resources. We have so much to take from the land and sea—who are these people to tell us that our way is wrong?"
"By all means, work with our communities and help us to make our lives better, but culture and language are who we are and how we relate to our country. You have to respect that."
Banduk was taught to paint on bark by her father, Mawalan Marika, who saw art as a form of advocacy that could foster a greater understanding of the Yolngu world. She left home at 18 to pursue a career in the arts. In later years, Banduk was appointed artist-in-residence at the Canberra School of Art and then Flinders University in South Australia. Today, her protectiveness of Aboriginal culture is balanced by an appreciation of her experiences in the non-Indigenous world.
"I don't think I would have survived without the non-Indigenous friends who became like family. I wouldn't be where I am without them. I used to travel a fair bit and having children of my own brought its own problems. Leaving my family, my home,my community in Yirrkala at that age was difficult, but it has meant that over the years I've been able to provide education,healthcare and a good home for my children and grandchildren," she says.
"It's difficult for a traditional Indigenous person to balance what's expected by your family and community alongside what's expected by mainstream society. In our community there are endless protocols and customs and taboos and then you compare that with the non-Indigenous type of customs and the law and the protocols and then you kind of think, 'alright, how to balance these' and 'what's the best way to translate these across?'"
Having navigated the Indigenous and non-Indigenous worlds throughout her lifetime—and during an illustrious career that includes being chairperson of the Aboriginal Visual Arts Committee of the Australia Council for the Arts, the first aboriginal person elected to the boards of the National Gallery of Australia and the Museum and Art Gallery of NT—Banduk acknowledges the implicit challenges.
"I don't have to prove anything to anyone—the trees are growing, the seedlings are coming up, the land is being rehabilitated. The land appreciates it, and that's enough."
"I am so worried about our future. We have lost so many young people to suicide, diabetes, heart disease and cancer—conditions we never had to deal with on this scale before. I'm worried about our older people trying to hand down the depth of knowledge that they have so that our young ones can understand how to survive in this world. We're losing people at a rapid pace, and that means losing knowledge and culture too. Without this, how do we know who we are? We'll become strangers in our own country, fitting in nowhere."
Now a cultural adviser with Laynhapuy Homelands Aboriginal Corporation, Banduk and a team of rangers support communities to develop sustainable, self-sufficient homelands for themselves, their families and future generations.
"It was only in the 70s, with the homeland movement, that people started going back to their own countries. Schools and employment are critical for our communities, which is why the Yirralka Rangers are so important. They make our communities safe through animal and weed control, fire management and all that sort of thing, and their existence is also how we sustain those very communities."
With her artwork on display in the National Gallery of Australia, Te Papa in New Zealand and the National Gallery of Art in Washington DC and having been awarded an honorary doctorate from Flinders University, 2019 saw Banduk made an Officer of the Order of Australia.
"It's a tricky thing. I have a lot of family members who have worked for 30 and years without acknowledgment—committing themselves to our community without receiving the recognition that I have. And they continue to do so, in education, in health, in the areas of domestic violence and alcohol abuse. One of my sisters, Yalmay Yunupingu, is one of the dedicated teachers at our local school. I'm so pleased to say that she's just recently been recognised, but there are many more like her."
"That's why it's important that somebody like me—who has been very, very fortunate—acknowledges the 'quiet achievers'. They're hardworking and our communities need them so badly."