Challenges to ageing in a regional area
---
Most people express a strong desire to 'age in place;' that is, to remain in their home and community for as long as possible during their later years.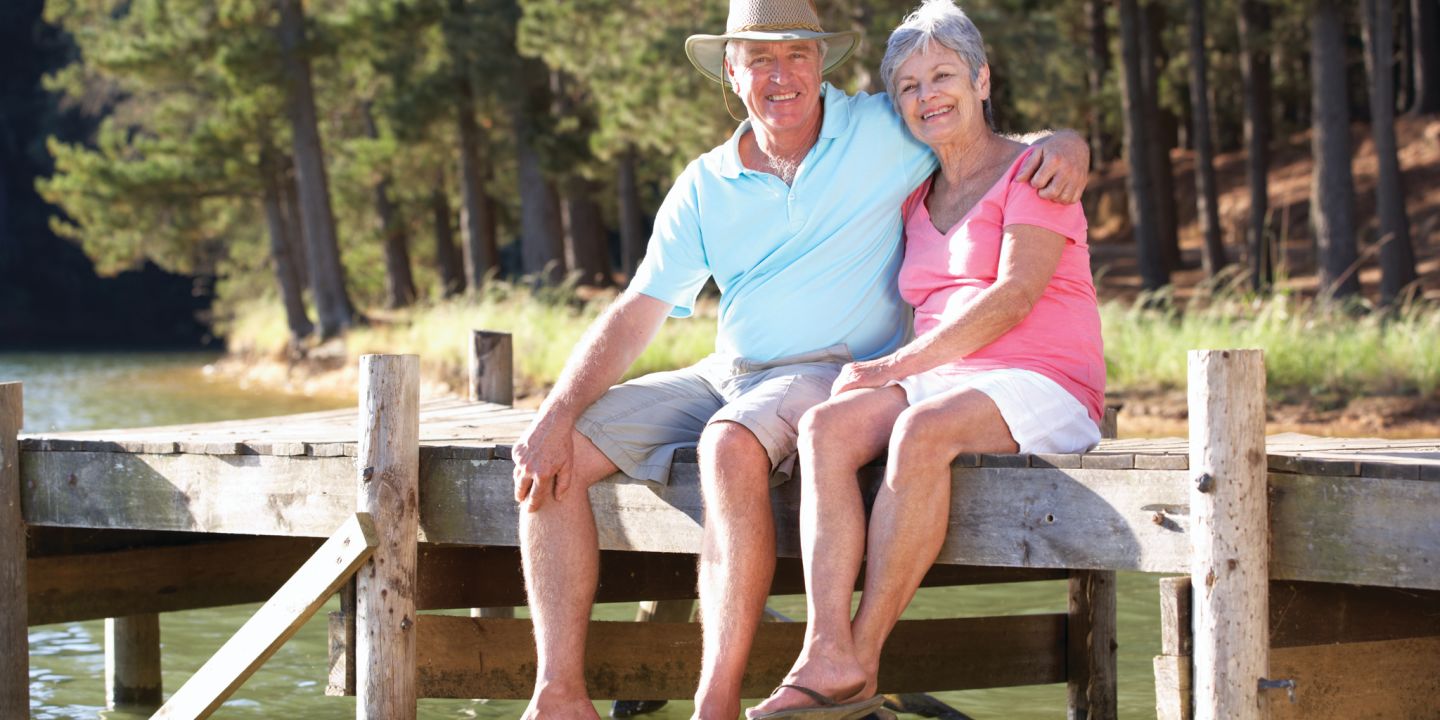 Ageing at home, however, may require support from multiple health, medical and community services to prevent early entry into residential care(1). In many regional, rural and remote areas, ageing in place is not easy because people struggle to access the assistance and care they need(2).
Living costs are a challenge to healthy ageing in regional locations. Everything is more expensive, from food to transport,which discourages healthy behaviours such as buying nutritious food, going to a gym or maintaining social engagement(4).
Regional seniors are disadvantaged on multiple fronts. Compared to their city-dwelling counterparts, they are financially less secure, experience greater levels of disability, have worse health outcomes and higher per capita need for aged care support(5).
Despite need, very few high-level care packages are available for people living outside major centres and accessing residential care may mean moving not only from home, but away from one's community. On average, people living in regional areas move 86km and people in remote/very remote areas move 400km to access residential aged care, compared with 39km in major cities(6).
More use of lower level Home Support Program Packages and fewer residential placements were reported by the Productivity Commission for rural areas(7)and this may indicate that the higher care needs of older rural and remote residents are not being met(8).
Finally, there are specific barriers in rural communities to navigating the My Aged Care system; internet coverage in remote areas may be inconsistent, and information unclear about where services are coming from. These issues are on top of the challenges faced by some older people of using an entirely web-based system for accessing care.
In the National Seniors Social Survey (NSSS-8), respondents shared their thoughts about aged care and the ageing issues that were important to them. Approximately 10 per cent identified as living in rural or remote areas and their comments clearly represent the struggles experienced by older people living outside metropolitan centres.
Inadequate access to health and medical facilities was the overarching sentiment of rural and remote participants' free-text responses.
​"Most significant health facilities are located in major cities so to access adequate health care and specialist services often requires a six-hour round trip. As we age, we'll all need these services but they just aren't available unless you live in or close to a capital city."
GP shortages and subsequent extended wait times were common experiences:

"Shortage of GPs in rural areas. Even though we are patients of a regular health practice, you rarely get to see the same GPs they are here on short term contracts or you have to wait several days, sometimes up to a week, to see the doctor. There is no bulk billing service."
"After waiting five months once relocated here, we were finally able to find a new local GP to become our family doctor. [There are]large shortages of GPs in this ... region."
Although local emergency services were available, they weren't necessarily adequate:
"I am concerned that although we can attend our local hospital for any emergency, unless it is within certain hours, we will be sent to Wodonga Hospital, one-and-a-half hours away by ambulance. Not good in certain situations."
But fly-in fly-out services were appreciated:
"It is not always possible to get special or specialist health care without considerable travel, but the various Care-Flight and similar emergency services are particularly wonderful in many ways."
The travel distance required to access specialists and specialist medical care was a major concern:
"As with everyone in my community, we have to travel 400-plus kilometres for specialist medical treatment."
Travel was particularly difficult for those with a disability or older residents:
"I have to go to Toowoomba—four-and-a-half hours away to see specialists. [It]becomes harder as people get older."
"Because of my disability, travel is very difficult. I cannot use buses or even the airline in my town. The only option for obtaining specialist care is by private vehicle. When/if my husband is sick I cannot leave the town. In emergencies the flying doctor takes patients to the nearest large town but does not return them to their home. This creates a lot of difficulties."
The burden of additional cost due to travel was also highlighted.
​"Carers pension is means tested and not compensated for the cost of taking a relative to medical visits 100km drive each way."
"We fly to Brisbane for specialist treatment and the airfares are exorbitant compared with larger towns."

Some rural and remote residents felt wrongly disadvantaged compared to city dwellers:
"A lot of the medical services available to our city folk are not available to us,even though we have to pay the same level for private health cover, and even if we are able to get access to needed health services, we have to be on an often unacceptable list of preference. It's not only health services we suffer loss of in rural regions, the cost of living and general services are often dearer as we have no other options available to us and the providers know it and charge accordingly."
"Anyone not in a city is unseen by the policy makers."
"Our area is known as Far North Queensland. It would be better described as 'Forgotten North Queensland' as everything is available if you live in a major centre. Not so in the country."
Many highlighted the lack of services generally, particularly the lack of public-transport when driving is not possible.
"There is next to no public transport. Getting to the local doctor can be difficult if you don't have a partner, family or friends that can drive. Getting to a specialist is extremely difficult. We had a community car available, driven by two locals who volunteer their time. The car is booked up most of the time."
Lack of connectivity was another source of frustration:
"Mobile connection, it's always dropping out. NBN, well that's a complete joke. Telstra seem to be constantly working on it and we are always checking the home phone to see if it actually works."
As was the general lack of community resources:
"Too far to go to anything or place on spur of moment. Need to plan weeks in advance to go anywhere. No resources/community involvement for ageing people."
"It is much harder to access services e.g. garden maintenance, house repairs, housework help, health services including x-rays, physiotherapists etc."
In 2018, the Commonwealth funded a rural and remote accord as part of the Aged Care Workforce Strategy Task force to manage aged care in rural locations.The accord aims to bring together aged care organisations in partnership with employment, health, education and training sectors to build the rural aged care workforce.
The Royal Commission into Aged Care recently held hearings addressing the chronic lack of services in rural areas and recognised the injustice of the current metrocentric' system(8). As Senior Counsel Assisting, Peter Gray QC clearly stated:
"People living in rural, regional and remote communities in Australia ought to have the same levels of access to aged care as people living in metropolitan areas, and the aged care they receive must be safe and of high quality."
"There's no doubt that rural and remote settings pose special challenges for the delivery of aged care... however, equity of access to quality aged care for Australians who live outside the big cities is a matter of simple fairness."(10)
There appears to be strong willingness from all stakeholders to address these challenges but implementing change will take time, resources and common understanding across the sector.
Outside metropolitan areas, there are significant shortages of primary health providers including insufficient GPs, hospitals and emergency departments
Accessing dental care, allied health and specialist services is more difficult and may require greater time and expense for travel and accommodation; especially in remote locations
Infrastructure for health services and health related activities is limited and being eroded by lack of ongoing investment
Attracting and retaining health professionals to country towns is challenging due to limited facilities and opportunities for professional development
A distinct set of health and care workforce challenges apply to remote Aboriginal and Torres Strait Islander communities, including language and cultural issues, and continuity of workers in the context of fly in/fly out or drive in/drive out service provision(3).
The Regional, Rural and Remote Special Interest Group of the Australian Association of Gerontology has recommended the following changes to improve access to aged care services in rural and remote areas(8):
a national action plan for aged care for people in rural and remote areas
review of rural and remote aged cares service access and quality
minimum standards for accessing services
changes to government policy and funding to support greater levels of collaboration between rural service providers
workforce related initiatives such as promoting training and employment of local community members and sharing staff and infrastructure
a national research and data strategy
Luker JA, Worley A, Stanley M, Uy J,Watt AM, Hillier SL. The evidence for services to avoid or delay residential aged care admission: a systematic review. BMC Geriatrics [Internet].2019 Aug 8;19(1):217. Available from: https://doi.org/10.1186/s12877-019-1210-3
Anderson EM, Larkins S, BeaneyS, Ray RA. Should I Stay or Go:Rural Ageing, a Time for Reflection.Geriatrics (Basel) [Internet]. 2018 Aug 3;3(3):49. Available from: https://www.ncbi.nlm.nih.gov/p...
The National Rural Health Alliance Ltd. The National Rural Health Alliance Fact Sheet. 2020.
Davis S, Bartlett H. Review Article: Healthy ageing in rural Australia:Issues and challenges. Australasian Journal on Ageing [Internet]. 2008 Jun 1 [cited 2020 Jan 30];27(2):56–60. Available from: https://doi.org/10.1111/j.1741...
The National Rural Health Alliance Ltd. A rural perspective on living longer, living better. 2013.
Australian Institute of Health and Welfare. Older Australia at a glance[Internet]. Canberra: AIHW; 2018. Available here.
Australian Government Productivity Commission. Report on Government Services; Part F Chapter 14; Aged Care Services [Internet]. 2019. Available here
Winterton R. Witness Statement of Dr Rachel Winterton to the Royal Commission into Aged Care Quality and Safety [Internet]. 2019. Available here
Australian Institute of Health and Welfare. Older Australians at a glance. Canberra: AIHW
Mr P.R.D. Gray QC. Transcript of Proceedings. Sect. Royal Commission into Aged Care Quality and Safety, O/N H-1063589 Mudgee; Nov 4, 2019 p. 6304