Mal Leyland: The journey continues
---
In a time before tourism campaigns, the Leyland brothers showed Australians how to get out and explore this incredible country. Our Generation talks to Mal Leyland and finds that the subplot to their amazing adventures was an even more incredible love story.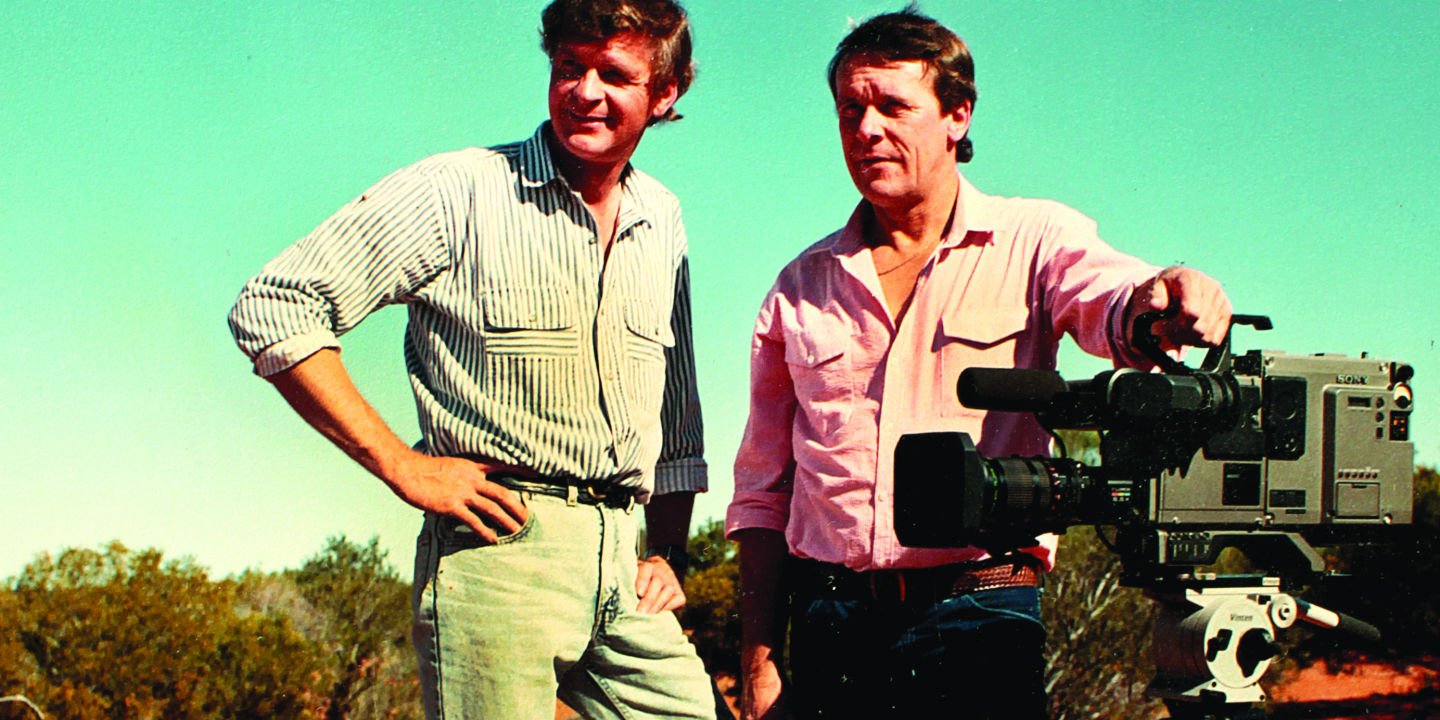 The Leyland brothers grew up in the small town of Waratah, just outside Newcastle, New South Wales, where their parents ran a local store. With just four years between them, Mal and Mike grew up watching David Attenborough on the tiny black-and-white television their father had hooked up to an enormous antenna.
After finishing school, Mal and Mike embarked on an adventure across Australia in their father's Morris Minor,planning to record their journey using Mike's 16mm movie camera. Mike was working as a news cameraman for NBN Television while Mal had a cadetship at The Sun newspaper. Together they had athirst for exploration and storytelling.
After a local mechanic and friend caught wind of their ambitious plans, he promptly pulled their father aside and informed him the boys would never make it in the family sedan. So, the decision was made to sell the car and purchase an old Land Rover instead. It was a wise call. Mal recalls their maiden voyage to Uluru (then called Ayers Rock):"The Land Rover gearbox was stripped and we couldn't put the bloody thing in reverse. We actually tried to drive it up the side of the rock, with Mike at the wheel and me and a friend of ours sitting on the hood. We didn't get very far before we realised it wasn't going to happen," he laughs.
There were as many mishaps as there were marvels on that film reel. And that's what made Mike and Mal's adventures so mesmerising to Australian viewers. They were, after all, just a couple of ordinary blokes out in the middle of nowhere, figuring it out as they went along with the help of friendly locals.
The Land Rover gearbox was stripped and we couldn't put the bloody thing in reverse. We actually tried to drive it up the side of the rock, with Mike at the wheel and me and a friend of ours sitting on the hood.
For Mal, however, the real adventure was just about to unfold. He vividly remembers the first moment he laid eyes on the woman who would become the love of his life.
"Laraine and I went to the same school but we didn't know each other very well,"Mal explains." I remember being in a rush to leave the house one day, as I'd promised to meet Mike so we could get some editing done. Laraine was doing those Tupperware-type parties and Mum had agreed to host one for her––she was a bit of a matchmaker."
When the doorbell rang, I opened it and saw Laraine standing there. My jaw just dropped, she was so stunning. She had her blonde hair done up and I can even remember the blue and white dress she was wearing. She made all her own dresses back then.
"When I got to the editing studio I couldn't concentrate at all. All I could think about was getting back to the house to see Laraine. When we finally returned, she was packing her gear up and I offered to help, thinking I could work up the courage to ask her out. She was having some trouble starting her vehicle––a Volkswagon Beetle––and next thing I knew she had popped the boot where the motor was, got in there and fixed it herself. I couldn't believe it. She was just incredible."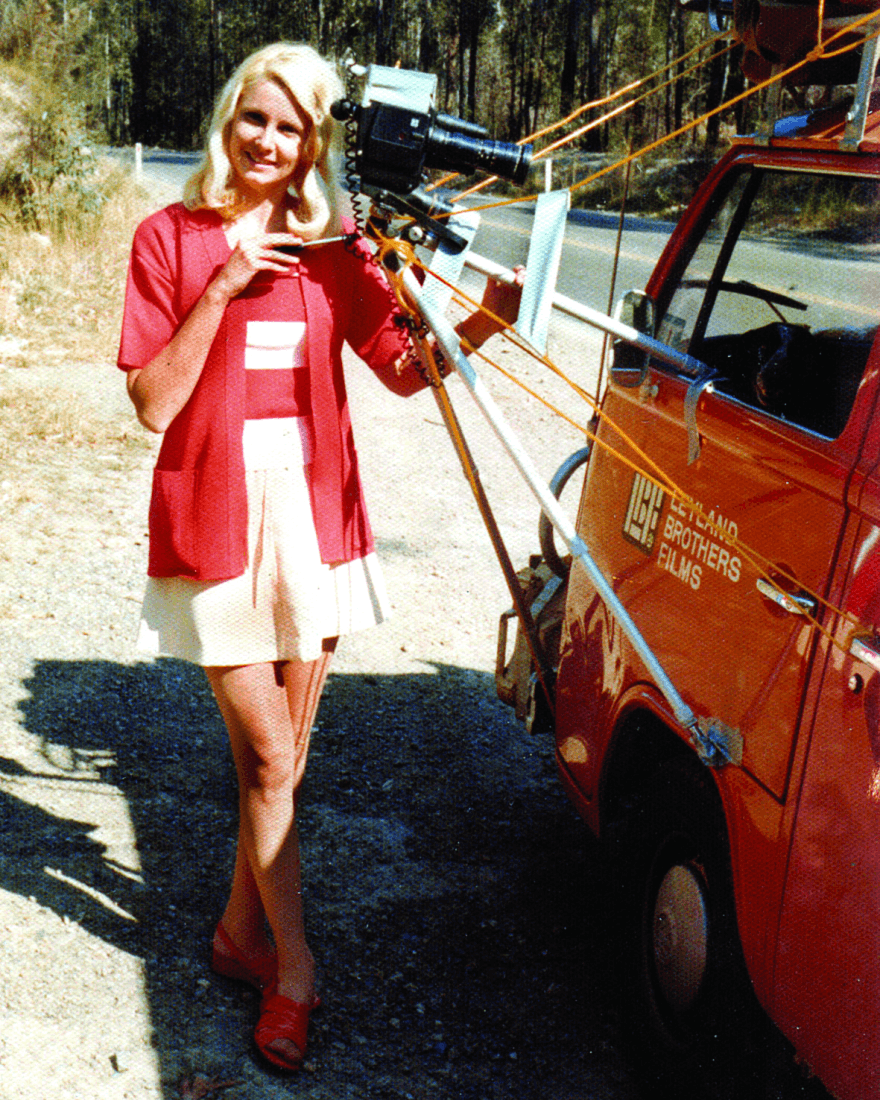 Laraine with the Leyland Brothers Kombi
It would take another two meetings before Laraine, again taking matters into her own hands, asked Mal to accompany her to a friend's party. The pair immediately became inseparable.
"I remember the moment I asked Laraine to marry me," he says. "Her expression went from happy to sad. She said, 'I want to say yes, but I'm not sure I can.'"
Laraine explained she had been born with a weak heart and doctors told her having children was out of the question because it would likely kill her.
Mal told her he wasn't marrying her for her breeding capabilities, and that was that. Laraine joined Mal, Mike and Mike's first wife Pat on the road as they recorded their televised adventures, including Open Boatto Adventure, Off the Beaten Track and the famous series Ask the Leyland Brothers, which launched in 1976 and drew a weekly audience of 2.5 million people.
In each episode, the Leylands explored locations suggested by viewers. The public sent them in search of fabled monuments, rare wildlife and far-flung towns, soaking up their travels and misadventures along the way.
The Leyland brothers became national icons responsible for inspiring a generation of Australians to get out and explore their own backyard. They became so well recognised that they had to go incognito when scouting potential filming locations.
"We used to get an incredible amount of reader mail with tips for the show," Mal says.
"We had magnetic signage for our vehicles,so when we went to check a place out we'd take the signs down and Laraine would go in first to see if it was worth doing a story on. But eventually people started recognising her from the show and it was impossible to go undercover."
The series was a hit and Laraine had a successful modelling career. Mal even encouraged her to start her own modelling school, which provided the couple with an additional income stream.
"Then one day I came home and found Laraine sobbing on our bed," Mal says.
"I asked her what was wrong and she said, 'I want a child.' I reminded her what the doctors had said but she told me she didn't care; she wanted to have a child even if it meant she wouldn't survive. It was incredibly difficult for me to reconcile but the thing about Laraine was she was absolutely determined once she had her mind made up about something."
The couple consulted a specialist obstetrician who agreed to help them. After a while Laraine fell pregnant and the couple welcomed a baby girl named Carmen.
"I was in the delivery room when Laraine was in labour with Carmen, which was unusual back then," Mal says.
"She had been in labour for some time and I hadn't had anything to eat. One of the nurses said to me, 'Look, nothing's happening, you better go home and have a meal.' So I dashed up the road to Mum's and she had a hot meal waiting for me. I shovelled it down and told her I couldn't stay to chat, I was in that much of a hurry to get back to Laraine."
When I walked into the ward, the nurse I'd spoken to ran up to me looking upset and said, 'I'm so sorry, Mr Leyland...'My stomach just dropped. I thought that was it, I'd lost them, but she explained Laraine had given birth while I was off having dinner."
"The media said we weren't on speaking terms but that wasn't true at all. We saw each other regularly and even shared information about what we were working on."
It took Laraine almost two years to fully recover from the birth, but she and Mal were absolutely besotted with their little girl. Life on the road resumed, this time with baby in tow.
"Carmen really grew up travelling around Australia. She is a natural in front of the camera. She is very much like her mum but probably more comfortable talking 'to camera' than Laraine was," Mal says.
Later years saw Mike and Mal go their separate ways after their Leyland World theme park went into receivership, but Mal says reports of a 'feud' were untrue.
"The bankruptcy put a strain on our working relationship but ultimately we were on different wavelengths creatively," he explains.
"The media said we weren't on speaking terms but that wasn't true at all. We saw each other regularly and even shared information about what we were working on, which was funny because we were producing shows for rival networks at the time. There wasn't any animosity between us as brothers."
Mal and Laraine went on to launch their own travel magazine before producing Leyland's Australia with Carmen and her husband Robert in 2000.
Now, after almost 50 years of marriage, Mal is travelling solo following Laraine's death in 2018. She was just 75 years old.
Her passing left Mal completely devastated."It's taken me a year to be able to talk about it properly," he tells me from their home outside Toowoomba, in Queensland's south-east.
"Laraine for me was a once-in-a-lifetime love, and I'll never find anyone like her again. I miss her terribly."
But the journey of life continues for Mal who, in addition to working as a travel reporter for Network 10, is writing books. His autobiography,Still Travelling: MyLife as a Leyland Brother and Beyond, is available to order through bookstores and he's also working on a fiction series he hopes will be published in the near future.
He also plans to shoot another Leyland series with daughter Carmen––this time from the comfortable confines of a solar-powered motorhome with a built-in generator. It's nothing fancy, he says, but it's certainly luxury travel compared to the Land Rovers and Kombis that carried the Leyland crew over bitumen and dusty desert roads throughout this great southern land. For Mal, adventure still awaits and the next chapter is yet to be written.