Part of something bigger than ourselves
---
A social media snap of Woodgate Rural Fire Brigade captured the attention of media, as two crews of 70-somethings tackled bushfires threatening their town. Here, rural firies share their experiences of the worst fire season in Australian history.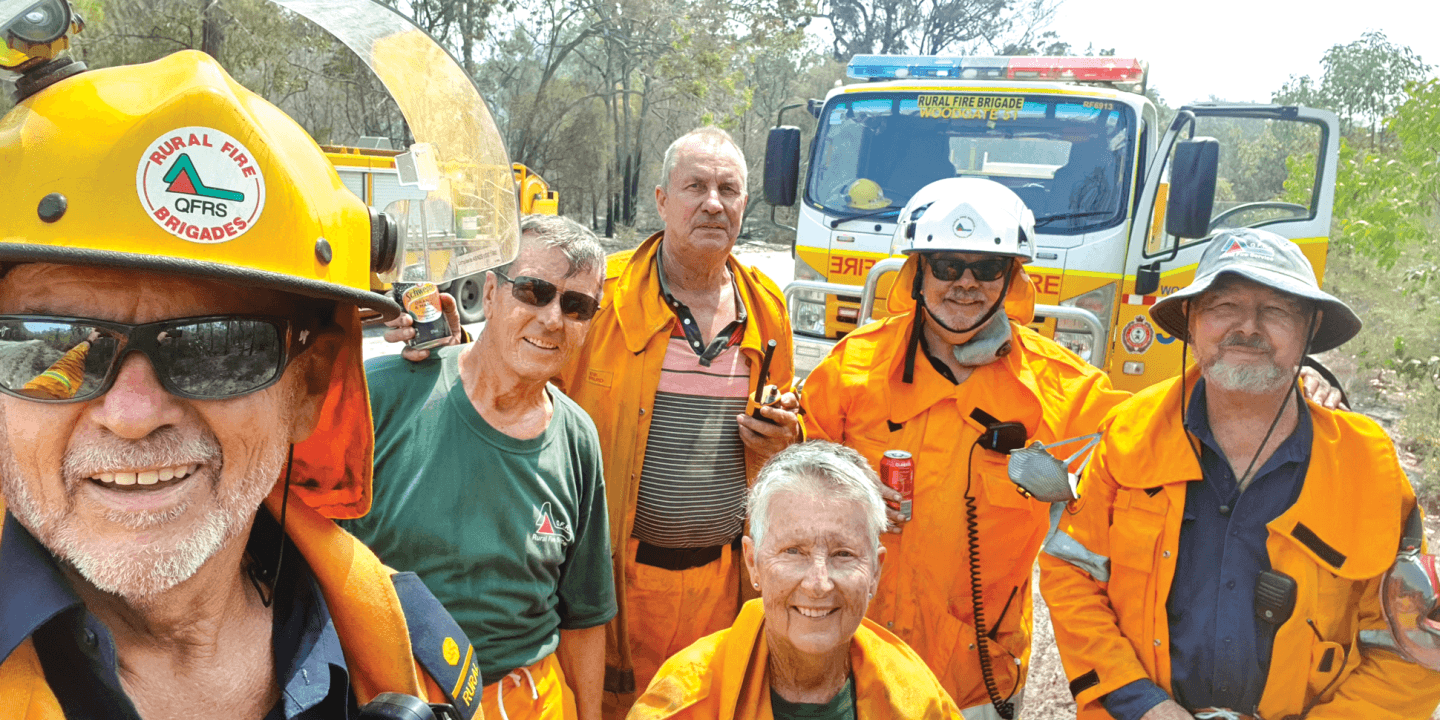 "The adrenaline rush keeps you going," says brigade secretary John Foster. "
"But after a challenging few weeks, even that starts to run out."
"We've got three guys in their 30s, but aside from that we're mainly late 50s and upwards all the way to our mid-70s."
Based at Woodgate, a quiet beachside town about 54km south of Bundaberg, Queensland, John says that the most recent census noted that the "modal age of a Woodgate resident was about 61".
"Our brigade has 32 active members, and by that I mean those who are actually doing physical firefighting. There are also lots of other people involved in helping with incident management, maintenance,providing meals and operational support."
"We are conscious that we're getting older; in a couple of years I think I'll have done my bit and be ready to step back. I'm now and it's getting to the stage that three weeks of firefighting is pretty tiring. So, yes, we need to make sure there's another wave of recruits coming in."
In Woodgate, younger people tend to be busy earning a salary, as you have to do, so we don't expect them to be so active. Then, when something like these extensive fires happen, they come to the fore. We tend to do the stuff in the day, then they take over at night."
"I've seen crews in New South Wales sleeping in the street because they've been working such long hours. We're lucky to have enough people that that's not an issue—not to mention the fact that, for some of us, our former bureaucratic training comes to the fore with good rostering and all that sort of stuff."
For John, volunteering has become a core part of his life and his retirement experience.
"While it's about returning something to the community it's also a way to meet people and stay involved. Most of us have lived reasonably full lives; we've got people who've been in the Army and the Air Force and Navy, public service, teachers and geologists as well as business owners and tradespeople. So,as well as a good training program, we're all pretty capable in our own way."
Of course, John says, there's a great deal of satisfaction that comes with getting involved in a large fire campaign, and 2019 certainly delivered in that regard.
"We've had two significant fires in the Burrum Coast National Park; last March we had a fire that devastated about six and a half thousand hectares of land and the same again during late November and into December. We enjoyed being involved, working with brigades from across the region. At one stage there were 30 different trucks down here from probably 20 brigades as well as red trucks, as we call them—the Fire and Emergency Services trucks. It was a massive community effort by essentially a bunch of people [aged] 60-plus. It's been a challenging time, but we've been proud to be able to help."
Thousands of volunteers give their time to firefighting agencies set up by the individual states and territories across Australia. In Queensland, the Rural Fire Service is the volunteer arm of the Queensland Fire and Emergency Services (QFES), providing fire services to 93 per cent of Queensland, thanks to approximately 33,000 volunteers.
"Our role is really looking after the rural environment," John says.
"The nearest QFES truck is 45 minutes away from us, so when a fire is reported we get to the scene as quickly as possible and work to contain the fire and protect property and the natural environment until the urban firefighters can get there. We can't go inside a burning house because we don't have the gear or the training to do that sort of thing, but we do as much as we can."
"If you don't have anything to occupy your time, and if you're reasonably fit, you can get involved. There's more than one job in a fire brigade and lots of ways you can contribute. I really do recommend it."
For Charlie-Helen Robinson, volunteering takes many forms—evolving with an ever-changing social and technological landscape. But it's a finite resource, she warns, and one which requires nurturing.
"In the wake of the fires we're hearing of millions being chucked into buckets for volunteer firefighters and more millions being donated with a call for volunteers to help rebuild the country," she says.
"I'm hearing all that and thinking, we're essentially relying on the retirees to do all this work for us, but there's only so many of them—especially when many can no longer afford to stop working."
Charlie-Helen herself still works full-time(and then some) in communications roles.
"The more I do, the more opportunities I see to tap into people's need to participate in a way that means something achievable to them."
"One of the groups I founded 13 years ago is a wine group; we raise money for charity, typically for suicide prevention. In bushfires, that's something that doesn't necessarily come out in the immediate crisis, but a bit later on. So, a lot of the work that I do is actually fundraising for that next stage, which is making sure that people are being looked after and their health and wellbeing is supported when the media focus has shifted elsewhere, but the fallout for them is continuing."
"One of the mantras of the group is 'while everybody is having fun tonight, not everybody is having fun in our community'. With the recent bushfires, about eight different wineries in our region were affected, so our group had people going out and helping to take down vines, cutting and pruning. Then, for our recent fundraiser, I was contacted by the pit crew for local theatre productions—trumpet players, saxophonists, flutes. Not your normal pub band, but they said 'we don't know how we can help, but we can play an instrument', so that's what they did."
With experience across the spectrum, from micro-volunteering initiatives to social media management, Charlie-Helen says the right message is critical to inspiring and mobilising.
"For the Sampson Flat Fires about three years ago here in South Australia, I was one of 18 admins on one Facebook page. We worked 24/7 managing all the communications that happened around that fire. What we found was when something's happening, the first thing everyone does is go to Facebook. Today with bushfires the authorities all have apps to help, but at that time they hadn't got their act together, so it was left to volunteers to manage the flow of information."
"As you get older, I think you think more about 'what have I done to make this place better?' We all fall off the perch eventually, but are we going to make sure we leave something better for our children's children, or are we just going to make sure we get tax cuts?"
For former social worker Don, who has always volunteered in some capacity, it was a natural progression to use his retirement as an opportunity to step things up a gear with the ACF.
Now the convenor of a group in his Melbourne community, he and like-minded local members work together to run campaigns to protect nature and engage with the general public, stakeholders and decision makers to build awareness and understanding and to effect real change.
"I've been a member of ACF for probably or 40 years. As the peak, national environmental body it's got some real intellectual and strategic capability, not to mention providing really good training and support for volunteers."
"Selfishly, it helps me feel I'm doing something positive by contributing."
"I'm 67 now and I'm aware my generation is probably going to escape the worst of this climate emergency. But I'm very mindful of the next generations; I think we're leaving a very selfish legacy for them. Our lifestyles have come at too great a cost to the wellbeing of the planet and we can't continue to turn a blind eye to that."
For more than 50 years ACF has advocated against projects like the Jabiluka uranium lease, has won World Heritage listing for the Great Barrier Reef and Kakadu, protected the Franklin River and the Murray-Darling,and fought for clean energy and a global pollution agreement.
"At the moment, we're working on a campaign to hold the Business Council of Australia (BCA) accountable for effective climate policy leadership," he says. The ACF argues that although the BCA has 'consistently recognised climate change as a real and material risk, the group has largely failed to advocate for policy that would protect Australian consumers and businesses'.
The next campaign, Don adds, will be the drive for the introduction of national environmental protection laws.
"I'm just recently retired, but from a social work perspective, everything is interconnected. Psychological wellbeing is interdependent with the social environment we're in, which in turn is interdependent with the natural environment we're in. I think there's a growing understanding of that, but it's slow."
While Don is driven to make a difference for our natural world, and those who will inherit it, he says the impact of volunteering is also significant at personal level.
"For me there's also the sociability element, especially because predominantly younger people are ACF volunteers, so there's a good mix of age groups and genders. It keeps you on your toes being around sassy, smart, young people, and it makes sure I don't become a fossil!"
To find out more about the ACF, or to get involved, visit acf.org.au. To find volunteer opportunities in your area, get in touch with Volunteering Australia and Seek Volunteer.