Retiring financially fit and fulfilled
---
For many Australians, as retirement looms large so too does anxiety about finances. However, bestselling finance writer Noel Whittaker has quite literally written the book about how to make preparing for the process simple.
Autumn 2021

Member story

Read Time: 3 mins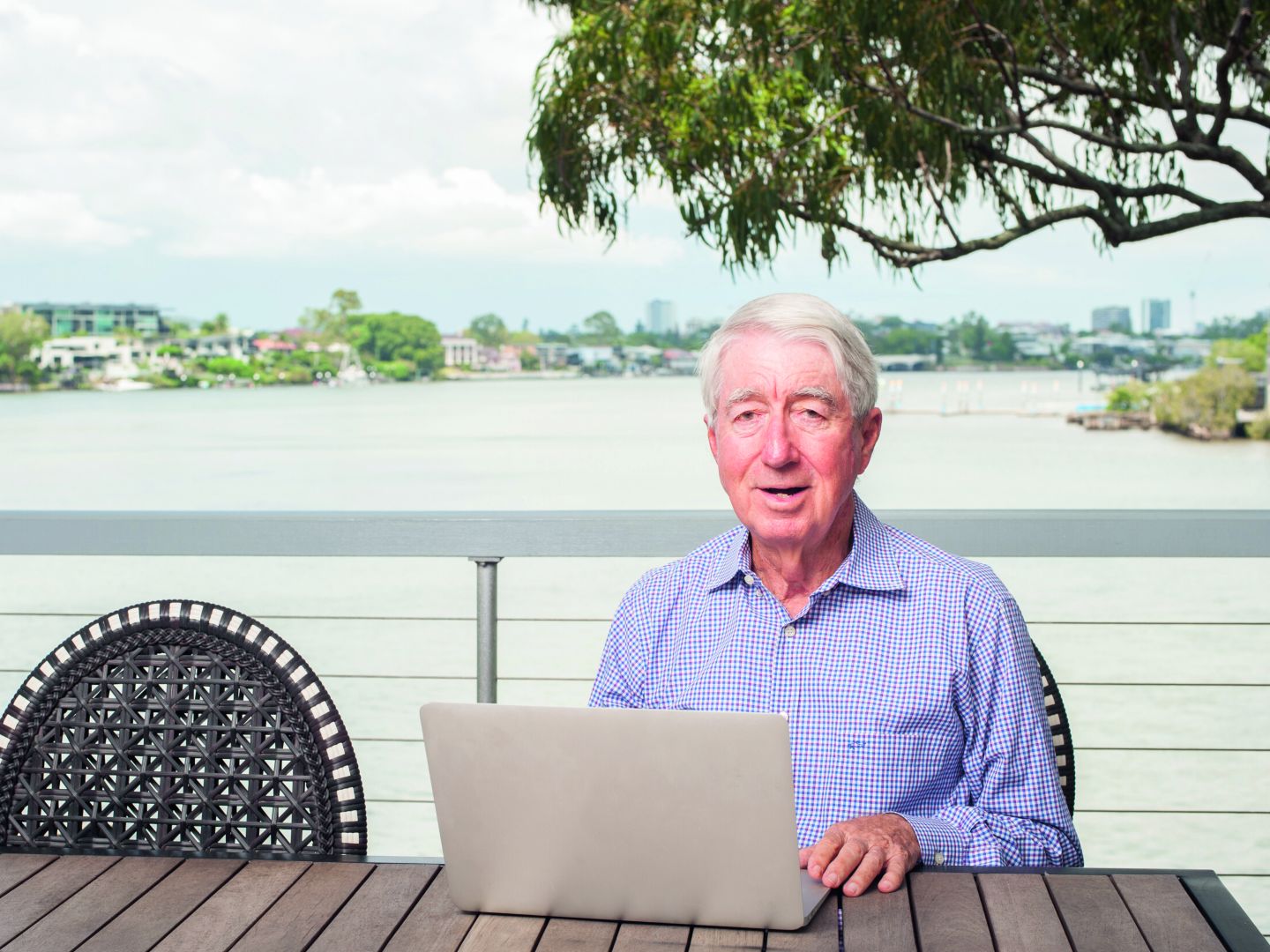 Having recently turned 83, there's no denying Noel Whittaker continues to live an active, fulfilling and colourful life.
His early years were spent as a barefoot farm kid on a 2000-acre pig farm in Logan City, where his father was the manager, and today he is lauded as one of Australia's premier finance writers, authors and broadcasters. Noel credits each step in his remarkably varied career to serendipity.

"Opportunities just kept coming up," he says.

Going back to where it all began, Noel says he made the decision to go to work because he thought he was "too dumb" to go to university.

"I sat the university entrance exam, but I was in an incredibly bright class," he says. "These were all kids from Moorooka, Salisbury and Rocklea and they're all the poor smart kids. I just thought I wasn't as bright as these people."

And so, at 18, Noel began his working career at the Bank of NSW, before moving to law at 28, and then recruiting by 31.

"I had the corner office and thought I had it made," Noel says.

"But I left there because I got a job with a listed property company as the CEO's assistant and then I got involved in a finance company."

Despite excelling in each of his chosen career paths—Noel even topped the nation studying tax—each of the fields he worked in never seemed to be quite right. Then he picked up a book that changed everything.

That book was Napoleon Hill's Think and Grow Rich, a bestseller that sold 140 million copies around the globe. After reading it Noel made two vows—that he start his own business within 100 days, and that he spend the rest of his life promulgating the principles of the book.

"After that I went into partnership with one of the building partners I had been working with. I had the marketing, accounting and tax knowledge and sales experience, and he was a builder," Noel says.

"I was terrified. What if it didn't work out? But my partner said, 'Oh don't be silly. Just get your nose down and work'."
The result of the partnership was the formation of the highly successful Camden Homes company at Rochedale on Brisbane's south.
Business was good and, even after the business partnership was dissolved, Noel's career continued to rise. He had kept the real estate side of it and soon expanded it to five offices before evolving it to include mortgage brokering and financial planning.

Then in 1985 a weekly column in his local newspaper, the Albert & Logan News, that was written by a hairdresser caught his eye and got Noel thinking he could do something similar about finance.

"So I started a column. Every Friday I wrote 400 words on something topical and after six months it began to get noticed," Noel says.

"So I got a PR bloke to get me a column in The Courier-Mail, which was called Key Money Property."

From there Noel's writing was noticed by the Real Estate Institute of Queensland (REIQ), who offered to put him through a public speaking course, closely followed by an offer from the ABC to do a radio show, and the offer of another column in The Sunday Mail.

Momentum began to build, until finally the offer to write a book came.

"I had two men call me and say they wanted me to write an advertorial-type book for the Daily Telegraph," Noel says.

So Noel got writing and, although the book wasn't published, he was left with a completed manuscript in his hands.

Then a comment from a radio listener requesting the name of a book that could help her got Noel thinking again.

"4BC rang and said 'we've got a spot for you at 6am on Saturdays for talkback," Noel says.

"A woman rang in and said 'you write good stuff and you talk about good stuff. Can you tell me the name of a book that could help me?' So I scoured the bookstores and realised there wasn't one out there. So I thought OK, I'll write the book."
That book became the bestselling Making Money Made Simple.

Nicknamed the 'book with the $20 note on the cover', Making Money Made Simple sold up to 5,000 copies each week and was voted as one of the 100 Most Influential Books of the Twentieth Century.

"It was a book that made making money simple. Not easy, simple," Noel says.

Noel has gone on to write 20 bestselling finance books while also working as director of Whittaker Macnaught, one of the nation's leading financial advisory companies.

In his latest book, Retirement Made Simple, he walks people through the steps to successfully navigate retirement and beyond. Starting at the beginning—with the desire to reach retirement with ability to live in the style you want and to ensure your money lasts longer than you do—Retirement Made Simple educates the reader about various ways to invest, how to design and then fund retirement, understanding risks, tax, superannuation, and estate planning.

"There are 13 principles when it comes to finances, and the first one is desire. If you don't have the desire then I can't give it to you," Noel says.

"Also, you don't know what you don't know. It's important to keep educating yourself about these matters."

However, it is the final chapter that some may find a curious addition to a finance book.

"The last 50 pages are about health and happiness. That's not something most people would put together with finances, but they're two of your most important assets," Noel says.

"You should also never say 'I'm too old' or 'at my age'. They're self-fulfilling prophecies so you don't bad talk yourself. Secondly, exercise and diet are vital. "When it comes to creating wealth it really is a three-legged stool."
Love stories like this?
Become a member and receive a hard copy of Our Generation magazine. Our quarterly magazine is filled with stories about our members, for our members.
Become a member!