Brioche French toast sandwiches with verjuice apricots
---
Thanks to Australian Women's Weekly Cookbooks, we're bringing you this delicious recipe to try at home!
Member Matters

Lifestyle

Read Time: 3 mins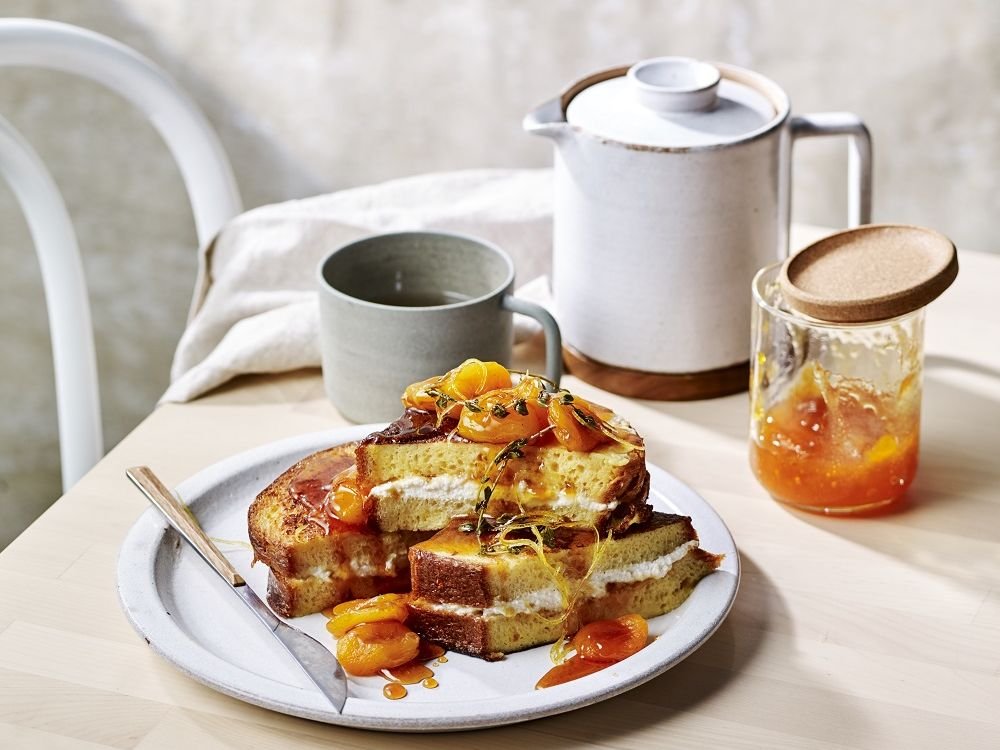 Thanks to Australian Women's Weekly Cookbooks, we're bringing you this delicious recipe to try at home!
Prep + cook time: 50 minutes

Serves 4
Ingredients
1 cup (150g) dried apricots

1 cup (250ml) verjuice

1 medium lemon (140g)

1 cup (220g) caster sugar

(superfine sugar)

2 sprigs lemon thyme

1 vanilla bean, split lengthways, seeds scraped

250g (8oz) firm fresh ricotta

500g (1lb) day-old brioche loaf

⅓ cup (110g) apricot jam

6 eggs

½ cup (125ml) milk

2 tablespoons vegetable oil
Method
1. Place apricots and verjuice in a small saucepan; bring to the boil over medium heat. Remove pan from heat.



2. Stand, covered, for 20 minutes or until apricots are plump.



3. Using a zesting tool, remove rind from lemon in long thin strips; you need 1 tablespoon zested rind. Juice the lemon.



4. Add zested rind, juice, sugar, lemon thyme, a vanilla bean half and half the seeds to apricots in pan.



5. Bring to the boil, stirring, over medium heat. Reduce heat; simmer for 5 minutes or until thickened and syrupy.



6. Combine ricotta and remaining vanilla seeds in a small bowl. Cut eight 1.5cm (¾in) thick slices from brioche. Place brioche slices on a clean work surface. Spread four slices with jam.



7. Spread remaining slices with ricotta mixture. Join slices together to make four sandwiches.



8. Whisk eggs and milk in a large bowl. Heat oil in a large non-stick frying pan over medium heat. Soak one sandwich in egg mixture for 30-60 seconds on each side.



9. Place in heated pan, reduce heat to low; cook for 2½ minutes each side or until well browned and heated through.



10. Transfer to a plate; keep warm. Repeat with remaining sandwiches.



11. Serve french toast sandwiches topped with apricots and syrup.
Tips
1. Cooking the sandwiches over low heat ensures the outside doesn't overbrown before the inside is cooked.



2. When making French toast the amount of time you need to soak the bread in the egg mixture will depend on how stale (or fresh) the bread is. We used brioche that was a day old.
Purchase this cookbook!