Five benefits of reading to children
---
Whether it's following Alice into Wonderland or travelling to centuries past, author Tom Keneally, says reading with children is a gift that is as good as any outing!

Image source: thespruce.com
Member Matters

Lifestyle

Read Time: 4 mins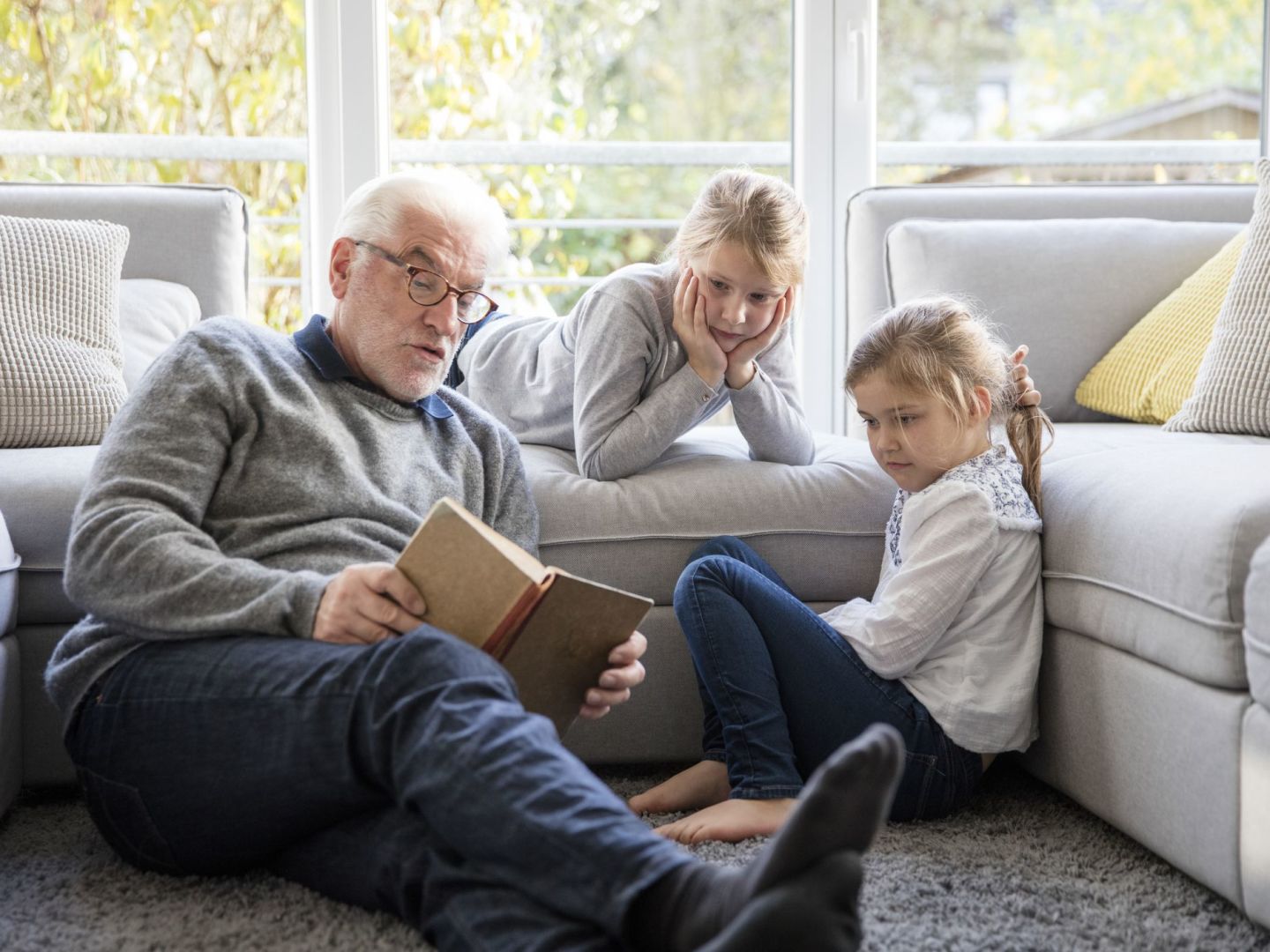 Author, Tom Keneally, revels in the simple moments of opening a book with his four grandchildren and going on an adventure to another dimension.
Whether it's following Alice into Wonderland or travelling to centuries past, Keneally says reading with children is a gift that is as good as any outing and comes with many other rewards.
Keneally, who has recently released his new book Corporal Hitler's Pistol, says he has been transported to foreign countries and alternate worlds with his grandchildren without even leaving the couch.
"When you're reading to children, you take them to another place — legendary places and worlds full of animals," he says.
"Reading liberates you from your postcode and while the authors may have left the Earth, it's miraculous to be able to make contact with the writer in his time and thus, in a way, defeat time and defeat dimensions.
"There's something peculiar to the magic of a book — sitting down socially with an open book seems to resonate with children and helps absorb them into the story better."
Keneally says books give you and your grandchildren common ground, allowing you both to connect.
"They will enter an alternate world and a world of fantasy far more willingly than adults can, and that total absorption of imagination is very rewarding," he says.
"As a result of reading to them, you are rewarded by seeing them so engrossed and willing to believe in a world that's been constructed for them.
"The book also offers a meeting place. The physical book offers us a meeting place and the story is an arena where we can meet the children."
Keneally says reading with young people also allows adults to be transported back to their childhood once again, which helps you gain a better perspective of what is important to them.
"You get a suspended cynicism out of reading to them and the crisis of a bear or a duck or rooster will become your crisis again," he says.
"You live vicariously through a child's reaction as they enter stories and we never take a book on board as thoroughly as when we're children."
By reading stories from the past to children, you're able to impart their own wisdom and share stories from the time they are reading about.
As you both interact with each page of the book, you'll have the opportunity to teach children about their own childhood and experiences, giving youngsters the chance to learn more about you and your family's history.
Sharing the experience of reading can help children fall in love with books from an early age.
"Kids who are read to end up reading and so it's functionally important to get them used to the business of travelling to other dimensions and inside fantasies other than their own and into foreign country," Keneally says.
"Reading to children is very important for the development of their imagination and intellectual faculties."
Dr David Caldwell, Senior Lecturer in English language and literacy at the University of South Australia, says if an adult is not modelling reading, it is more likely a child will not read in the future, impacting their language development.
"One of the recommendations I would make is that adults openly talk about reading with children — ask children about the books they are reading, and possibly even read the books children are reading," he says.
Keneally says reading to children is important for their education, with those read to when they are young more likely to continue the habit into their teenage years and adulthood.
Research from the University of Melbourne and Victorian Education Department says the frequency of reading to young children directly impacts schooling outcomes, regardless of their family background and home environment.
The study found reading to children aged four to five every day had a positive effect on language and literacy, numeracy and cognition later in life.
A child that is read to three to five days a week will have the literacy skills of a child six months older, while reading six to seven days per week helps children develop the literacy skills of a person 12 months older.
"We seek stories and always have, and thus the child is a seeker after stories too," Keneally says.
"There's no hardship reading to them and they accept it as it comes — that's the wonderful thing."
The Silly Seabed Song, written by Aura Parker, is the perfect story for you to read to a young child, with a bouncing rhyme and playful riddle of a backwards poem.
The colourful illustrations will also be sure to captivate young and adult readers alike.
Follow the journey of little turtle hatchling Fred who just wants to rest his head.
We Love You, Magoo, written by Briony Stewart, is the perfect read-aloud picture book that captures the energy and emotion of cheeky dog Magoo in every line.
It is a joyous and playful book and one the children will keep begging for you to read.
Back to Sleep, by Zoë Foster Blake, turns every parent's struggle to get their children to sleep on its head, with the parents suddenly waking up with bad dreams and demanding a drink.
Finn had been looking forward to drifting off in his cosy bed when mum suddenly appears wanting a drink. Just as he resettles, dad is awake after a bad dream. When will his parents sleep through the night?
Back to Sleep is a clever story that will make you laugh-out-loud and celebrate the ups and downs of family life.
The latest book from Tom Keneally, Corporal Hitler's Pistol, plunges the reader into a compelling story of the interactions and relationships between black and white Australians in early twentieth-century Australia.
When an affluent Kempsey matron spots a young Aboriginal boy who bears an uncanny resemblance to her husband, not only does she scream for divorce and attempt to take control of the child's future, but the whole town seems to be drawn into the chaos.
Corporal Hitler's Pistol is a gripping novel from a great storyteller, set in a town he knows very well.