Homemade Kombucha
---
Home brewers have been producing Kombucha for thousands of years.

Joanne from Country Feeling Australia shares her homemade kombucha recipe.
Member Matters

Lifestyle

Read Time: 3 mins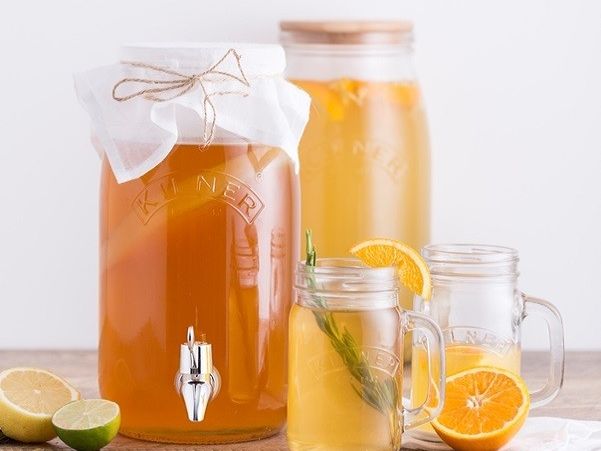 This delicious tea-based drink uses a fermentation process to produce a refreshing, lightly effervescent and slightly sour drink, not unlike sparkling apple cider.
I am often asked why we use so much sugar when making the Kombucha, the answer is quite simple. The Scoby, which stands for "Symbiotic culture of bacteria and yeast", is alive and the sugar for the Scoby to eat and then ferment. The Scoby then converts the sugar in the tea to alcohol and the bacteria convert that alcohol to organic acids (such as acetic acid). Please don't substitute the sugar for an alternative like Stevia or Xylitol the Scoby will die.
I mostly use black tea for my brew, but you can use green tea if you like. I also love to flavour ours with dried fruit like mango, blueberries and lemon.
Enjoy and keep healthy,
Joanne
• 2L boiling water
• 3/4 cups of sugar
• 3 tea bags
• Kombucha SCOBY (minimum 10x10cm piece)
• 1 cup Fermented kombucha (this is the liquid in the bag, or it is left over from your last batch of kombucha)
• Kombucha Pot
• Muslin Cloth
• In your boiling water, add the sugar and stir to dissolve.
• Place your tea bags in the water and let it seep for 15 minutes (Longer is you like a nice strong cup of tea).
• Leave the mixture to completely cool. Note: if you put the tea in hot with the Scoby it will die.
• Pour gently into your Kombucha Pot and place the Scoby and Mother tea into the pot.
• Place muslin cloth over the top of the Kombucha pot (the mixture has to breathe)
• Leave it for 5-10 days depending on what flavour strength you like too
Note: When you buy a Scoby, it will have a liquid in the container. It is very important that you keep this and add the liquid to your tea mixture. The Scoby can be purchased from health food shops.