Food for thought
---
Regarded as one of Australia's great food educators and writers, Stephanie Alexander AO has led an incredible life influenced by travel, food, friends and family. Here, Our Generation finds out what drives her to keep creating and inspiring Australians to eat well.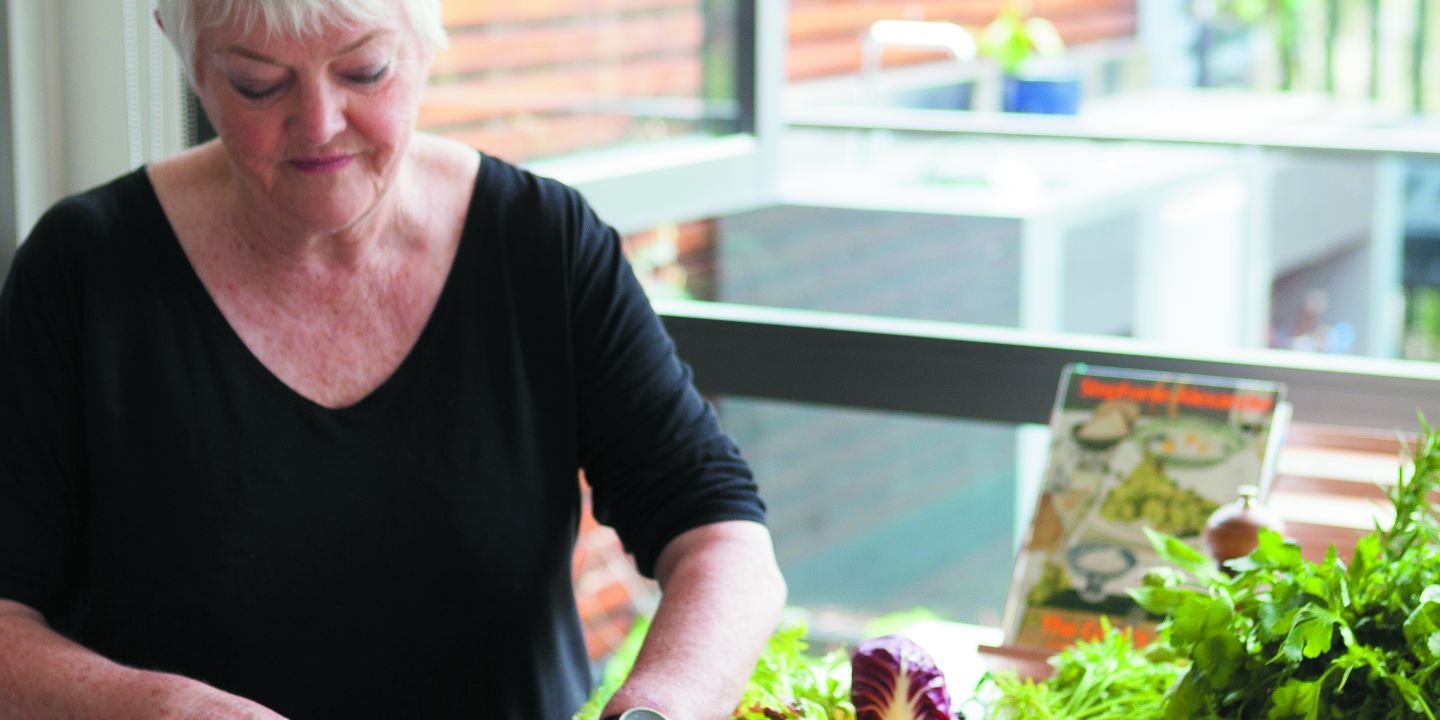 Having spent 30 years as an owner-chef in several acclaimed restaurants and as the author of 17 influential books, Stephanie Alexander is considered culinary royalty here in Australia and internationally.
Her fifth book, The Cook's Companion, is an Australian classic, having sold 500,000 copies and is now available as an easy-touse digital app.
Stephanie's early food life was primarily influenced by her mother, Mary Burchett, a wonderful cook who was interested not just in recipes but in the culture that inspired the dish.
"My mother was a good cook, a curious cook and also a gardener. She was also an artist and I believe she approached the cooking and nurturing of both her family and her garden to some extent with the eye of an artist," Stephanie explains.
"She loved beautiful things, be it a little jug of flowers, a special plate or a ripe tomato. My family had very limited means, so nothing in our lives was luxurious but always as comfortable and appropriate as possible."
Despite sharing her mother's interest in cooking, Stephanie originally had no thoughts of working with food professionally, and instead studied to become a librarian. She left Australia at the age of 21 to explore France– a trip that affected the course of her life profoundly.

"Travelling and living in France was hugely important in my early career," Stephanie says.
In 1985, Stephanie published her first book—Stephanie's Menus for Foodlovers— and once she had found her voice the pages simply kept on coming.

Becoming an author
"I was delighted to discover that France was every bit as thrilling and satisfying as I had dreamed it would be. In the intervening 50-plus years I have returned as often as possible and, whilst acknowledging change, there remains a value and respect accorded to food that I find renewing and reassuring."
After returning to Australia, Stephanie opened her first restaurant, Jamaica House, in 1964. Her next venture, Stephanie's Restaurant, opened in 1976 in the Melbourne suburb of Fitzroy before relocating to Hawthorn in 1980.
"Stephanie's was ground zero for seasonal, produce-driven dining in Melbourne, or so it seems looking back," writes The Age Good Food Guide editor Roslyn Grundy.
"The setting was grand but staff were unstuffy, making even nervous young couples feel at home."
For 21 years Stephanie's Restaurant was at the heart of everything culinary in Australia. Stephanie and her team trained wonderful staff, cooked excellent food, pioneered new techniques and ways of looking at ingredients, championed small producers and set new standards of service.
Despite being among a handful of female owner-chefs in the industry at the time, Stephanie says this never fazed her. "I had no trouble being in a male-focused industry because I was the boss!" she says.
"Being an owner-cook was a very special niche. Probably many of my male contemporaries may have felt I was not doing it as well as they were but somehow I either did not hear or just kept my head down and continued with what I wanted to do."
In 1985, Stephanie published her first book––Stephanie's Menus for Foodlovers–– and once she had found her voice the pages simply kept on coming.
Her fifth and most famous book, The Cook's Companion, published in 1996, resulted from Stephanie's growing belief that despite all the interest in restaurants and 'fancy food', children and young adults were being raised with little, if any, understanding of what to do with fresh food in their daily lives.
Later books reflected Stephanie's interest in working with children, starting with the Stephanie Alexander Kitchen Garden project at Collingwood College.
Through this, the Stephanie Alexander Kitchen Garden Foundation was born in 2001, made possible by several generous individuals and organisations as well as the Victorian Government.
"My preoccupation with the way children do, or do not, learn about food led me to develop the Kitchen Garden Foundation as a comprehensive gardening and cooking program," Stephanie explains.
"The foundation has gone from strength to strength and has passed its stated mission, to be represented in 10 per cent of Australian schools with a primary curriculum by the end of 2015.
"The best way to positively influence a child's food choices is to allow them to be involved in the growing and harvesting and preparing and, of course, the actual eating of what they have made.
"It is a well-designed program that has an educational focus that embraces sustainability, all aspects of science, art and design and the ability to engage with home life and the wider community. It introduces young people to diversity and accommodates students of every level of ability.
"It exists at some level in over 1,500 schools and Early Learning Centres around Australia. It is rated very highly by the students themselves.
Stephanie's latest book is also aimed at young cooks. The Cook's Apprentice, published in October 2018, is a teaching guide for those just starting out in cookery. Consistent with Stephanie's lifelong approach, the book is intended to help new foodies become relaxed and confident in the kitchen.
Grandparents, of course, can play an important role in inspiring future home cooks and chefs.
"It's so important to eat together," Stephanie says.
"Offer a wide and changing menu using as many different fruits, vegetables, herbs and proteins as possible. Remember, a young palate often has to try a new food several times before deciding to like it or not. Don't turn food preferences into battles but also do not provide endless alternatives. Make family meals relaxed and enjoyable. Make a fruit bowl the usual dessert choice."
Asked about her thoughts on the renewed interest in home cooking during the pandemic, Stephanie says, "It has certainly led to an increase in home cooking for many families and that is great to see. Self-sufficiency is a very big aim and not many families will achieve this. But if they come out of this pandemic with a better understanding of how to cook well, how to share the load among family members, and find a more realistic understanding of seasonal produce, it will have been a useful if exhausting moment in our history."
Asked how she recommends keeping busy during the pandemic, Stephanie says its important to stay active and maintain social connections.
"Best of all is to have a hobby or a project, or to become proficient with digital platforms such as Zoom. Many organisations are offering activities, concerts, exercise classes and so on. I have been busy writing and reading novels.
"Eating lovely food is essential for my morale. I live by myself and even if lunch is a cheese sandwich, the bread is carefully chosen, as is the cheese, and there will be a lovely soft-leaf salad every day.
"The muesli in the morning goes with home-stewed rhubarb with some blueberries or other berries thrown in. Tonight I am sharing carefully-braised oxtail with my daughter, who is my 'carer' and shopper during lockdown."
Coming into spring, Stephanie says it's a great time to start planting for those who wish to utilise more home-grown produce in their meals.
"It's a good time to plant a variety of salad greens, bok choy and leeks, and a row of carrots and radishes. There should still be broccoli to be picked—don't ignore the tender side shoots. Look for the first asparagus in the shops. And young green beans are a treat. The first tomatoes should be in the ground in my home state by early November."
Learn more by visiting the website www.kitchengardenfoundation.org.au.