The joy of hobbies
---
From throwing paint at a canvas to kneading bread dough, building something with our hands or nurturing a garden, hobbies come in many guises, all of which add depth and joy to our lives.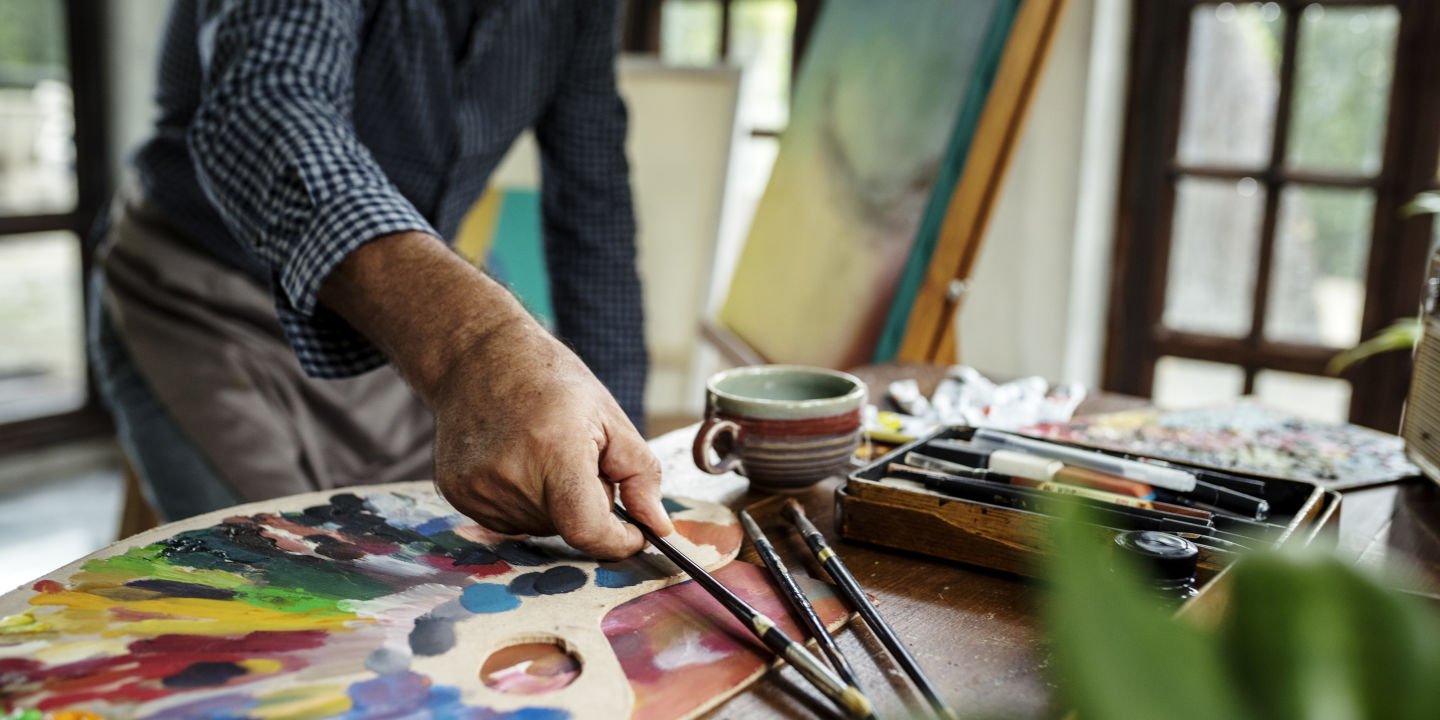 If the events of this year have taught us anything, it's that we should lean into what makes us feel good. For some people that's making a delicious meal, for others it could be sinking your fingers deep into the soil to nurture a garden or wielding a tool to create something truly unique for the home.
Beyond creating those feelings of contentment, hobbies are a great way to stay engaged within a community, build strong relationships and learn new skills and, thanks to the power of the internet and technology, the choices are practically limitless.
One way many people are choosing to learn something new is from the comfort of their own homes via online services such as Feros Care Virtual Social Centre (VSC), which provides a range of group sessions in activities such as arts and crafts, cooking, gardening, fitness classes, and even virtual tours of places such as the Victorian Art Gallery.
Robyn Condliffe from Boambee, NSW, first began exploring Feros Care VSC content after swapping her in-person exercise sessions to online classes in the early days of the COVID-19 pandemic.
"Since then I've been on a tour of the Victorian Art Gallery, I've been through people's gardens, joined in some knitting classes and listened to a group reading," Robyn says, adding there were also meditation classes on Sundays as well a fortnightly card-making class.
Many businesses are starting to embrace the 'stay at home, create at home' ideology, with a number also delivering the necessary supplies directly to your house. Cork & Canvas is one such business, which has created the option for people to have everything sent to them so they can participate in either private Zoom parties where professional artists guide the entire group step-by-step in creating a chosen painting or a pre-recorded session that can be completed in your own time.
Prefer to keep your hobby a low cost or solo game? YouTube may be your answer, where you can find free tutorials on just about anything at the end of your fingertips. Take a seniors-focused ballet class with the Queensland Ballet from your living room or bring Jamie Oliver into the kitchen while you learn to make pasta from scratch. In fact, for the culinary-inclined Jamie has created an entire list of videos, filmed by his wife in the family kitchen, which focus on teaching new cooking skills as well as reviving old ones.
However, it is the human connection hobbies provide that is often the largest draw card. While learning a new skill alongside friends can be a wonderful experience, turning it into a friendly competition can take it to the next level.
Residents at Bolton Clarke's Macquarie View residential aged care community did just this recently when they created an onsite brewery. Hailed as the Bolton Old Boys Brewery, the group's non-alcoholic ginger beer claimed top gong in their in-house tournament.
Bolton Clarke diversional therapist Colleen Bruce says residents jumped at the chance to show off their expertise.

"We have a group of about 20 enthusiastic brewers. It's a real treat to be able to revisit a much-loved pastime and show off old skills. We are taking it in turns to make batches in small groups. It has given everyone a sense of accomplishment and purpose—even our local brewing shop is invested in our idea."