Uncovering Kakadu's ancient secrets
---
Be awed by Australia's magnificent Top End where you will discover untamed waterfalls, vast wetlands, ancient places and Dreamtime artwork.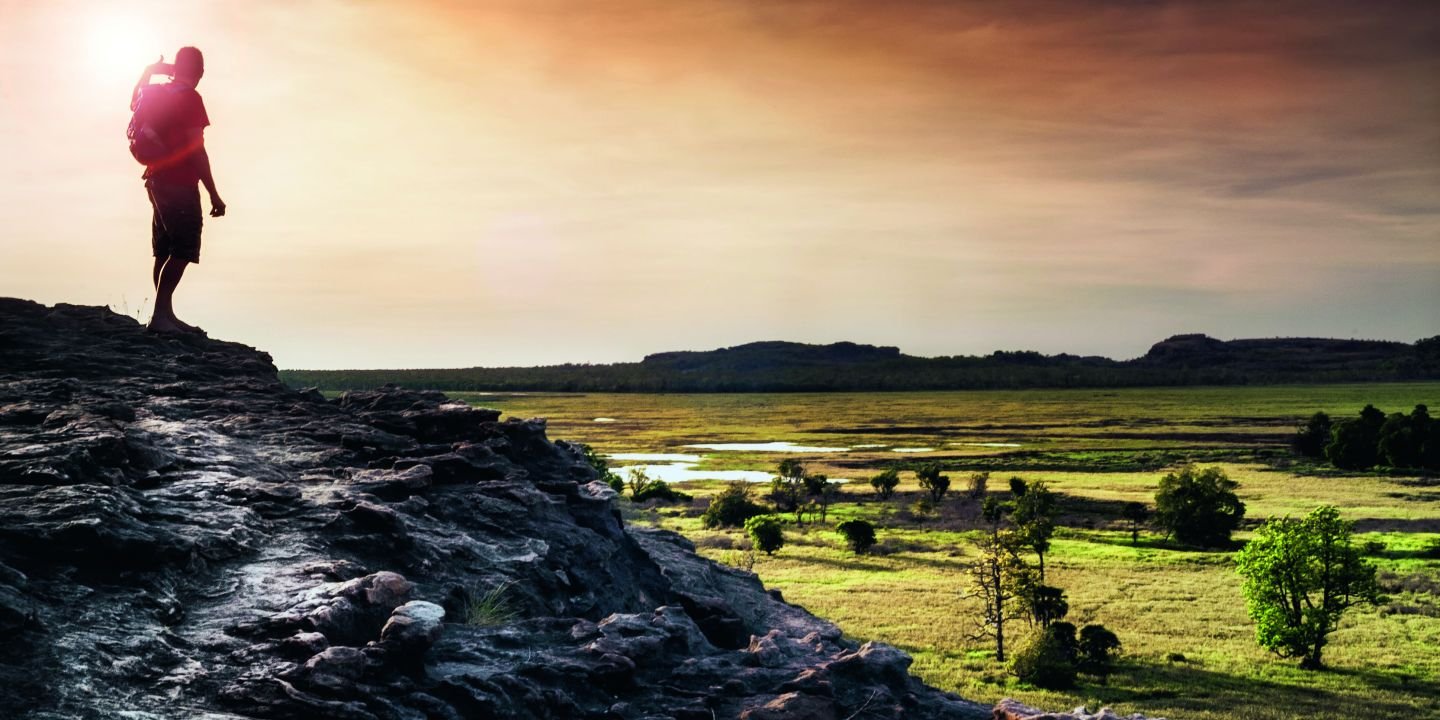 Kakadu is unlike any other place on Earth–an ancient landscape of billabongs, gorges and hidden canyons teeming with spectacular wildlife.
Thousands of visitors travel to the region each year to embark on adventures that include Aboriginal culture and relics, incredible wildlife and striking outback vistas. Many opt to go off road on the Marrakai 4WD track, cruising down the Katherine Gorge and take in the immense beauty of the Nitmiluk region. If, on your adventures, you work up a sweat, simply don your bathers for a cool dip at Gunlom Falls overlooking Kakadu.
World Heritage listed Kakadu National Park is one of the wildest places imaginable. This enormous, biodiverse nature reserve comprises wetlands, rivers and sandstone escarpments, and is home to some 2,000 plant species and wildlife ranging from saltwater crocodiles and flatback turtles to birds.
Go back tens of thousands of years into our Indigenous past and learn about Aboriginal rock art at Ubirr and enjoy an exclusive Aboriginal cultural experience. Rock paintings dating back to prehistoric times can be viewed at sites such as Nourlangie.
One of these creation ancestors is the lightning spirit Namarrkon (pronounced narm-arr-gon), believed to be responsible for the violent lightning storms that occur every tropical summer.
The band running from Namarrkon's left ankle to his hands and head and down to his right ankle represents the lightning he creates. He uses the axes on his head, elbows and feet to split the dark clouds and make lightning and thunder.
Of course, the Northern Territory has many wonderful national parks apart from Kakadu. Make a stop at Litchfield National Park's wonderful waterfalls or uncover the Mary River on a safari cruise.
The NT offers plenty of luxury accommodation options for intrepid travellers, including Cicada Lodge at Nitmiluk Gorge, just outside of Katherine, and Wildman Wilderness Lodges, a luxury eco-resort situated halfway between Darwin and Kakadu National Park.
DAY 1: DARWIN-MARY RIVER
Meet your local journey director in Darwin and head to Litchfield National Park by 4WD. Hear how the local Aboriginal people's ancestral spirits have shaped the landscape before embarking on a cross country journey along the rugged Marrakai Track (seasonally accessible) to the Mary River Wetlands. That evening you'll enjoy a welcome reception with drinks and canapés followed by dinner.
DAY 2: MARY RIVER-KAKADU
Wake up with the wildlife of Mary River and head to Corroboree Billabong, where you'll board an exclusive wildlife cruise in the company of a local guide to explore its floodplains and spot the creatures that find sanctuary in its lotus-covered waters. Enjoy a sunset walk at the rock art galleries of Ubirr and, perched atop Nadab Lookout, watch the sun dip into the lush Kakadu floodplains.
DAY 3: KAKADU-KATHERINE
Enjoy an early morning scenic flight over Kakadu before venturing to Nourlangie to admire the ancient Dreamtime art of the Bininj and Mungguy people. Later, veer off the sealed road and onto a gravel track for a scenic cross-country journey to Gunlom Falls and be rewarded with a refreshing dip in the crystal-clear plunge pool. Enjoy lunch before heading to Nitmiluk National Park, where you'll stay in a 5-star eco-lodge.
DAY 4: KATHERINE GORGE
Meet Manuel Pamkal and share in his passion for the rich traditional culture into which he was born. Learn about life in the bush and experience first-hand the fine art of rarrk painting using a special reed brush, after which you'll create your very own masterpiece to take home. Later, board a special dinner cruise and learn about the history and culture of the local Jawoyn people.
DAY 5: KATHERINE-FAREWELL FROM DARWIN