David's final story
---
After 50 years of telling other people's stories on screen, David Gulpilil has finally produced the story of his own incredible life.
Spring 2021

Feature

Read Time: 10 mins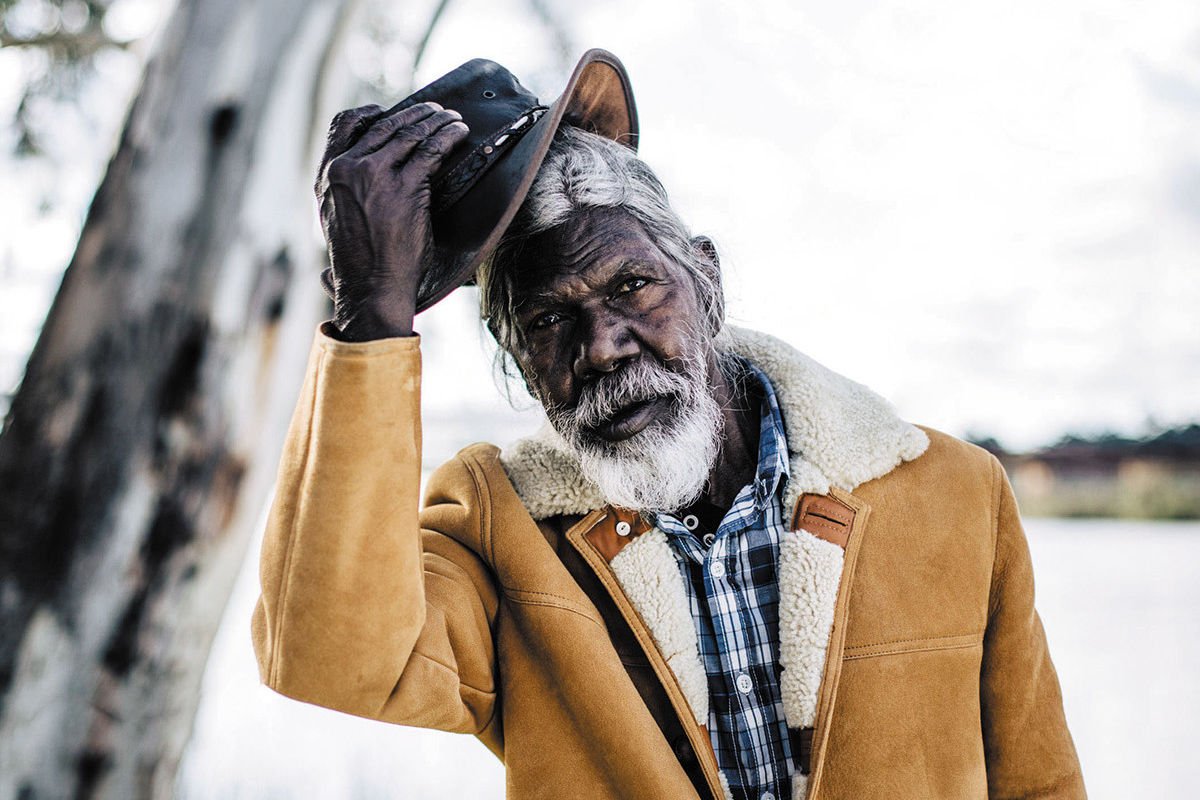 David Gulpilil is arguably the most iconic Indigenous Australian actor in the history of Australian cinema, with a legendary screen career spanning 50 years.
He made his debut in Nicholas Roeg's Walkabout (1971) and was quickly cast in Storm Boy (1976), Mad Dog Morgan (1976), The Last Wave (1977) and Walkabout to Hollywood (1980), before starring in the global blockbuster Crocodile Dundee (1986).
His role in Rabbit Proof Fence (2002) drew major critical acclaim, but his first lead role in a feature film didn't come until 2002 in Rolf de Heer's The Tracker, which premiered at the Venice Film Festival. A bond of brotherhood was forged between Gulpilil and de Heer that saw them collaborate on many projects over the next 20 years.
Their next feature together, based on Gulpilil's lifelong wish to make a film on his country about his people, resulted in Ten Canoes (2006)—the first Australian feature film to be made entirely in Australian Indigenous language. The story within a story, set both a thousand years before the arrival of Europeans and in mythical times, was a turning point in Australian cinema history. Ten Canoes won the Special Jury Prize at Cannes, and earned almost $4 million at the Australian box office.
A Mandhalphuy man from the Arafura Swamp region near Ramingining in Arnhem Land, Northern Territory, Gulpilil is an actor, a dancer, a singer, a painter and, now—finally—a producer in the feature film about his life, aptly called My Name is Gulpilil.
"I'm an actor, I'm a dancer, I'm a singer and also, a painter. This film is about me. This is my story of my story." – David Gulpilil Ridjimiraril Dalaithngu
For almost 50 years, David had been full of ideas for films he wanted to make but found it rather difficult to convince anyone to make them with him. While he collaborated with Rolf de Heer on Ten Canoes and Charlie's Country (2013), no one trusted him to produce a film of his own, even though his brother Peter Djigirr was able to. Perhaps it was because Gulpilil was just out of jail, having been sentenced to 12 months in prison for committing aggravated assault against his wife while he was intoxicated.
Having come to terms with his demons and substance abuse issues, David became ill. In 2017, he was diagnosed with Stage 4 lung cancer and given six months to live.
Finally, when hope of producing a film of his own had almost been extinguished, David resorted to the pleas of a dying man...
"Please Brother," he begged producer Rolf de Heer. "Please. One more film, just one."
"Please Sister," he cajoled director Molly Reynolds. "Can we make this film together?" T
ogether, they answered, "Yes."
So, My Name is Gulpilil was greenlit, with Molly Reynolds directing and Rolf de Heer, Peter Djigirr, David Gulpilil and Molly Reynolds slated as producers.
"I'm shivering like a fish from the billabong. The cancer is walking around in me... it's every-where." – David Gulpilil Ridjimiraril Dalaithngu
In what is very likely his final film, Gulpilil faces his own mortality as he battles terminal lung cancer. He talks about what it is to stare down death, and what it was to live a life such as he did—a dizzying mix of traditional Aboriginal ways and modern Hollywood excess, and everything in between. It is pure, unmediated and unvarnished David Gulpilil, finally able to say in a film exactly what he wants to say.
He reminisces about his films, and his fame, and the effects of both on a tribal boy from Arnhem Land. He talks about acting, and how his dancing in his own culture is really the basis of what made him famous. Now he looks toward going home, to his own funeral, the specifications of which he's very particular about. Visited by his sisters, including his twin Mary, they plan for his passing—his return to the billabong from which his soul was born.
"I'm facing this camera. I like to make a film, it' s a history. I like it because it won't rub it out.… this film will remember to generation to generation." – David Gulpilil Ridjimiraril Dalaithngu
But four years after being told he was dying, David's big premiere of his film was realised at the Adelaide Film Festival/Adelaide Festival co-presentation in front of 1,500 people on 12 March.
"David was seriously thrilled," director Molly Reynolds says.
"When I embarked upon this film, I didn't know where it would take us. In retrospect, the key to where it did take us was three decisions. The first was that this would be David's story about his story. The second, that he would speak directly to camera. The third was that no one would speak for him or about him. We would try and create his world.
"It takes a certain fortitude to work with David. For all his charisma, magnificence and talent, he can still be mercurial, difficult and frustrating.
"For those who don't know David, he can present as a chaotic storyteller and much inclined to non sequiturs. What he is actually doing during these seemingly random rambles, is organising his thoughts and weaving them into narratives which accord with his world order. By the end of his story-telling, which can take an hour or so, he usually reaches a perfect and poetic summary."
Reynolds says she was incredibly keen to carry this sensibility of David's into the film, as well as the strange connections he makes and the strange connections he has had in his life.
"After all, who gets stoned for the first time with Bob Marley?" she laughs.
"If I had to describe David's life in a word, the word would be 'surreal'. The nature of his experiences, his encounters and escapades, is surely surreal. David has dined with the Queen and been to prison, more than once. Having this sense of 'surreal' in mind, we were able to enter the realm of magic realism. The subsequent footage we captured really allowed the film to play to this.
"We just filmed, and filmed, and filmed.
David would call me and say, "Molly, Molly, Molly, my girl, when are we shooting? In 2020, with 60-odd shooting days under our belt, Rolf, the producer, said, "Enough Molly. If we don't complete this film, it will bankrupt us".
So, with David's approval, we shot just a little more and completed it with David still able to get up on stage instead of being in his cemetery box for the first screening.
"It was David's culture, his prowess as a hunter, painter, singer and dancer, that gave him his screen allure and made him unique. With the erosion of deep culture in most Indigenous communities, the likes of Gulpilil will never exist again."
Love stories like this?
Become a member and receive a hard copy of Our Generation magazine. Our quarterly magazine is filled with stories about our members, for our members.
Become a member!