Falafel pockets
---
These fresh and tasty falafel pockets make a fantastic meat-free meal that's perfect for springtime.
Spring 2021

Lifestyle

Read Time: 4 mins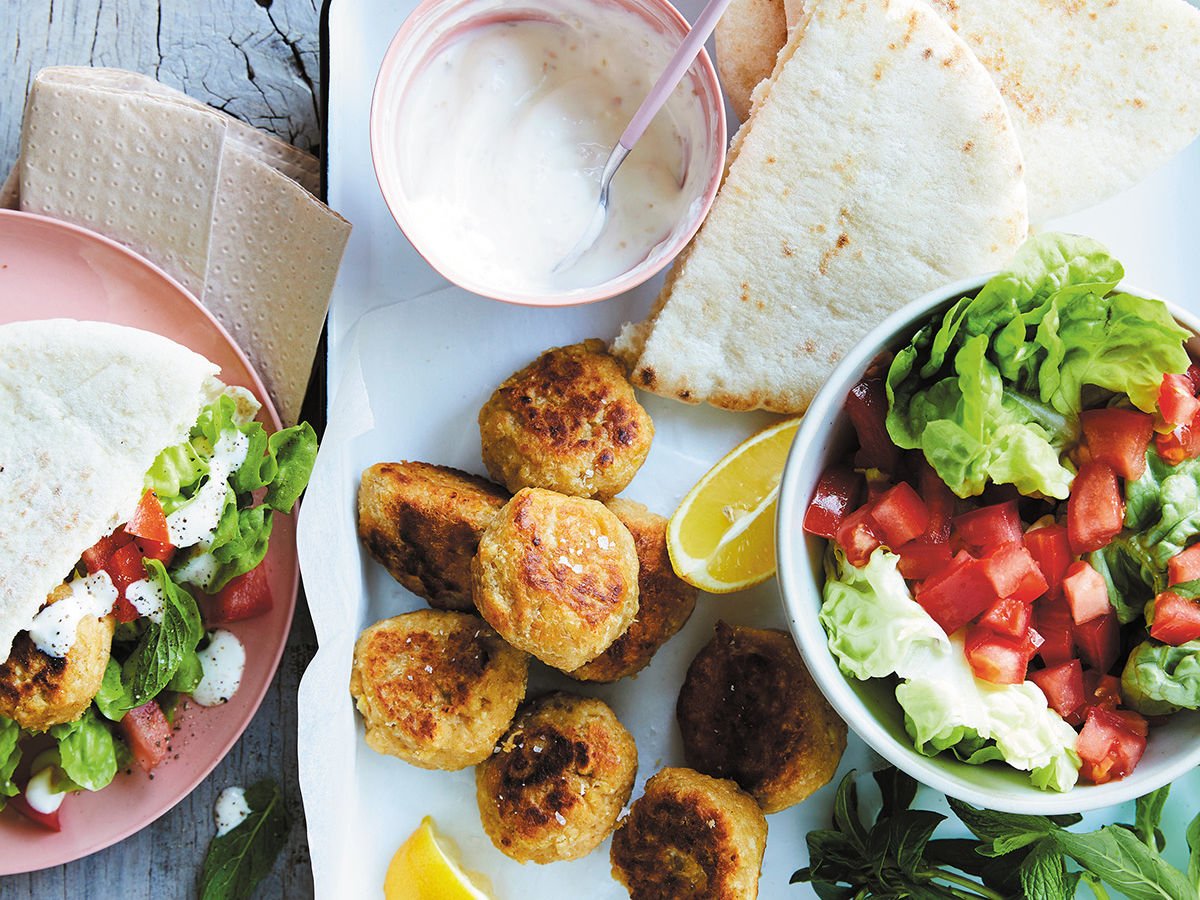 Food and wine pairing
---
RedHeads Barrel Monkeys Shiraz 2018 McLaren Vale: If the the Barrel Monkeys Shiraz is anything, it's cheeky. It's not over the top and doesn't take itself too seriously, with a gorgeously rich flavour profile of luscious plum and fresh red fruit. A beautiful, warming red for the season, the touches of spice and smooth vanillin mouthfeel make it a perfect pair for the bigger falafel flavours.
Way & Cat Pinot Gris 2018 Victoria: Elegant and fresh, this pick is the perfect white for a long lunch. Crafted from quality, cool-climate Victorian fruit into a lovely French style, the pear, lychee and stone fruit characters really complement the sesame, herbs and salad, while the acidity of the wine works well to cut through the spice of those delicious chickpea falafels.
Both lovely wines are included in the mixed case offered in the insert flyer from Laithwaite's Wine People. Order now by calling 1300 762 832 and quoting '6488017,' or visit wp.wine/6488017.
Ingredients

1 tablespoon sesame seeds
1½ cups (250g) cooked chickpeas
2 garlic cloves, halved
1 teaspoon ground cumin
1 teaspoon ground coriander
teaspoon cayenne pepper
2 tablespoons lemon juice
cooking spray
¾ cup (200g) low-fat natural yoghurt
3 teaspoons olive oil
4 whole pitta pockets
1 lettuce, roughly torn
500g ripe tomatoes, cored and cubed
parsley or mint leaves, to serve
lemon wedges, to serve
Preheat oven to 160°C. Bake sesame seeds on a baking tray or in a pie dish, shaking often, until golden brown –about 10 minutes. Set aside.
In a blender or processor, blend chickpeas, garlic, cumin, coriander, cayenne pepper and half the lemon juice, until smooth. If mixture is dry, add a little water. Shape into 8 patties.
Coat heavy-based pan with cooking spray. Brown patties for 4 minutes on each side.
In a large bowl mix yoghurt, olive oil, sesame seeds and remaining lemon juice to make a dressing.
To serve, fill each pitta pocket with 2 falafel patties and one-quarter of the lettuce and tomato.
Drizzle some dressing into each pocket. Top with parsley or mint and serve with lemon wedges.
Love stories like this?
Become a member and receive a hard copy of Our Generation magazine. Our quarterly magazine is filled with stories about our members, for our members.
Become a member!