5 minutes with Heather Lee
---
92-year-old Heather Lee took the 2019 Australian Masters Games by storm, setting a new race walk world record of 24 minutes 52.25 seconds over 3,000 metres.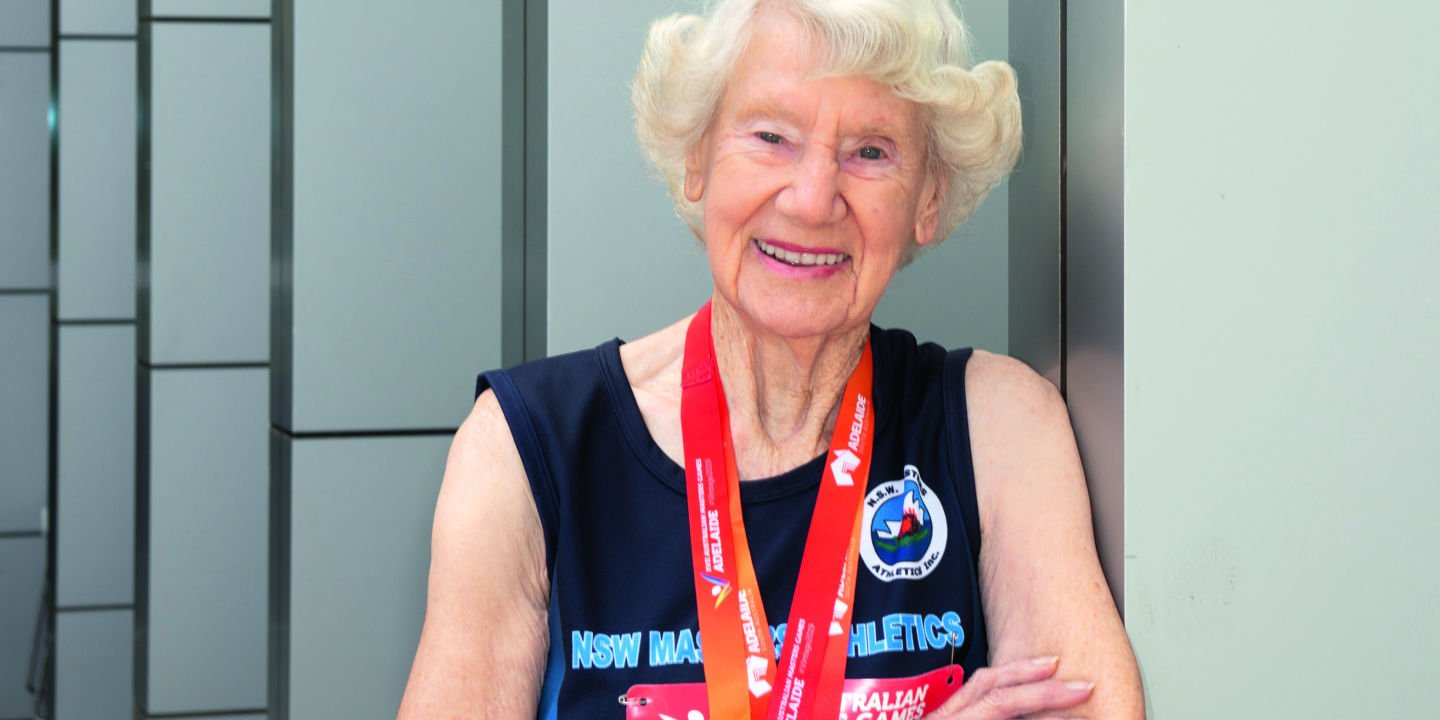 Competing in the 90-94 age group, she now holds a host of Australian and world records, despite having only taken up the sport five weeks before her 85th birthday.
"I do it simply because I can do it. I do it because I enjoy doing it, and I think I'm probably also trying to prove that 90-year-olds can, if you know what I mean. I'm breaking records and now breaking my own records because I think I'm about the last race walker in my age group in the world at the moment. I've got it all to myself!"
No matter how many records she holds, Heather says that personal goals remain her prime motivator.
"At the Australian Masters Games I got the record for the 3km, so I'm not complaining, but I could have done a better time. I just could not seem to get my rhythm right. I would like to do that one again."
"I'm not a fan. I am on Facebook, simply because I can post there what I'm doing, my achievements and I can connect with people from the likes of the Australian Masters Games, but it's just not for me. I think it's spoiling people's relationships – you're tapping and texting rather than talking to one another. It really annoys me. Obviously, I'm from a very different generation and I didn't grow up with any of these things; I grew up in a time where people communicated with one another, personally."
"I worked at the post office for quite a number of years and I rather enjoyed that. I worked on the counter and also worked on mail. It was funny because I found that I enjoyed working on mail mostly because it was more physical. It was at a time when mail bags came in and we had to handle them ourselves. I liked the physicality of it."
"My favourite memories are mostly with my husband. He died of lung cancer, although he never smoked. His dying words to me were, 'Now is the time to show your mettle'. I think that's been my inspiration.
We were both very active and very careful about diet and lifestyle, going back to probably when I was late 30s or 40s. We thought about quality of life as we grew older and wondered what we could do to maybe help ourselves along the way. And I sort of feel that his words were telling me something. It was strange after he died, I had a compulsion to walk. It was a total compulsion.
"Reflecting on what I've achieved, I think he'd be very proud."
I do it because I enjoy doing it, and I think I'm probably also trying to prove that 90-year-olds can..

Heather's motivation
"People like Nelson Mandela. Simply because of his stoicism; the fact that he kept going and sort of didn't give up on life and maintained his attitude, thoughts and his way of life entirely through 26 years of isolation. That's incredible, isn't it?
"I also really admire Paralympians, because they have to overcome physical difficulties in order to compete and yet they still do - they push themselves through tremendous barriers."
"Well, I used to write poetry. I also like doing cryptic crossword puzzles but I'm afraid, at the moment, my time is mostly taken up with training and working out. I have a good trainer who, in the last four years, has actually taught me how to benefit from interval training. Prior to that, I was just training on my own, doing what I thought was right. I've noticed that since working with her my pace has increased and I'm beating my personal bests."
"People, I think. I know that we can't clump all young people in together, but I do think that the attitude is – in general – very different to what I would have expected. There is an impatience and sometimes rudeness. I think there's a lack of respect for other people. But look, you learn to change; I've learned to change over the years. I realised that the world has transformed completely and it's a much faster pace of life these days. I would like to turn back the clock in many ways, but you can't do that. You just have to learn to live with it."