Children of the revolution
---
The climate change and Black Lives Matter movements have seen thousands of people hitting the streets with placards and posters (and face masks), sometimes causing mass disruption to our day-to-day lives. It begs the question, are protests effective?

The 60s, 70s and 80s saw Baby Boomers also take the streets over the Vietnam War and nuclear weapons. But do protests change anything? Nichola Davies looks at protests from those days that certainly did.
Summer 2020

Feature

Read Time: 10 mins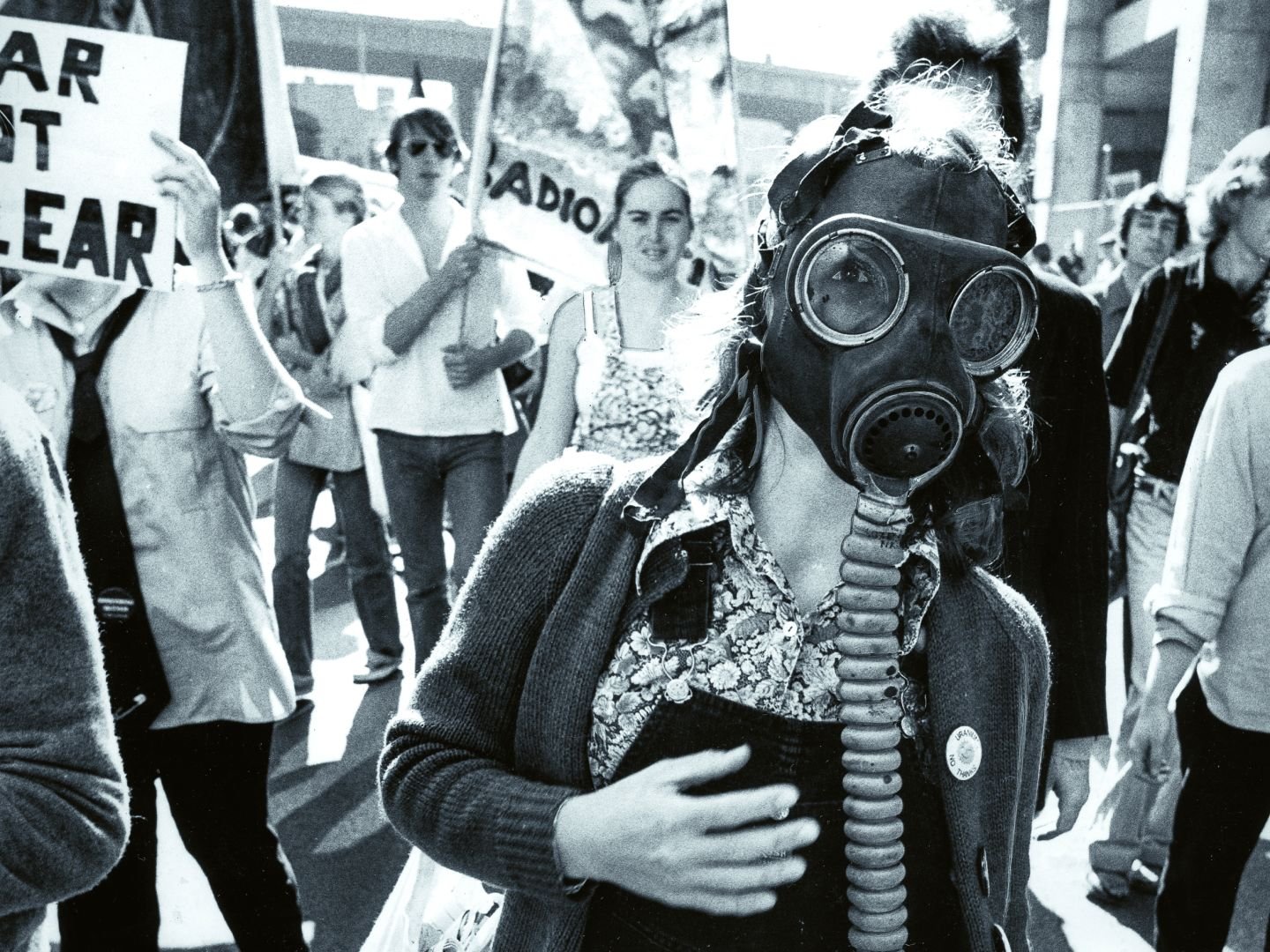 You'd be hard pressed to find a better authority on the Vietnam War protests in Australia than documentary maker Larry Zetlin. His passion for the topic has seen him very busy interviewing hundreds of people for his documentary Hell No! We Won't Go. Larry was active in the '60s and early '70s in the anti-Vietnam War movement. Studying at The University of Queensland at the time, the first anti-war march saw only 30 people march.
"I went to university late, not straight out of high school, and I was in the first large march that left the university and marched all the way to Roma Street," Larry says.
"We were all sat down [by the police] and I was arrested there at that march.
"Once you're arrested you go to the watchhouse and there were a lot of lawyers and people sympathetic to the movement who bailed us out.
"Trade unions put up the money and we were all bailed out for $10 or something."
Usually, protesters at the time were arrested for what they called the 'trifecta'—resisting arrest, refusing a police order and "swearing or something", according to Larry.
"Then you're released on bail and there was a lot of money raised that night to get everybody out of jail. Most of us didn't show up so we forfeited the bail," he says.
At the time in Queensland, the government was dominated by the Country Party, which later became the National Party, under Premier Joh Bjelke Petersen. In order to demonstrate, you had to get a permit issued by the Commissioner of Police, who wasn't exactly generous with such things.
"So initially these movements had to win the right to demonstrate about anything, "Larry says. "The whole movement swung across to the right and used civil disobedience as a [law and order] weapon.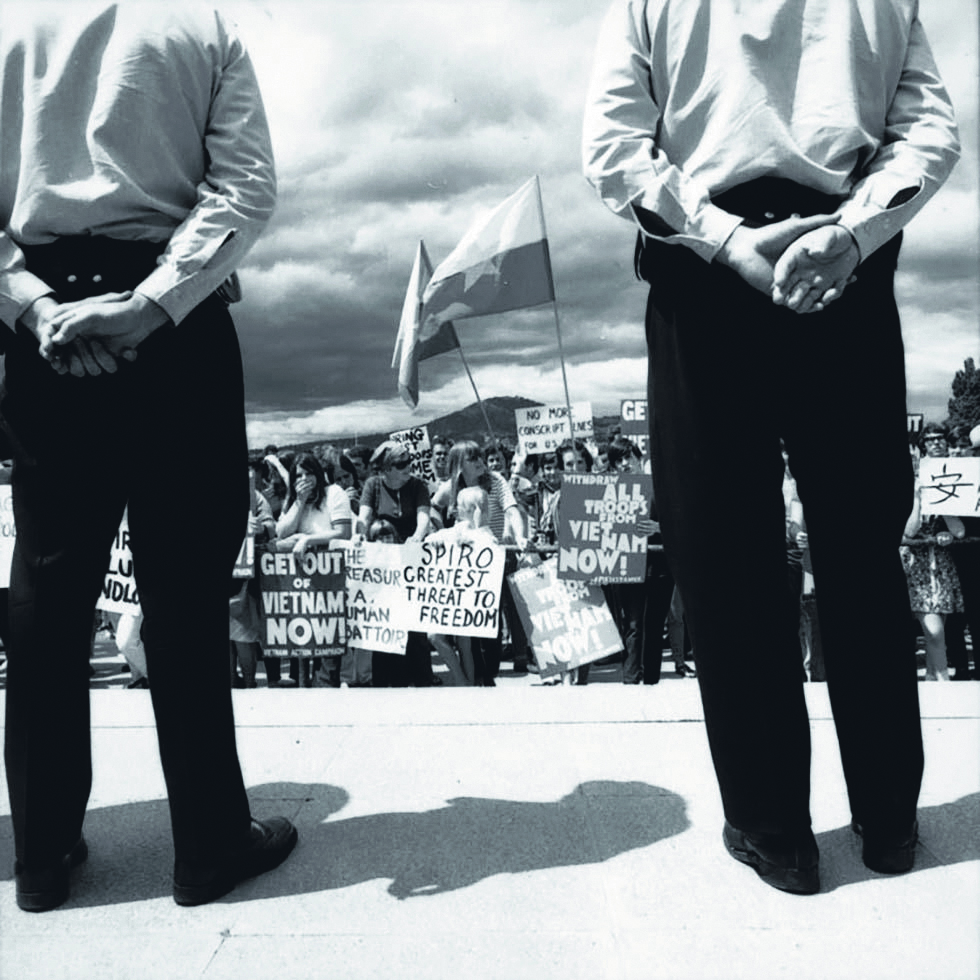 Protest movement resources
---
To view photos and highlights of some of Australia's most prominent protest movements, check out some of the following resources:
"That is, when the police came. People sat down and were arrested in large numbers."
In Adelaide, National Seniors member Kate Rose says the anti-Vietnam War and anti conscription protests were generally very well organised and quite peaceful.
"They tended to be led by academics rather than peace-movement people," she says.
"Some of those academics like Neal Blewett went on to become national politicians in Labor. The other thing we had in South Australia was a Labor government with [then Premier] Don Dunstan. He was broadly sympathetic with the anti-war movement.
"Another prominent academic, from Flinders University where I was studying, was a guy called Brian Medlin and he was often out front.
"He was the professor of philosophy and these were thought leaders as well, so they were able to weave the argument into the political narrative."
Despite the general peaceful atmosphere of the protests, that didn't mean there wasn't risk associated.
"I used to go to the marches wearing a large hat and sunglasses—I didn't want my parents to recognise me on the news," Kate says.
"They never found out, and they would be sitting there watching the news going, 'Would you look at those long-haired ratbags!' They were quite conservative. I'd be sitting there thinking, 'Oh my god, will anyone see me and recognise me?'
"They would have been furious. It just would not have been worth the fight and that's how a lot of us felt with our parents. A lot of us were the first people in our families to go to university in those days.
"I was there on a scholarship, which was another reason I was afraid of being recognised, because it was quite a punitive time."
The issues of the Vietnam War and conscription divided Australian society, but the organisation of the movements showed that people power could enact change.
"With the moratoriums, which were the dates for the protests that were synchronised right around Australia, there were huge demonstrations with the slogan 'stop work to stop the war'," Larry says.
"Melbourne had the largest of 280,000 people tied up around the city and the police were powerless against it.
"But it showed that if enough people said no to the government, you could win. But you needed to be organised to do that and be active for a long time."
It ushered in the Labor Party into federal government [under Whitlam] and then you had the second or third women's movement, Indigenous rights, antiapartheid… and I think Australia changed forever because of that."
"They never found out, and they would be sitting there watching the news going, 'Would you look at those long-haired raatbags!"

Conservative home life
While many may think of the 1960s as a time of free love brought on by the availability of the contraceptive pill for women, it wasn't exactly an all-round equaliser. The pill was often prescribed only to married women, and was flat-out refused by Roman Catholic doctors.
In the 1970s, the issues of equal pay and abortion characterised the second wave of feminism in Australia. Along with key books like Germaine Greer's The Female Eunuch sparking new ideas and sentiment, women took to public protests that attracted widespread media attention.
In Melbourne where the women's movement was linked to trade unions, protests for equal pay led to the networking and forming of the Women's Action Committee (WAC). This led to more protests such as insisting women pay only 75 per cent of tram fares on the grounds women were paid only 75 percent of the male wage.
University of Melbourne archives sheds light on the spread of the movement beyond just women students: "Just as universities provided a haven for anti-war [sentiment] and radical ideas, they proved favourable for the ideas and activism of the women's movement. Indeed, the women's movement grew when women active in trade unions, the Communist Party, anti-conscription and anti-war movements perceived that the talk of a new society mostly included the old sexism."
Kate Rose says the peace protests and women's rights protests were her key areas of focus, and they were probably the best-organised ones.
She tells her daughters, "You have no idea what we fought for to let you live the way you live now.
"Things like when I got my first job in1972, married women often had to quit work. You most certainly had to quit if you got pregnant. And you know—equal pay—my goodness!"
The Second Wave brought around legislative change that criminalised rape in marriage, decriminalised abortion and made it illegal to pay a woman less for doing the same job as a man. Women gained access to paid maternity leave, childcare and refuges—changes that would undoubtedly have been celebrated by the suffragettes.
From the late 1950s, the fight for equal rights for Indigenous Australians brought about the repeal of laws that deprived them of their civil liberties.
Ultimately, a decade of protests and campaigns culminated in the 1967 referendum, where 90.77 per cent of Australians voted to amend the Constitution to include Indigenous Australians in the census and to allow the Commonwealth to make laws for Indigenous Australians, i.e. to have the same laws as the rest of the nation.
The path to this moment was fraught with struggle. While not the first protest incidence, in 1957 Palm Island workers held a strike against unfair wages and apartheid-like treatment. The Queensland Government responded, sending 20 police to quash the rebellion, and brought seven men and their families back to the mainland in leg irons.
In 1962, young Aboriginal leader Charles Perkins led a highly publicised freedom ride in New South Wales, drawing attention to racial segregation in small towns and the appalling living conditions of Aborigines.
In 1972, the Aboriginal Tent Embassy was erected in Canberra, which is now a permanent protest occupation site. Young white Australians joined the protest, marching in Brisbane during the 1982 Commonwealth Games. More than 40,000 people staged the largest march in Sydney since the Vietnam moratorium in 1988, where protesters marched for land rights.
The prominent political tensions of the Cold War and the Arms Race bred a global climate of fear in the '50s and '60s. Australian anti-nuclear protests were scarce, with the movement evolving into full-blown mass protests in the 1980s.
In Queensland, it was an illegal march by anti-nuclear protesters in 1977 that led to that state's street march ban, energising the later mass Vietnam Moratorium protests. The anti-nuclear protests claimed links between capitalism, nuclear power, and the global weapons industry, as well as harm to the environment, the impact on Aboriginal communities and national security risks.
But uranium mining and export continued and the presence of American bases, nuclear warships and French nuclear tests in the Pacific also continued. In these climate-change days, the antinuclear movement continues to affect national debate on carbon-free, and safe, energy alternatives.
Having worked in human resources much of her life, National Seniors member Deborah Lewis says she continues to make her voice heard, these days through social media as well as attending protests.
She is passionate about showing politicians that people in aged care are consumers as well.
"My mother was in aged care and we had to pay $350,000 for her spot, and yes we got a portion of that back in the end, but she was paying with her pension, they all are," Deborah says.
Deborah wants government to better support jobs that help people in need. "The politicians just love their fluoro (hi-vis) vests, and it's frustrating because that's not where the major employers are. They keep talking about how that's going to stimulate the economy, and yes it's a proportion of it, but the greater employer is within those social services, health services and so on.
"Perhaps we should start our own movement where everyone wears a fluoro vest for a week because then the politicians might see and think 'that's a lot of people'," she half jests.
Protesting today has taken on new forms, with social media playing a key role in how we learn about critical issues and raise our voices.
Kate Rose says she's inspired by those who have dedicated their lives to important causes, pointing to 17-year-old Swedish student Greta Thunberg and 94-year-old conservationist David Attenborough as proof that change is intergenerational.
"You look at inspiring young people like Greta Thunberg, [her success is] a combination of her and social media being able to galvanise," Kate says.
"Then at the other end of the age spectrum you've got David Attenborough and I think what I love about the climate change movement is that its intergenerational and that gives it strength. Whereas we had some intergenerational approach here in Adelaide [during the Vietnam War protests] but that was an exception to what was going on internationally.
"[With the recent climate change protests],that's the first time I have felt, ever since the early '70s, that we're getting back to citizens uprising. We've got people leading it, which is brilliant. For a long time I despaired thinking, were we the only generation to shake the foundation?"
Larry Zetlin echoes this sentiment, saying, "It's sad to see it's [society] getting more conformist now. We need another moratorium I think, on Aboriginal rights, and on the inequalities that women meet."
The modern protest movement was pioneered by today's senior Australians—for many protests were a rite of passage into striking out as independently minded young adults. It has certainly made its mark on generations of Australians, and will undoubtedly continue to do. It's those personal stories and the impact protesting made on a whole generation, and now their grand-children, that makes activism so poignant–to be shared for years to come.
If you have a personal story about protesting, tell us via letters to the editor or National Seniors' Facebook page.
The Vietnam war was a radicalising experience for some people but for the thousands of young conscripts and regular service personnel it was a tour of duty.
Facing a formidable foe and far from the fierce debate at home over conscription and the war in general, this generation of young men obeyed the government's call to serve in what was then the little-known Asian country of Vietnam. They came home to great disappointment.
Their times, away from the comforts of others of their generation was summarised in Redgum's 1983 song I Was Only Nineteen (A Walk in the Light Green), which tells the story of Frank Hunt, maimed by a landmine and now a wheelchair-bound veteran of the war.
Approximately 60,000 Australians—ground troops, air-force and naval personnel—served in Vietnam between 1962 and 1972. In March 1975, RAAF transport aircraft were dispatched to South Vietnam to provide humanitarian assistance to refugees fleeing the North Vietnamese Ho Chi Minh Campaign.
521 were killed and more than 3,000 were wounded, and countless lives were changed forever.
My two favourite memories are the BHP protest and the Bank employees protest. Each time we treated the police with respect and they reciprocated.
– Paulius V

I protested against Kemp changes to higher education... "Educationfor all, not just the rich."
– Kathleen K

I remember locals and builders' labourers getting together in Sydney to preserve heritage buildings and bush areas in Hunters Hill.
– Jan G

We can now protest peacefully via our Facebook pages.
– Jen C

I wasn't involved in the Vietnam protest but it sure scared me. I could not believe how the Australia I loved and thought I knew was. It was in Sydney when the Vietnam vets marched. People were throwing bottles, rocks, newspapers, etc. It was the most terrifying time for me to be in the midst of it. I learnt then what my country was. I also some years later witnessed the similar revolt at a veterans day. Bottles and rocks turned to hotdogs and newspapers .I had my two children there to teach them about the after effect of wars.
– Nen N

I marched for better wages for community and emergency services several times, and I took annual leave days to do it, too!
– Julie W
1914: Australian Aboriginal Progressive Association formed.
1918: Darwin rebellion sees 1,000 demonstrators associated with the Australian Workers' Union march on Government House.
1927: Australasian Council of Trade Unions (later Australian Council of Trade Unions) formed.
1938: Day of Mourning protest held.
1965: Indigenous activist Charles Perkins leads 'Freedom Ride' bus tour around New South Wales.
1965: Women's liberationists chain themselves to the bar at Brisbane's Regatta Hotel to protest their exclusion from public bars.
1966: Gurindji Strike (Wave Hill Walk Off)led by Vincent Lingiari.
1967: Indigenous referendum.
1970: Germaine Greer's The Female Eunuch is published.
1970: Moratoriums to protest Australian involvement in Vietnam are held.
1972: The Aboriginal Tent Embassy is established in Canberra.
1972: Campaign Against Moral Persecution (CAMP) forms and organises gay rights protests.
1972: 'Black Moratorium' marches and work stoppages take place nationwide.
1985: After decades of protests and petition signing, the Australian Government returns Uluru to traditional owners
1976-77: Anti-uranium mining protests and petitions take place all over Australia.
1978: Police violently crack down on gay rights protests.
1988: Tens of thousands of Indigenous Australians march through Sydney on Australia Day to celebrate their survival, renaming the day 'Survival Day'.
1994: Cathy Freeman uses both Australian and Aboriginal flags at the Commonwealth Games in Canada.
1996: Protesters from Australian Council of Trade Unions try to force their way into Canberra's Parliament House.
2000: Walk for reconciliation across the Sydney Harbour Bridge.
2002: Dozens are injured during a protest at the Woomera immigration detention centre in South Australia where a group of asylum seekers escape.
2012: Australia Day protests.
2014: First Nation grandmothers march from Melbourne to Canberra to protest against treatment of Indigenous people.
2017: Uluru Statement from the Heart released with signatures.
2017: Same sex marriage legislation passes after societal pressure leads to a national referendum.
2019: Don't Kill Live Music movement sees 30,000 protesters gather in Sydney's Hyde Park.
2019-20: Organised School Strike for Climate protests take place nationwide.
2020: Black Lives Matter and Aboriginal deaths in custody protests take place nationwide after African American George Floyd is killed by police in the US.