Urban vibe meets wilderness
---
As we pop our heads above a challenging year and dust off travel plans, Tasmania is emerging as the perfect place to escape, recharge and be inspired. With stunning scenery, a vibrant arts scene and rich history, a trip to Tasmania can be packed with variety and energy.
Summer 2020

Travel

Read Time: 8 mins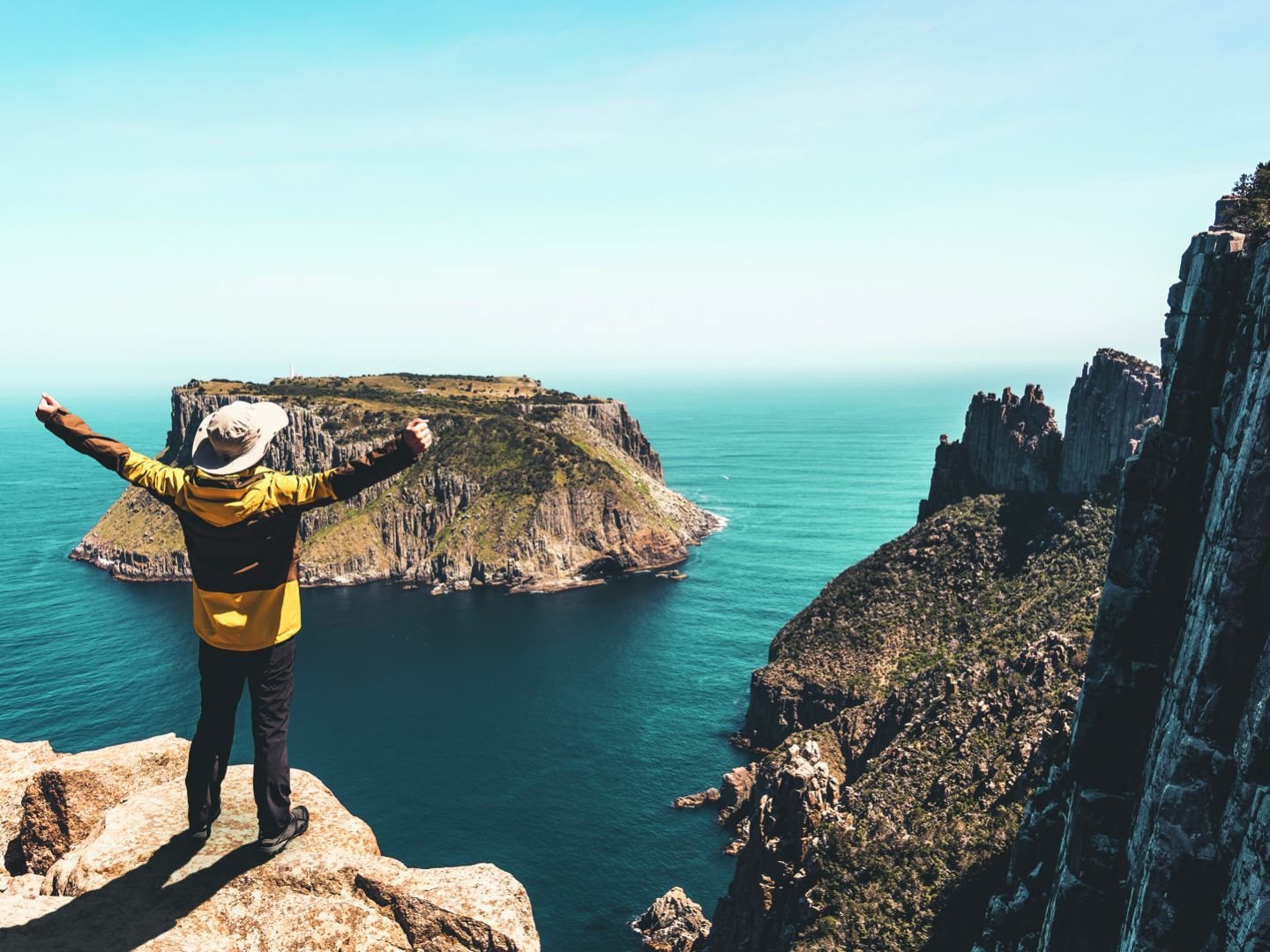 From remote wild mountains to lush rainforests fringed by sparkling oceans, Tasmania's wonderfully diverse national parks and heritage areas provide the perfect opportunity to reconnect with nature. For the more adventurous, there is no shortage of multi-day hikes and shorter nature walks along the region's famous rugged tracks and through cool temperate rainforests alive with birds and animals. For those wanting to take it back a notch, spectacular highlights can be appreciated by cruise or sunset boat ride. Tasmania adjusts to your pace.

Connect to a creative urban beat when visiting Hobart's famous museums and art galleries, and absorb the energy of Salamanca Market, showcasing fresh market organics and artisan wares. Further north, recharge and indulge in the Tamar Valley, experiencing the best of Tasmania's produce and local wine, surrounded by elegant vineyards.

Spend time stimulating your intellectual curiosity by visiting historical sites such as Strahan and Port Arthur, where stories from Australia's convict history echo throughout. Tasmania has countless amazing things to see and do. Here are twelve of our favourites to inspire your wanderlust.
Abundant with organic produce and surrounded by beaches and bush, the Tamar Valley brings together the best of Tasmania—organic food, local wine, beautiful scenery. Take a drive along the rolling valley hills, past quaint villages, and experience rural life where small cottage producers spend their days perfecting the art of creating artisanal cheese, fruits, nuts, beer, cider and wine. Driving through the region is a delightful day trip, and the thriving local food culture is best appreciated by pulling up to a vineyard for a meal overlooking the lush agricultural land.
Rugged granite rocks tower above white sandy beaches along the remote Freycinet Peninsula on Tasmania's east coast. Explore the park on foot to the sound of abundant birdlife, following walking tracks that snake through remote windswept shrubs and grasses.

The iconic Wineglass Bay is just one pristine, secluded beach to visit, and can be reached by foot in a two hour round trip, but there are many other sparkling aqua bays to explore. Sunset cruising is a popular activity, and a perfect way to experience the park's less accessible corners, especially around the Hazards, a magnificent mountain range that glows pink due to its unique naturally tinted mineral makeup.
Buzzing with markets, art and culture, Hobart is the perfect place to recharge your creative energy and connect to a local beat. Home to the Museum of Old and New Art (MONA), in addition to many smaller galleries and artisan studios, Hobart's vibrant arts scene is a highlight of any visit to Tasmania. With a backdrop of Georgian and Victorian architecture, tucked-away cafes, and phenomenal food experiences, the city itself radiates inspiration.

Salamanca Market is a showcase of local artisans, designers and producers coming together each Saturday to sell their unique creations and to catch up. Just wandering the stalls and meeting locals is an experience itself. Round off the day with a stroll down Salamanca Place, where galleries, theatres and unique stores provide an enjoyable afternoon's entertainment.
A perfect retreat from Hobart's bustling energy, the Mount Wellington reserve sits at the city fringe, providing striking city and ocean views from the rugged pinnacle. Friendly to the most inexperienced walker, bush tracks here are wide and pass through cool forest canopies, with intricate rock formations and waterfalls just some of the natural highlights. For something different, explore the park on horseback or mountain bike or simply find a place to relax in the shade with a good book.
Famous for its orange lichen covered rocks, unique wild flora and pristine beaches, the Bay of Fires is one of Tasmania's most popular and diverse conservation reserves. Featuring vivid reefs and mysterious underwater caves, those who enjoy snorkelling and diving will be in their element exploring the underwater world. Snaking for fifty kilometres along the east coast, the Bay of Fires can be explored by car, where you'll find many tucked away beaches just waiting to be discovered. The dazzling Binalong Bay is the most popular spot for swimming and surfing.
Towering magnificently from a glacial lake, Cradle Mountain is the epitome of Tasmania's wilderness and an awe inspiring sight. Fierce black granite peaks drop down to dense vegetation, fragrant wildflowers, pristine lakes and misty, craggy enclaves. The region is famous for its stunning Overland Track, which takes a challenging six days to walk. However, spectacular views can easily be experienced on many shorter walks and hikes, including the beautiful Dove Lake Track, which circumnavigates the deep, clear lake at the base of Cradle Mountain, reflecting picturesque alpine scenery. Venture into the park for the opportunity to see wildlife including wombats, Tasmanian devils, quolls, platypus and echidnas. To learn more about these unique animals and learn about the region's conservation initiatives, visit the Devils@Cradle wildlife sanctuary, where personalised tours can provide an up-close encounter.
A foodie's paradise right in the middle of a National Park, Bruny Island is about as Tasmanian as it gets. Spend a day exploring boutique farms, artisan producers and vineyards, or explore the coastline by cruise, kayak or sailboat. If the laid-back island pace captivates you, stay a few days with everything from campsites to luxury eco retreats on offer, along with some outstanding restaurants serving local produce and seafood. For those on the lookout for native coastal wildlife, the South Bruny National Park is home to fur seals, fairy penguins, albatross, wedge tailed eagles and white wallabies, and you'll find many delightful walks across the island to go wildlife spotting.
Surrounded by rainforest and showcasing multilayered cascades, these enchanting falls are a true natural wonder. Towering swamp gum trees line the path to the falls, with a boardwalk that's friendly to the slowest-paced walker. Spend some time among the lush ferns, then loop back along the creek walk, where you might be lucky enough to see a platypus. For the more adventurous, visit the falls after dark and see glow worms making the waterfall plunge pool their home.
Spanning over a hundred acres, the UNESCO World Heritage listed Port Arthur Historic Site has a dark history, in contrast with the serene beauty of the hills that surround it. Once a sprawling convict prison, it's now a collection of picturesque ruins with an important historical story to tell. Much work has been devoted to uncovering the tales of convicts and guards. Learn more about these stories and let the ghosts of Australia's colonial past come alive as you wander the well preserved buildings, and let your imagination run wild.
Not far from Hobart, take a journey back in time to the nineteenth century as you travel down the picturesque, cobblestone lanes of Richmond. Perfectly preserved Georgian architecture now hosts cafes and art galleries in this quaint eclectic village. Home to the oldest bridge, Church and jail in Australia, Richmond is saturated in history and also features many beautiful antique stores and markets.
Sitting at the boundary of the Tasmanian Wilderness World Heritage Area, Strahan is a small village rich in colonial history, with no shortage of chilling stories to tell. Convicts were once kept in the harshest conditions on windswept Sarah Island off the coast, and the eerily beautiful place can be visited on a day trip. Plants and dense forest have overgrown the ruins there, creating a picturesque landscape that seems strangely beautiful considering the confronting history. Strahan is also the best starting point to explore the Franklin-Gordon Wild Rivers National Park, with many travellers opting to start their journey into the park via a spectacular forest-lined cruise down the Gordon River.
From intricate and unusual rock formations, to fossilised cliffs and bold, swirling colours, Maria Island's unique ecosystem has painted and sculpted the landscape into something quite magical. A result of years of erosion and mineral-rich groundwater, the Painted Cliff Tops are especially captivating.
Facing wild, open ocean on the western side of the island, the cliff tops are best explored on foot, while elsewhere on the island, cycling is an ideal way to explore.