Flourishing despite adversity
---
Meet Valerie Pratt AO. She's a Director of National Seniors Australia and, at 91 years young, she knows a thing or two about
endurance. Here she describes what it's like to face the COVID crisis as an older Australian.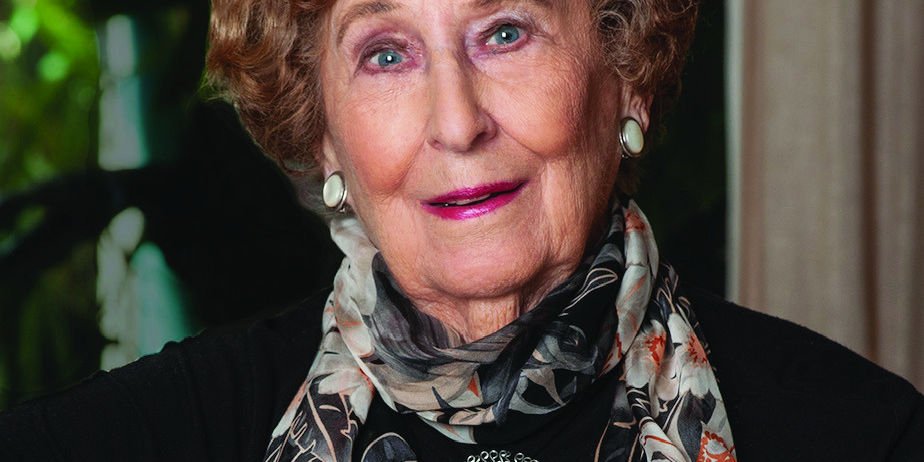 Widowed for 10 years, Valerie resisted the call from retirement villages to downsize, choosing to live in her own home on her own terms.
Valerie is living proof that age is just a number. She has good health and is extremely active, saying she is blessed with good genes and resilience. She has a lifelong interest in social issues and social responsibility, and advocates for older Australians through National Seniors and previously with the NSW Ministerial Advisory Council on Ageing. She has wide experience in public and social policy, through a long career in the public, private and higher education sectors. When COVID-19 unfolded and lockdown was implemented, it certainly heralded a different lifestyle for this independent 91-year-old.

"I've missed my exercise class, morning coffee with family and friends, the theatre and occasional weekends away," Valerie says.

"Some friends said they had lost their rights and felt imprisoned. The changes came so suddenly, and instructions were contradictory and confusing. But social policy for the 'greater good' affects individuals differently, depending on their capacity to adapt and change. Knowing that isolation is critical for the high-risk categories, the lockdown, physical distancing and restricted shopping soon became the new normal.

"Clearly loss of what you enjoy demands a substitute. My first task was mundane— polishing all the silverware and my copper pots. Next the garden needed some attention and replanting. In cleaning out my study I found a museum of memorabilia. All those old reports, research, presentations and speeches now seemed to deserve a better fate than shredding. Perhaps I should write my memoir? This just might happen if I and the virus last long enough!" she laughs.
"Indeed, older Australians know a thing or two about social distancing, with many separated from their loved ones for long periods of time during the war."

Experienced in adversity
Valerie keeps her physical and mental health in check with a 'mental health' walk four times a week in a lovely park nearby.

Phone calls have also become an important part of surviving lockdown.

"People I had not heard from for years began phoning and soon I was doing the same," she explains.

"Two former workmates demonstrated their creativity and sense of humour, one contacting me weekly as the 'isolation police', needing a report. The other suggested watching the sunset with a glass of wine accompanied by his choice of music—a very pleasant way to end a day in isolation.

Using Skype for National Seniors Board and Committee meetings has given me a sense of purpose and kept the mind active."

Valerie says media updates on the virus is something she has actively avoided. The situation was described as unique and "unprecedented", yet there are parallels from the past.

"Many older Australians weathered the years of the Great Depression and WW2," she explains.

"The Depression brought unemployment in excess of 20 per cent. Just as today, many with large mortgages and young families lost their jobs and negotiated interest-only repayments. Many took on labouring jobs to make ends meet, and internalised a sense of failure. Returning to their original vocation often took years. Women often used their skills in making something out of almost nothing. This was the original recycling and may explain frugal habits learned many years ago."
"Two former workmates demonstrated their creativity and sense of humour, one contacting me weekly as the 'isolation police', needing a report. The other suggested watching the sunset with a glass of wine accompanied by his choice of music—a very pleasant way to end a day in isolation."

Keeping in touch
Indeed, older Australians know a thing or two about social distancing, with many separated from their loved ones for long periods of time during the war.

"Families worried incessantly about sons in life-threatening situations such as serving on corvettes for antisubmarine or convoy and minesweeping duties in the China Seas, with the Japanese heading south," Valerie says.

"Young men lied about their age to join the AIF to serve overseas in New Guinea and Borneo. Submarines arrived in the Sydney Harbour and attacked HMAS Kuttabul. Darwin was bombed with considerable loss of life. Some families built trenches in their backyards as bomb shelters, and children were sent to relatives in the country to avoid the dangers. Food and clothing were restricted by government coupons and petrol was almost impossible
to obtain. There was a constant sense of anxiety, threat and fear but we had to make the best of things. We were encouraged by words similar to today's mantra, 'We're all in this together'."

Despite the challenges, there are good lessons to be learned from this situation, Valerie believes.

"Times vary but older Australians have learned the capacity to change and adapt through lived experience and acquired wisdom. These are great assets. Important factors in coping are finding alternative sources of pleasure, having insight through past experiences, maintaining strong links with family and community and having a purpose in life. Most of us are tougher than we think. Our response to COVID-19 could well contribute to changing the stereotypes on ageing."