Planning for 2021 and beyond
---
Travellers around the world have put their plans on hold in the hope that next year will see them again flying, cruising and more. To get back to doing what you love most, and supporting the recovery of the industry, take a leaf out of Gary and Jeannie Wardrop's book—they've just booked an epic, $90,000 adventure for 2021.

Here, Gary shares some advice for fellow travel lovers.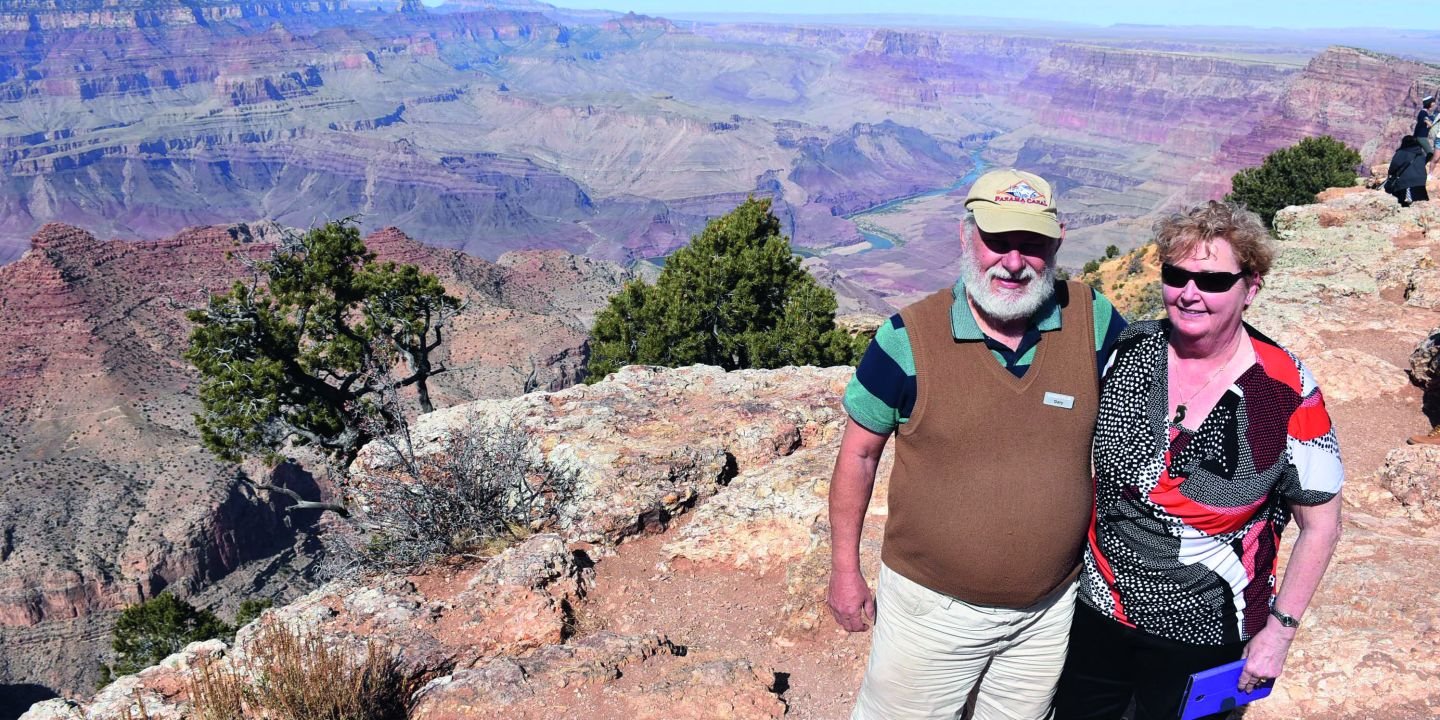 Gary's lifelong love of travel began as a young man with an unusual hobby.

"I was into caving [which involves exploring natural cave formations] and loved travelling into remote bush cave areas in Australia," Gary said.

"At 19 years of age, I hitch-hiked from Sydney to Perth and back, meeting three mates in Perth to travel together around Western Australia.

"After marrying Jeannie, a teacher [45 years ago!], we often travelled to wine areas during school holidays. Then after children arrived, we loved camping-style travel."
• Hunter Valley and Margaret River
• The Whitsundays
• New Zealand
• Canada/Alaska
• Russia (especially river cruising)
• South America (including Galapagos, Macchu Picchu and the incredible Iquazu Falls)

Gary's top travel destinations
When the couple retired in 2010, they tried a cruise to Vanuatu and became hooked.
"Our daughter worked for five years in the UK, so when we visited we got hooked on international travel, learning more about other countries," Gary said.

Despite the pandemic, a commitment to their travel bucket-list led to their greatest adventure.
In August next year, the couple will take an eight-day Ghan train journey and central Australia trip to places they haven't been to since 1979—Uluru, the Olgas and Katherine Gorge.

Then in September and October they'll be ocean cruising from Athens to Venice, adding on a South of France river cruise.

"Our daughter said the greatest trip she did in Europe was along the Dalmatian Coast, hence we couldn't resist the upcoming new Emerald small cruise ship from Athens to Venice," Gary said.

"We previously loved a wine-based Scenic cruise around Bordeaux, so are combining this with a Southern France cruise."

In December, they're off to Patagonia, the Falklands, South Georgia and the much-anticipated Antarctic region.
"Antarctica has always been our ultimate bucket list item and Patagonia,especially Tores de Paine for incredible geography,will complete our South American experience," Gary said.

"Everyone says that if going to Antarctica don't miss South Georgia. All of this will be with Scenic who we have found to be so comprehensive and professional.

"You must travel while you can."

With the budget of $90,000, it's clear Gary and Jeannie aren't letting the pandemic stand in their way of 2021 travels.
"We will get over coronavirus and there is already furious worldwide vaccine study and prospects," Gary said.

"Clearly, travelling is on hold now, but when we get past coronavirus and travel opens up again, there is going to be a massive pent-up demand.

"High demand means disappointments and higher prices, so we think it is better to book now at reasonable prices.

"Also, we're booking with reputable companies—they will look after us so we don't see any problems if there is a need for further postponement."

When asked if he has any reservations about cruising after the Ruby Princess incident, Gary gives a resounding no.

"It's all grossly unfortunate, who could have foreseen it?" he said.

"Princes Cruises is a magnificent company in a massive market. They are very professional and are in it for the long haul. They will come up with regimes that make cruising ultra safe again.
"We have booked to go with them to New Zealand in February 2021."

And with that, Gary's final piece of advice that rings true to us all: "Don't wait too long to book. No one gets younger, you must
travel while you can!"
Travel in style or travel light?
Travel as light as possible, there will always be things you take that you didn't need.
Beach or city?
Beach. Geography and history have more appeal to us than big overcrowded cities.

Hotel or homestay?
Enjoy both, but as our trips are usually touring several areas rather than staying in one spot for a while, we mainly use hotels.

Cruise or fly?
Whatever is needed to get to the destination and without making the trip too long.

Google Maps or physical map?
Like having a physical map but prepared to Google if needed.

Sleep, movies or read on the plane?
Movies and read, puzzles.

Early to the airport or just on time?
Definitely early, have a coffee.

Tour group or do your own thing?
The older we get the more we go for tour group so we don't have to deal with unforeseen problems, except for cruises,which we enjoy on our own.

Cold or hot climate?
Either, but it's part of the decision of where we go.
Our travel providers are implementing significant changes to boost health and safety for travellers in the post COVID-19 era. Here are some improvements you can expect.
Cruise Lines International Association (CLIA) will incease health screenings and protocols for all cruises for passengers and crew, both on board and before boarding for passengers and crew and working with local authorities on rigorous application.
Accor has partnered with inspection and certification specialist Bureau Veritas on a standards and cleaning protocols certification scheme, and is working with doctors, epidemiologists, hotel owners and trade associations to ensure standards and cleaning protocols. This will be documented in an operational guide enabling hotels to apply authorities' recommendations.
APT is ensuring suppliers in all of their destinations follow its new safety protocols, including hotel sanitisation, coach cleaning, ship decontamination,
and quarantining. These are specific to pre-departure, river cruising and Adriatic coastal cruising, ocean cruising and land touring.
AAT Kings coaches are sanitised in accordance with government and World Health Organisation advice and regulations. Drivers clean and disinfect all surfaces including handrails, door handles, tables, seats, air-conditioning filters and overhead lockers daily. All guests are asked to regularly wash hands and sanitise.
These are positive initiatives so that once again we can enjoy our travels knowing that our travel partners have prepared well and are working to ensure compliance with the strict industry protocols.