Staying connected during physical isolation
---
Distancing has become synonymous with COVID-19 movement restrictions. Many older Australians continue to stay at home as much as possible in order to protect their physical wellbeing. However, our emotional health can suffer as a result.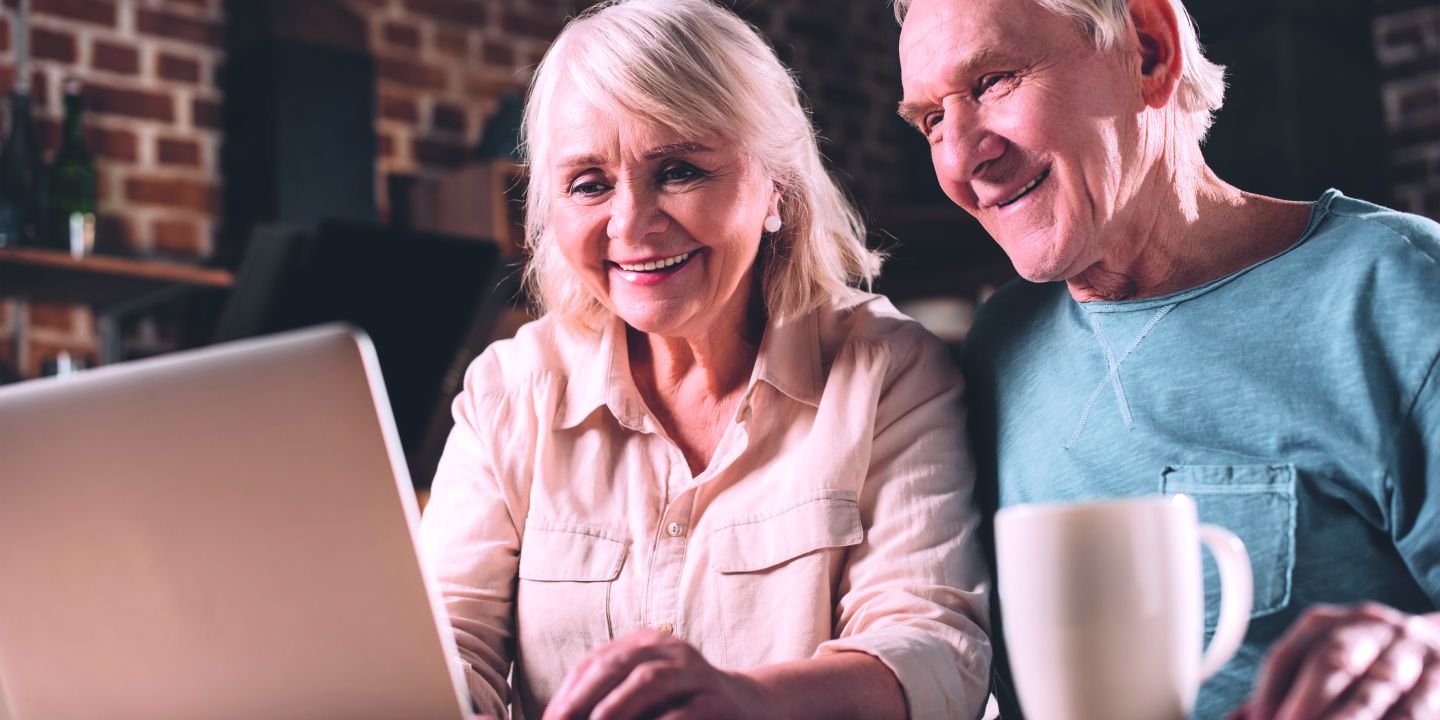 It's time to remove "social distancing" from our vocabulary and move over to "physical distancing", because with the technology available, there's no reason to not see and talk to family and friends as much, if not more, than ever.
If you have a smartphone or tablet, there are so many apps you can get (many for free!) to keep you in touch. All you need to do is go to the App Store on Apple devices or the Google Play Store on Android devices, search the app, and download. If you have any problems, get your most tech-savvy (and patient) young relative on the phone!

Here are a few of the best innovations to help you stay connected during this unprecedented period.
Video conferencing and digital sharing apps keep people connected with friends and family, and offer many ways to send photos and instant messages to each other.
Skype and Zoom are both applications that specialise in video chat, voice calls, and instant messaging between computers, tablets, and mobile devices over the internet.

The beauty of Skype and Zoom is that they allow you to phone anywhere in the world via your wireless internet connection for free (no worrying about call rates). The vast majority of smart phones and tablets come with a built-in camera, which means that a call with your family or distant friends can feel like they are in the very same room.
Houseparty is a social networking app that allows up to eight people to video chat at once in a virtual "room." Users can have as many "rooms" as they like and easily float between rooms. You receive a notification on your device when friends open the app and you can join chats with friends (both video and text) and even friends of friends. The best part is, (almost) everyone has it!

Once you're set up, Houseparty helps you find connections using the contacts on your phone and social media. Because it also connects you with friends of friends, you'll be chatting to long-lost friends and having family reunions with relatives you haven't seen in years in no time!

Moove & Groove is another app that provides seniors with audio and video programs curated just for them, all provided in a simple to use format. The innovative silent headphone technology allows residents to listen together from wherever they are enabling them to share in the listening experience.

With restrictions on family visits in aged-care homes, Move & Groove designed a new user-friendly Virtual Visitor Program to make it easy for staff to schedule online video calls.
With thousands of podcasts, extensive music playlists, radio stations and videos available with just a single click of a button, Moove & Groove offers seniors connection, stimulation and purpose, and allows families to stay connected when visits are restricted.

WhatsApp is a popular alternative to Facebook Messenger or texting, particularly among families for group chats to keep up to date with all the happenings while you're apart. You can send and receive photos, and have multiple chats going.
While there are some great apps listed above, they're not necessarily what parents and grandparents are looking for in an app that's ideal for children to use.
Caribu is specifically designed for grandparents to be able to video chat with their grandkids safely, and interact with them in ways kids love. Caribu markets itself as the "number one app to video-call grandkids", and for good reason. We've all attempted to talk to children whether via phone or video, only for them to get shy or lose interest after 90 seconds (they do love us; they're just not great at telephone etiquette!). Caribu allows you to not only talk with them, but play fun, interactive games or read stories with them while you do it.

Facebook Messenger is a popular communication channel among adults, but did you know they have a plugin for kids, too? Messenger Kids is a free video calling and messaging app for smartphones and tablets that allows parents to manage the contact list while kids control the fun.

With fun-filled features like filters and stickers, it's a guaranteed way to keep that connection up with those beautiful little faces even if you can't kiss them.

We are social creatures, and it's important to make an effort to stay connected while self-isolating. It may not feel like it right now, but we are lucky to be going through this right now when we have so much great technology at our disposal (imagine writing letters and waiting for them to arrive during the Spanish Flu pandemic over 100 years ago!).

The best thing is these technologies aren't limited to this difficult period—you can continue to use them well into the future to keep in touch or see more of your loved ones even once restrictions have lifted and we've moved on past COVID-19.
Reliable information is now more important than ever and, as a result, National Seniors has launched its own podcast show.
Called 'Connect with National Seniors Australia' the podcast is a way of getting our message to you our members as well as other older Australians.

The podcast is hosted by Craig Sullivan (pictured below), who worked as a TV journalist for the Nine and Seven networks for 20 years before coming to
National Seniors.

To tune in to the podcast, visit nationalseniors.com.au/news/connectpodcast.
You don't need to be a tech whiz to enjoythe benefits of owning an email account. Check out these handy troubleshooting tips to help you master your mail!
1. Tidy up your inbox
You can't email out and/or emails don't get to you? It's easy to feel bombarded by the countless emails that arrive everyday in our inbox. The natural temptation is to just leave them there. After all, how much harm can it cause? Unfortunately, your inbox has a limit for how much it can hold. Once it hits that limit, you won't be able to receive any further emails until you have freed up space.

Make time to delete unwanted emails each week. It will ensure you don't miss out on receiving an important message.

2. Check your email folders
Sometimes, an email is marked and placed in the 'spam' folder. Most email providers have a pretty good idea of what constitutes junk mail, but every now and again, an email you've been waiting on finds its way into Spam by mistake. For Gmail users, an email might be added to the 'Promotions' folder instead of your regular, 'Primary' inbox. Review your folders regularly to make sure everything is going where it should. If you would like assistance sorting out your folders, let us know and we can send you an instructional video or walk you through the process.

3. Update your details regularly
Not sure why that membership group or company has stopped sending you emails all of a sudden? Perhaps they have your old email on file. It sounds obvious, but it's difficult keeping track of the emails you've subscribed to and whether or not you've let them know about your email change. If you have made a change to your email but failed to update your details, that could be why.

4. Check your device's security
Sometimes, if your computer or digital device isn't protected, it could be infected with a virus or malware that impacts your email delivery and other programs.

If you use a work email, the problem could be less sinister but still frustrating— the server could be 'blacklisting' email addresses (stopping emails from reaching you) by mistake.

5. Register your interest in a free digital technology course
There are a number of free education problems designed to help older Australians connect with technology. At National Seniors, our Digital Mentor and Be Connected programs have achieved great results. Contact us to find out more.

Do you have a question about email or technology you'd like us to answer? Email ourgeneration@nationalseniors.com.au.