Aromatic slow-cooked lamb shoulder
---
Aside from it being delicious, the best thing about this lamb is that you can put it on in the morning and head out for a while with the smug knowledge that lunch will be waiting for you when you get home.
Winter 2021

Lifestyle

Read Time: 4 mins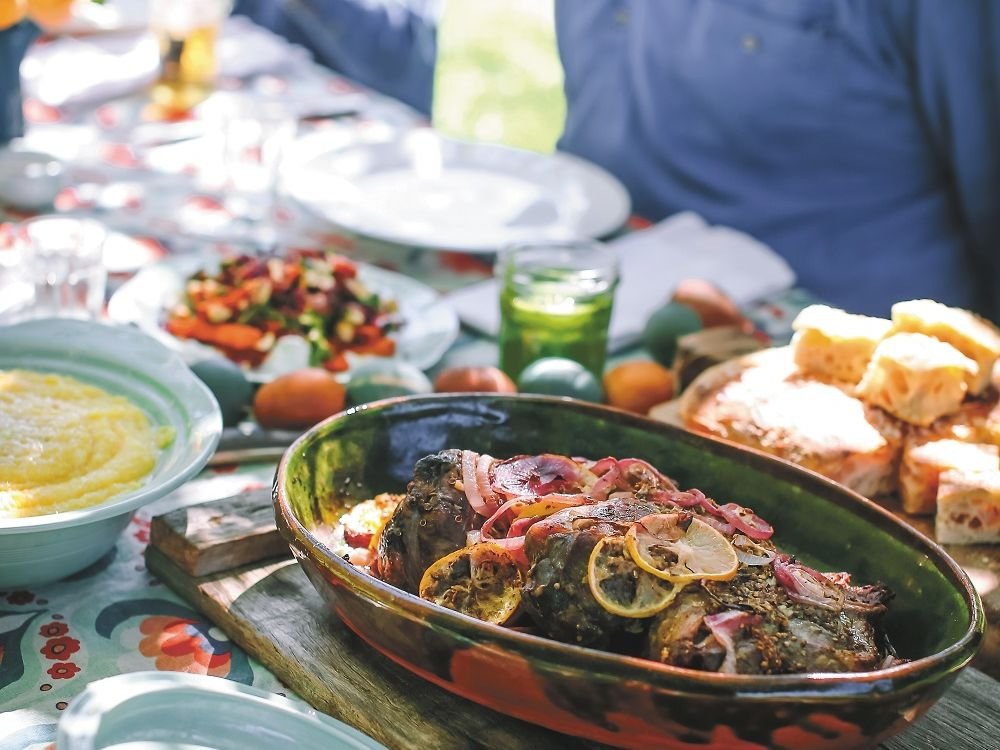 Food and wine pairing
---
Nothing beats warming up over the cooler months with some hearty winter fare and delicious, flavour-packed wines. Enjoy this comforting food and wine pairing courtesy of Laithwaite's Wine People— you'll love them!
One of the newest additions to the Laithwaite's portfolio—the Middleton V is South Australian Shiraz at its finest!

The Fleurieu Peninsula's sandy soils and cooling maritime breezes make for a savoury, aromatic Shiraz with great fruit intensity. It features a vibrant palate of red and black fruit with touches of white pepper and spice, all leading to a long, elegant finish. Expertly crafted in a food-friendly, French-style, where balance and drinkability trumps power for power's sake. Ideal with a refined, succulent roast.

Try it with this recipe, the aromatic slow-cooked lamb shoulder.
Serves: 6
Prep time: 20 minutes
Cook time: 5¾ hours
Ingredients

1.8–2kg (4–4lb 8oz)
lamb shoulder
8 garlic cloves, peeled
2 tablespoons coriander seeds
2 tablespoons cumin seeds
1 tablespoon fennel seeds
1 teaspoon sea salt
¼ cup (60ml) olive oil
2 lemons, thinly sliced
2 red onions, sliced
¼ cup (60ml)
pomegranate molasses
2 tablespoons honey
2 tablespoons wholegrain
mustard
¼ cup (60ml) red wine vinegar
50g toasted pine nuts
50g pomegranate seeds
1 small handful coriander (cilantro) leaves
Bring the lamb to room temperature and make a few incisions across the top of the meat.
Preheat the oven to 220°C (425°F).
Using a mortar and pestle, pound the garlic, spices and sea salt into a coarse paste. Add the olive oil, then rub the paste over the lamb, pushing it into the incisions as much as possible. Layer the lemon and red onion slices over the base of a roasting tin, then place the lamb on top. Pour 80ml water into the tin and roast for 30 minutes. Reduce the oven temperature to 120°C (235°F), tightly cover the roasting tin with foil and cook for about 4½ hours or until the lamb is very, very tender.
Towards the end of the cooking time, combine the pomegranate molasses, honey, mustard, vinegar and ¼ cup (60ml) water in a small saucepan and bring to the boil.
Pour the pomegranate glaze over the lamb. Increase the heat back to 220°C (425°F) and cook, uncovered, for a final 40 minutes or until the lamb skin is beginning to crisp up.
Sprinkle the lamb with the pine nuts, pomegranate seeds and coriander leaves. Spoon the lemon and onion slices over the top to serve.
Love stories like this?
Become a member and receive a hard copy of Our Generation magazine. Our quarterly magazine is filled with stories about our members, for our members.
Become a member!