Immigration nation: The migrants who helped build Australia
---
Between 1945 and 1965, roughly two million immigrants arrived in Australia. The decision by the Australian Government to open up the nation to non- British migrants was based on the notion of "populate or perish" that emerged in the wake of the Second World War.

Here, we look at the migrants who came here in search of a better life and, in turn, helped build a better Australia.
Winter 2021

Feature

Read Time: 10 mins
Did you know?
---
Coined "New Australians" in an effort to replace derogatory terms such "pom" and "wog", the first shipload of immigrants arrived in Australia in 1947 from Estonia, Latvia and Lithuania.

Subsequent years saw ships arriving from the United Kingdom, Italy, Germany, Poland, the Netherlands, Ireland, New Zealand, Greece, the Former Yugoslavia and Malta.
They came here by boat, some having journeyed for months to reach our shores. Men left wives and young children back in their native countries to secure work and save enough money to bring their families out and start a new life in the land of opportunity.

Connie Leamon was two years old when her father, Con, left Greece to cut cane in North Queensland, but she remembers his stories about what life was like as a migrant worker in a foreign land.

"He came here not knowing a single soul and not speaking a word of English," she says.

"He was only 23 at the time and had worked on his father's farm since the age of 11. His family wasn't well off and he didn't receive much of a formal education, but he was a clever man and an extremely hard worker.

"Cutting cane was hard work but the Greeks and Italians were used to that. You have to remember, most of these men had been to war… cutting cane was tough but they had already been to hell and back, so what was a bit of physical labour?

"I think the hardest part was probably the culture shock and being away from their families. My parents had only been married a few years and my mother was pregnant with my baby brother when he left for Australia. I put myself in their shoes and think it must have been really hard on them both."

It took Con almost 18 months to save enough money to bring Connie, her mother and baby brother out to Australia. Con had secured a job with the council as a sewerage pipe inspector and this allowed them to rent a small house in west Brisbane with another migrant family.
"My father worked very hard but my mother worked incredibly hard as well," Connie recalls.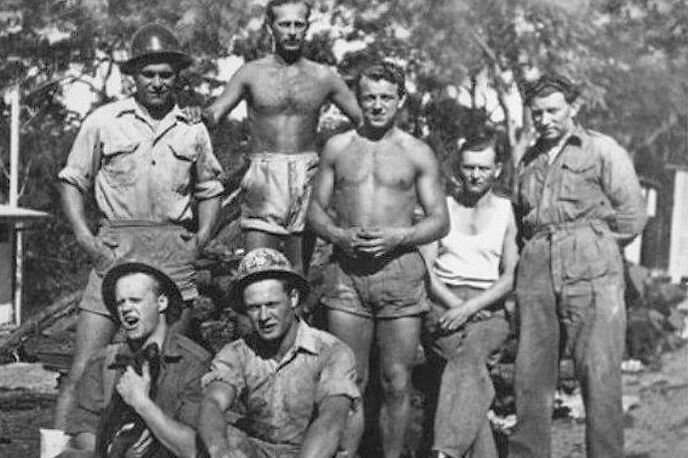 Workers on the Snowy Mountains Hydro-Electric Scheme (photo: SBS)
"Mum spoke little English but she really put herself out there to make ends meet. They had a tiny backyard but she planted a garden of fruit and vegetables so we didn't have to buy much. She was a self-taught seamstress and made all our clothes. She did whatever small jobs she could to make money and taught herself to speak English.

"Really, you have to take your hat off to these women. Imagine being here alone with no family, raising babies and working your guts out to put food on the table and pay the rent. Most people treated them like second-class citizens. We were just 'bloody wogs'."

Connie says she will never forget the hard work and sacrifice her parents made to give her and her siblings a better life.

"My parents are no longer with us but they will always be my heart and my heroes. I think back to some of the stories they told me about the poverty they grew up with and the way people treated them when they came here, and really they must have had serious post-traumatic stress disorder. I'm fairly sure my mother had mental health issues that went untreated her whole life because you didn't go to the doctor unless you were dying, back then.

"Their sacrifice meant my brothers and I were able to receive good educations and live in a truly lucky country. I look at the way we treat refugees and immigrants now and think, has anything changed? I don't know."

Michael Dubinin was born in China's 'Russian city' Harbin, which was home to thousands of railway workers who came from the Russian Empire.

After World War II, many Russians began to leave Harbin, heading back to the then USSR or other countries, including Australia. Michael and his sister, Tatiana, were a part of this wave of immigration.

"We came here as refugees," Michael told writer Svetlana Elgina in an article for SBS News.

"After the war, Australia was accepting displaced people. In fact, we did not have any citizenship, we had USSR passports but they were counted as an inferior residence permit, and in USSR these documents were usually just ripped apart. We were still kids when we came to Australia; Tatiana was 10 and I was 14.
"It was impossible to leave China without receiving permission from the special department. Under pressure from the Soviet Union, the Chinese were trying to make us go back to USSR. It took us four years to get that permission."

Tatiana recalls entering Year 5 at school and not being able to communicate with the teachers. She says she was taunted by other children for her food, a hallmark of immigrant life in 1950s Australia.

"I was afraid of having our traditional food at school and for lunch I only brought sandwiches with peanut butter or jam. One time my mum put a garlic sausage in my sandwich and kids laughed at me, 'Your sandwiches stink!'.

Australians only ate 'devon' at that time." Michael says he often got into fights at his school.

"Back in China, we had big fights with Chinese kids on the way from school every day... In Australia, if some kid said something I didn't like, I didn't think much and would fight them. Maybe the kids were simply asking me where I was from. I don't know. If I didn't like the tone, I would fight. As a matter of fact, a lot of kids did the same."
I was afraid of having our traditional food at school and for lunch I only brought sandwiches with peanut butter or jam. One time my mum put a garlic sausage in my sandwich and kids laughed at me, 'Your sandwiches stink!'
In addition to migrant workers and those displaced from their home countries, some highly educated and skilled migrants came to Australia on lucrative contracts to help create major Australian infrastructure projects, such as the Snowy Hydro Scheme.

The Snowy Mountains Hydro-Electric Scheme is widely regarded as one of Australia's greatest engineering achievements. The initial construction, which commenced in 1949, took more than 20 years to complete and more than 100 workers were killed in industrial accidents.

The project was designed to divert water from the Snowy River to help irrigate the western side of the Great Dividing Range while also generating hydro-electric power.

Seventy per cent of the workers on the project were migrants from Germany, Greece, Ireland, Italy, Britain, Norway, Poland and the former Yugoslavia. It was arduous work in a harsh, mountainous environment. Workers spent a lot of time underground, tunnelling through solid granite in precarious conditions.

Sergio Bazzoni left his hometown outside of Parma, Italy, to work on the Snowy Hydro Scheme at the age of 25.

The only son in his family, Sergio was well educated and went on to study electrical engineering at university, later becoming employed by the Società Anonima Elettrificazione. In 1952, Sergio signed a contract to come to Australia to head the camp of Italian migrant workers, building the network of high-voltage transmission towers along the east coast all the way to the Snowy Mountains, connecting the Snowy Hydro Scheme to the national electricity grid.

Sergio's wife, Maria, recalls the enormous scale and pace of the work at the time.
The initial construction, which commenced in 1949, took more than 20 years to complete and more than 100 workers were killed in industrial accidents.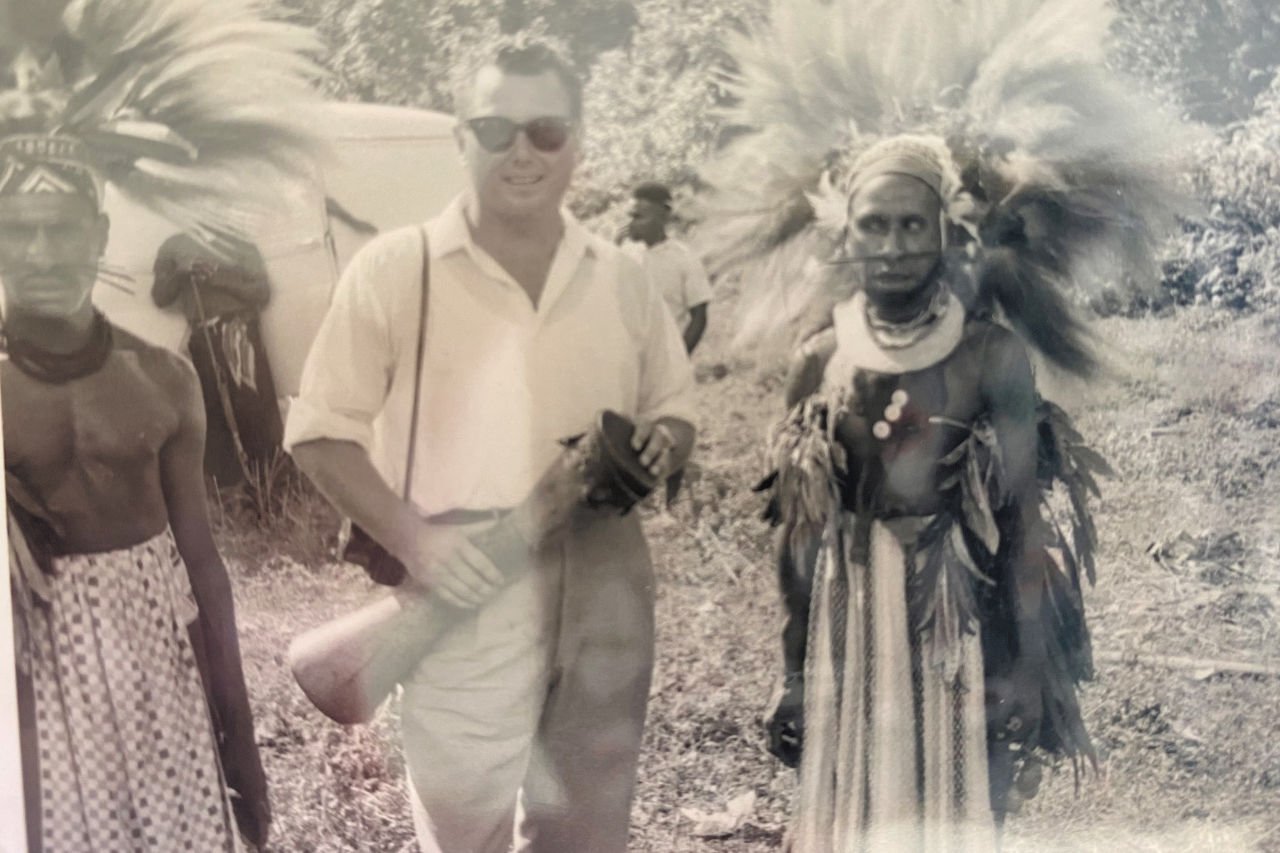 Sergio on a work trip in Papua New Guinea
"I remember going into the huge tunnels being built at the site—the Italians were famous for their tunnelling work. The work was going ahead so fast you could see the towers popping up out of the ground like mushrooms. Sergio was happy with the work they were doing, and it was going ahead smoothly," she says.

On the project, the Italian workers were highly regarded, being skilled and highly experienced in working to alpine conditions. The work was arduous but the company looked after them very well, and even provided them with their own priest to ensure they were taken care of pastorally.

The respect did not continue when they stepped outside the jobsite, however.

"When Sergio and his friends went into town, the Aussies would stare at them and give them the cold shoulder," Maria says.

"The Italian men looked so different to the Australians; they were always immaculately dressed in the latest European fashion and they loved to dance. Of course they stood out from everyone else. One time, the Australians gave them a really hard time and so the Italians gave them a hiding. They never said anything to them after that."

After the Snowy Hydro Scheme was completed, Sergio was offered more money to stay in Australia working for Electric Power Transmission (EPT). His long and successful career saw him overseeing the construction of powerlines in Australia as well as Papua New Guinea and Fiji, wheat silos in Perth and the television towers at Mt Coot-tha in Brisbane.

On the home front, he and Maria had two daughters, Anita and Olivia, and two grandsons, Luca and Blake.

The close-knit family was devastated to lose their rock when Sergio passed away peacefully in August last year at the age of 93. While it has been difficult to adjust to life without him, his memory lives on through the many photos of his life—his home in Italy, his life in Australia, his travels and his beautiful family.

His family, who have maintained their Italian roots with residences in Italy, hope to visit again soon once international travel opens up. If you came to Australia as a migrant or had migrant parents, we'd love to hear your stories.

Get in touch by checking out our Facebook page or via email.
Cutting cane was tough but they had already been to hell and back, so what was a bit of physical labour?
My maternal grandfather worked as a woodcutter, supplying locals in the Tarragindi area with timber for their wood stoves. He was descended from potato farmers in Ireland.

He was also a Grand Champion of the RNA Wood Chop, accumulating a large trunkful of medals and ribbons before being handicapped out of the competition. My paternal grandparents initially worked on a farm, but moved to the inner suburbs of Brisbane where they ran a mixed business supplying groceries from a small store, and intermission snacks for a cinema across the street. My grandfather also did a fruit and vegetable run door-to-door in the local area using a large truck.

– C Carmichael

My godfather worked on the Snowy Hydro Scheme. He drove a grader machine but had an accident driving it while on Happy Valley Road. He went over the edge and the machine crushed him. He died aged just 26 and was buried in an unmarked grave in Cooma NSW.
– I Kawaleva

My father was Maltese and cut cane in Tully for many years before he was able to save enough money to open his own mechanic shop. He had grown up helping his father tinker with tractor engines—he was obsessed with anything mechanical and could fix pretty much anything. He loved Australia and was very proud when he became a citizen after marrying my mother.
– J Schembri
Love stories like this?
This article is an excerpt from National Seniors Australia's quarterly member magazine, Our Generation.

Become a member today and receive four hard copy issues of Our Generation (valued at $31.96) a year for free as part of your membership, along with exclusive discounts, competitions, branch membership and more!

Your membership directly funds our advocacy and research work for the benefit of older Australians including fixing pension poverty, tackling health care costs, and improving aged care.
Become a member!