Ken's sporting life
---
Ken Sutcliffe retired from a full-time TV career which started in the '60s. Now, he's back where it all began at Mudgee in Central West NSW. National Seniors' Craig Sullivan caught up with Ken to see what he is doing these days.
Winter 2021

Member story

Read Time: 5 mins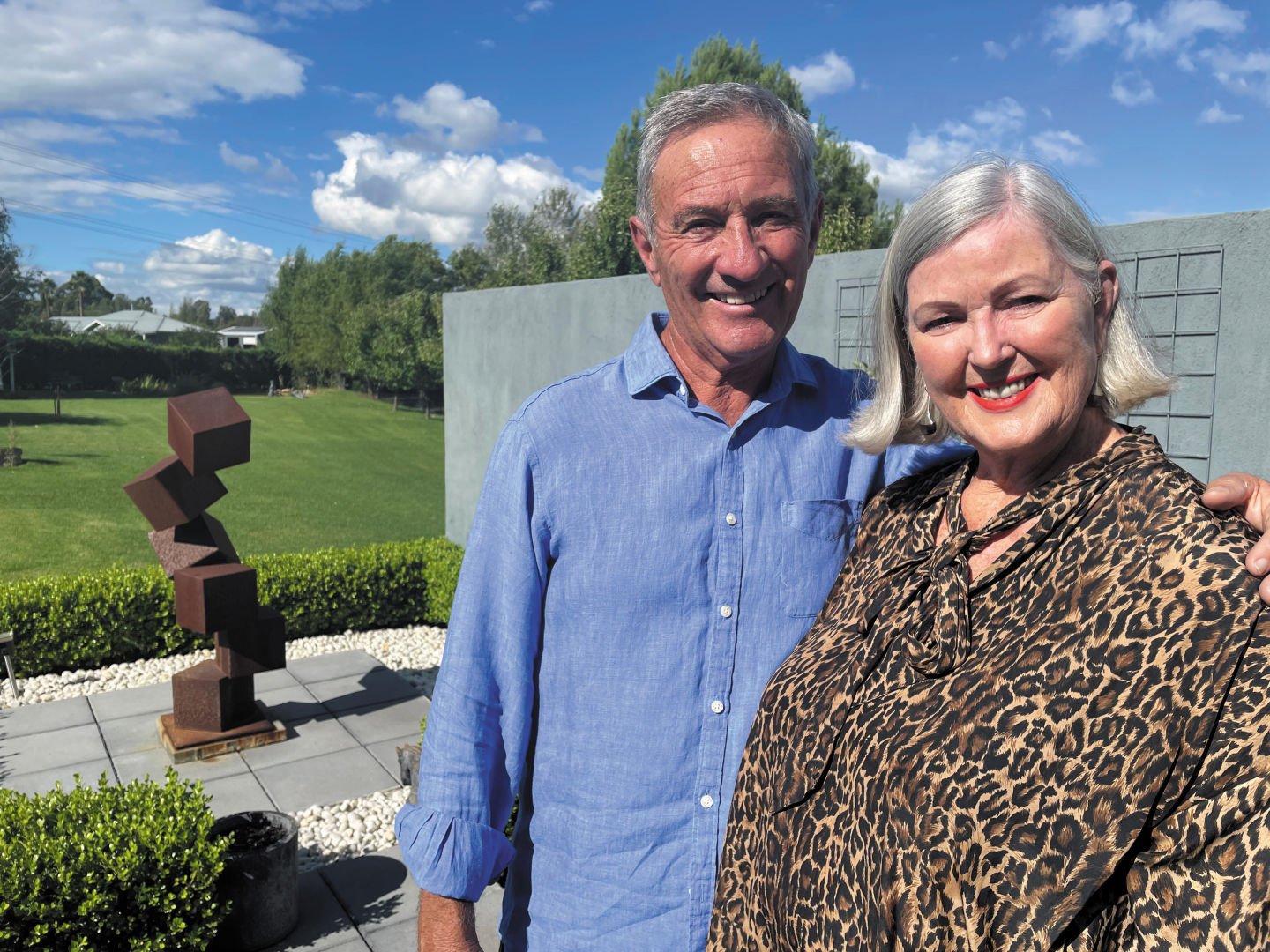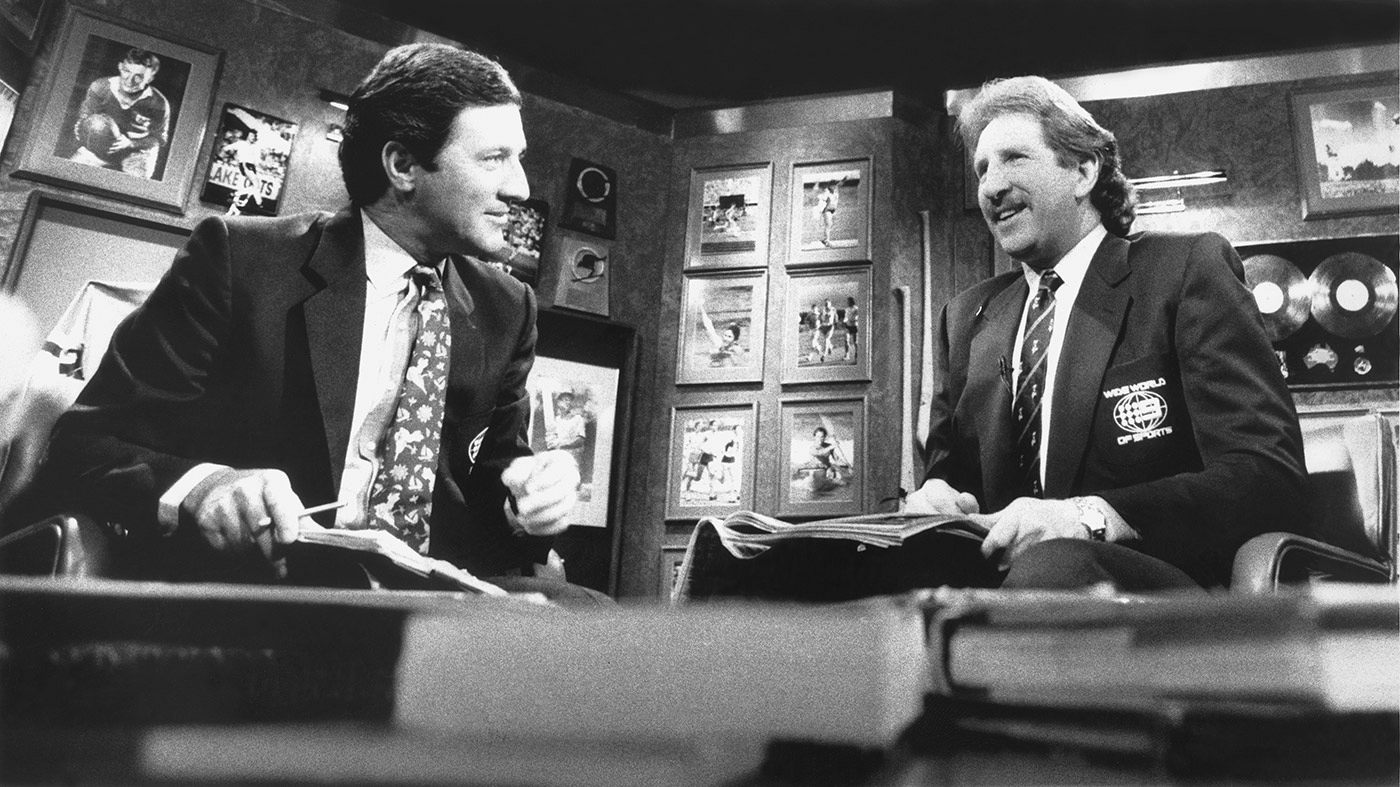 Ken and his Wide World of Sports co-host Max Walker
Ken Sutcliffe is sipping a cup of tea overlooking his impressive house late on a Wednesday afternoon.

"I wanted a house where I felt like I was on holidays," he tells me.

It's certainly that, with a grand view over the ranges. For Ken and his wife Anne, life is good, and they have earned it.

"I worked six days a week for almost 50 years and every weekend," he says sitting on a bench near a pond in his backyard.

He's been retired from full-time work for four-and-a-half years and I ask him if he's had any regrets since blowing full time on an illustrious career.

"I miss my workmates," he says.

"This is something I would say to all retirees—if you have been fortunate to work with people who are so much younger than you, and they become your best friends, value and hang on to those friendships. That's what kept me young."

At 73 years young, Ken is now reflecting on a media career which has seen him host sporting events as glamorous as Wimbledon, the US Golf Masters, Olympic Games, Commonwealth Games, NRL Grand Finals and State of Origin matches, and both the Adelaide and Melbourne Grands Prix.

Is there a favourite?

"I fell in love with Wimbledon," Ken says.

"As a kid I had access to the railway tennis court next door to our house. I played a mate called Barry Dawson—because he was blonde he was Lou Hoad, and I was dark-haired so I was Ken Rosewall."

His father worked on the railways and wherever he went, the family was in tow.
"He was a guard for his entire career. He was a frustrated farmer. He was raised at Cowra on a dairy farm and that's all he ever wanted…"
The family landed in Mudgee in 1954. Ken says as a child he was shy and a bit of a 'mummy's boy', but always had a deep desire to be behind the microphone.

"I used to practice on an old record player and read ads out of the local newspaper and the play a record."

To the point he thought he'd be a shoo in for a job as a DJ at the local radio station 2MG.

"I looked at the floor and mumbled my way through 15 minutes of interview. Finally, the manager looked at my father and said, 'Your son needs to learn how to speak properly.' I was devastated."

To overcome his speech issues, Ken got an apprenticeship at the local barber.

"I had an opinion on everything and it taught me how to speak to people."

So much so that before he knew it, Ken was working at 2LF in Young where he met a young Ray Warren.

He got his break in TV as a newsreader at Channel 8 Orange, though he still relied on his hairdressing skills, cutting hair during his lunchbreak to make ends meet.

Things got a bit awkward when his own TV boss walked into the salon at Orange where Ken was cutting hair.

"He said, 'Sutcliffe what are you doing here?' And I said, 'Oh well you don't pay me enough, I need to get a few dollars at lunchtime' and I thought it'd embarrass him, but it didn't. He just said, 'Good for you.' "

After almost a decade on TV in Townsville, Ken was talent spotted by the head of Nine's Wide World of Sports, David Hill, and he was enticed to Sydney where he worked the next 37 years of his life, primarily in the Nine newsroom.
"It was a cracking newsroom, wonderful writing," Ken says.

After more than 10 years at Nine, Ken found himself hosting Wide World of Sports (WWOS) on Saturday afternoons.

There he would do five hours of live TV alongside Max Walker before backing up for Nine News Sydney that same night, then Sports Sunday the following day and again for the news on Sunday night.

It was his time hosting WWOS where he caught the eye of Billy Birmingham, the famous creator of the Twelfth Man albums, in which one episode sees Max Walker assault Ken and keep him from hosting so Max might regain his spot on the cricket commentary team. Just one problem…

"Billy just couldn't get my voice. So, he rang me up and I went to Sydney's Regent Hotel and recorded the script."

That recording gave birth to a somewhat irritating nickname.

"I became the 'Male Model from Mudgee' which stuck! And it stuck and stuck!"

These days, Ken spends most of his time with family, especially his wife Anne.

Speaking of Anne, he says, "I often say to her please don't die before me, because I don't know what to do with the bank or superannuation!"

Promoting NRL games to the bush and tourism in Mudgee, Ken leaves us with the knowledge that he is happy and 'busy doing nothing'.
Love stories like this?
Become a member and receive a hard copy of Our Generation magazine. Our quarterly magazine is filled with stories about our members, for our members.
Become a member!