Standing shoulder to shoulder
---
From providing a safe space for men to connect with each other and learn new skills, to supplying important community services, the Men's Shed movement is one that proving invaluable across Australia.
Winter 2021

Feature

Read Time: 10 mins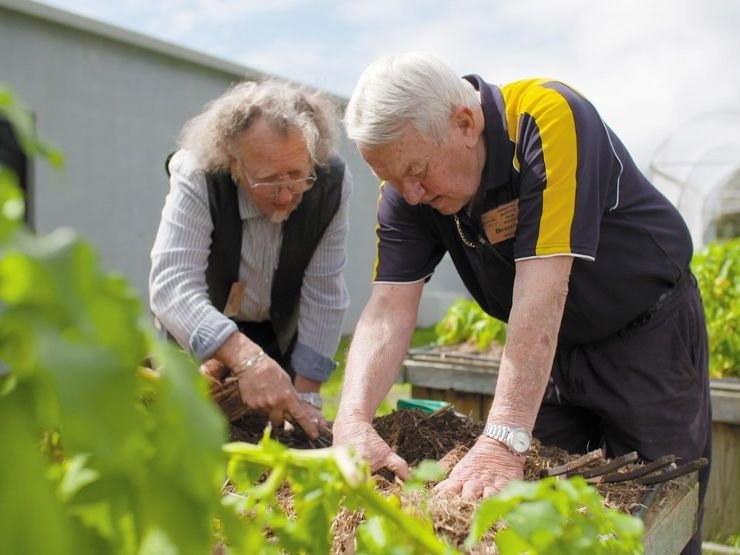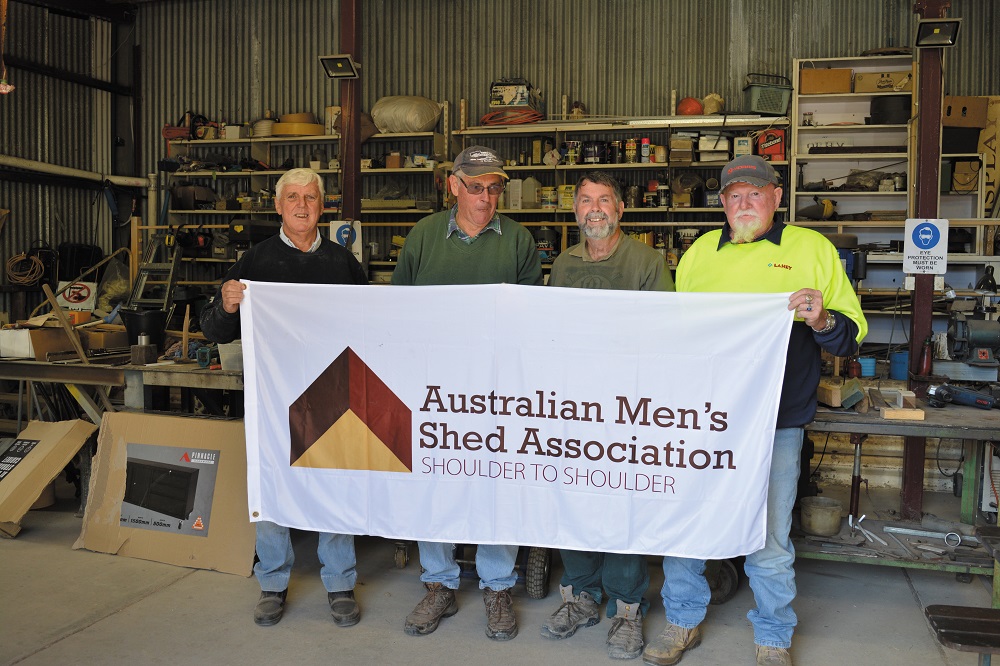 Want to get involved in a Men's Shed?
---
Listen: The Shed Wireless podcast.

Described as the wireless radio you'd listen to while working the back shed, The Shed Wireless podcast is hosted by John Paul Young and is now in its third season.

Visit: mensshed.org to find your local men's shed or information about setting up a shed, as well as vital resources and men's health information.
Recently retired engineer and Tassie local Mike Dennis had begun making a jewellery box for his daughter as a way to keep busy, however, he soon realised he needed help completing the project. He got in touch with his local Men's Shed, finding the help he needed - and much more.

Beyond being a place where retired men can go to access a wide variety of tools as well as bench space to work on projects, Mike says Men's Sheds also provide a safe space where they can talk freely about any issues they may be facing, including mental and physical problems, in a way that many hesitate to do in the presence of the opposite sex.

"A lot of blokes retire and they think 'oh this is wonderful, I'll have all this time on my hands' but after a little while you've got too much time on your hands and you want to just go and do something or make something," Mike says.

"The sheds are somewhere men can go and have a chat. Men are notorious for not opening up or going to the doctor, so [at the sheds] they can go and have a chat and socialise and share their experiences."

Formally established in 2007 and governed by peak body the Australian Men's Sheds Association (AMSA), at present there are more than 1,000 Men's
Sheds across Australia.

In the six years since Mike first visited his local Men's Shed, he has become heavily involved in the organisation, going on to sit on the Tasmanian Men's Shed Association committee as well as serving terms as vice president and president.

After recently relocating back to Brisbane, Mike is now in the process of setting up a Men's Shed in his area, beginning with hosting meetings in the local library's annex room to determine the level of interest.

Mike says although it's not difficult to set up a Men's Shed, there is a fairly specific formula that needs to be followed.

"You've got to try and get a committee going, find out how many men in the area would like to be involved, get organised and then get incorporated, and then get funding through the Federal Government," he says.

"You don't have to have a location readily available, but it's helpful. Often what happens is someone will come along to a meeting and say, 'I've got a garage that's not being used'. Well great. Can we use it for a Men's Shed? A lot of sheds have started that way."

Mike says it's important to note Men's Sheds aren't just for retirees. In fact, in Tasmania his shed provided mentoring services for a few high school students at risk of disconnecting with their education.

"Us old blokes can pass on some information to these young guys," Mike says.
We had no money, no land, and no shed. We had nowhere to go. We used to meet at my place and sit on the balcony and have a cup of tea.
"The high school that was involved was really keen on this idea. There were a couple of guys that used to come down and we'd teach them some skills.

"I think they did benefit from talking to us older fellas, seeing how things are done and learning to turn their hands to things."

So what advice does Mike have for someone looking to start up their own Men's Shed? Simply begin.

"If you can get a few men together and form a committee, you'd be surprised how quickly the word will get around," he says.

"A shed can start with three guys and within weeks you'll have 20 or 30."

Another Aussie who can attest to this rapid growth in membership is Caloundra Men's Shed founding member Jim Lombard, who discovered AMSA following his retirement in 2014.

After meeting regularly with a few other men over coffee, Jim says the group began to discuss the need for a community group that retired men could attend and share their accumulated knowledge. A quick online search unearthed AMSA, which immediately struck a chord, and the group got to work.

"When we first started there were just three of us. We had no money, no land, and no shed. We had nowhere to go. We used to meet at my place and sit on the balcony and have a cup of tea," Jim says.

But the passion was there, and the triobegan by helping out seniors in the community with odd jobs. Jim recalls the first $5 the group received was for changing a lightbulb in an elderly woman's house. "A few years ago, I had a woman call me and say, 'Jim, I have a bulb out in my lounge room. I've got very poor lights in there and I've been trying for six months to get an electrician out. Can anybody in the Men's Shed come and help me?' I said, 'no problem' and turned up with a ladder and a lightbulb I'd bought from Bunnings and changed it in three minutes," Jim says.

Soon the group no longer had to hunt down work to do; rather it found them and, after opening a bank account with $500 donated by the Rotary Club, the Caloundra Men's Shed was officially born. By 2017, the shed had grown to 70 members and the hunt for a permanent location was underway.
Jim says he knocked on doors for six years before he found the right one that would enable the Caloundra Men's Shed to access the funding it so desperately needed to stay put in one spot.

"Last year, the council finally agreed to lease us a small parcel of land on which we could build our shed. Once we had that lease agreement, I went back to our federal member and we were able to secure enough money to build a brand new shed. This shed is presently under construction and, all going well, we should be able to move in by the end of May 2021," Jim says.

Jim says the role Men's Sheds play in their local communities shouldn't be underestimated. From building items for charity auctions, to restoring toys for schools and kindergartens, or custom building things such as ramps to fit over a single step into a house to provide better wheelchair access, there is little a Men's Shed can't tackle.

"There are a lot of similarities between the Men's Sheds around Australia in that almost everybody has struggled to get enough money to establish themselves. But all the people I have met through AMSA have the same objective—to occupy themselves and to do things for their community. These may be things they have been dreaming of doing for years and now the Men's Shed allows them to do it," Jim says.
The motto of the Men's Shed is 'shoulder to shoulder'. Men don't talk face to face, they talk shoulder to shoulder.
Jim's passion for the movement is such that he has travelled extensively around the country, visiting sheds in Queensland, New South Wales, Western Australia, the Northern Territory and Tasmania. In doing so he has witnessed a large variation in the services offered by Men's Sheds, each one specifically tailored to suit its community.

"Every shed I have visited tends to provide a service adapted to the local needs of the people attending the shed. This make it quite unique as it encompasses any ideas the members may have," he says.

"It's not like each Men's Shed is the same as all the others. They're all different. If you go to the bush you have farmers out there who are concentrating on restoring old farm equipment. If you go south to Nambucca Heads in NSW they have a mill they use for trees that have been cut down. Of all the Men's Sheds I've visited, I've never seen two that are the same, but the overall purpose is the same. It's to do things and to share know-how and basically to have a bloody good time."

When asked what he believed drew people to the Men's Shed movement, Jim reiterated Mike's comments, saying for many men the period immediately following retirement is often an enjoyable one. However, once the novelty wears off many retirees become at risk of social isolation that in turn can lead to depression.

"What happens for most of us in our active lifetimes is that we are working long hours and we've got a big house with a garage and a big yard that keeps us going. Then, all of a sudden, you're retired and there's nothing else. Many people are completely unprepared for that state of affairs," he says.
"Some people choose to sell their house and downsize into a unit, but then in that unit there's no workshop to go to and often they can't even bang a nail in the wall without disturbing their neighbours. Men's Sheds address all those concerns and that is the wonderful thing about it.
It allows people that have retired and are looking to do something positive in life to use their skills to the benefit of the community.

"We have men who come to the shed who are really down in the dumps and they go 'oh my wife told me to come and see you'. I ask them how long they've been retired and they say 'a couple of years and I've got bugger all to do'. But you show those people around, you give them a cup of tea and some simple things to do and within an hour their attitude changes right in front of you."

Despite all the positive work that is generated from within Men's Sheds, it's also important to note it doesn't all come for free. Jim says each Men's Shed faces the ongoing challenge of generating enough money to pay for any electrical and mechanical repairs or to purchase new equipment, and to cover insurance and liability costs, bills and council fees.

It's a constant juggle that is tackled via applying for various grants, charging small fees to make repairs for the general public, charging a weekly membership fee and regular Bunnings fundraising barbecues.

But for Jim and the Caloundra Men's Shed, all the hard work is worth it.

"The motto of the Men's Shed is 'shoulder to shoulder'. Men don't talk face to face, they talk shoulder to shoulder. And what happens in sheds is something that can only happen when you've got men around other men," he says.

"We have what we call a table of knowledge and we have people who meet every morning around that table and this is when the world is reshaped. If we didn't have that table the world would be in a very poor state."
Love stories like this?
This article is an excerpt from National Seniors Australia's quarterly member magazine, Our Generation.

Become a member today and receive four hard copy issues of Our Generation (valued at $31.96) a year for free as part of your membership, along with exclusive discounts, competitions, branch membership and more!

Your membership directly funds our advocacy and research work for the benefit of older Australians including fixing pension poverty, tackling health care costs, and improving aged care.
Become a member!