Cheaper prostate cancer treatment PBS listed
---
The Pharmaceutical Benefits Scheme has had a new range of medicines added to it, including a more affordable treatment option for those with prostate cancer. Read on to learn more.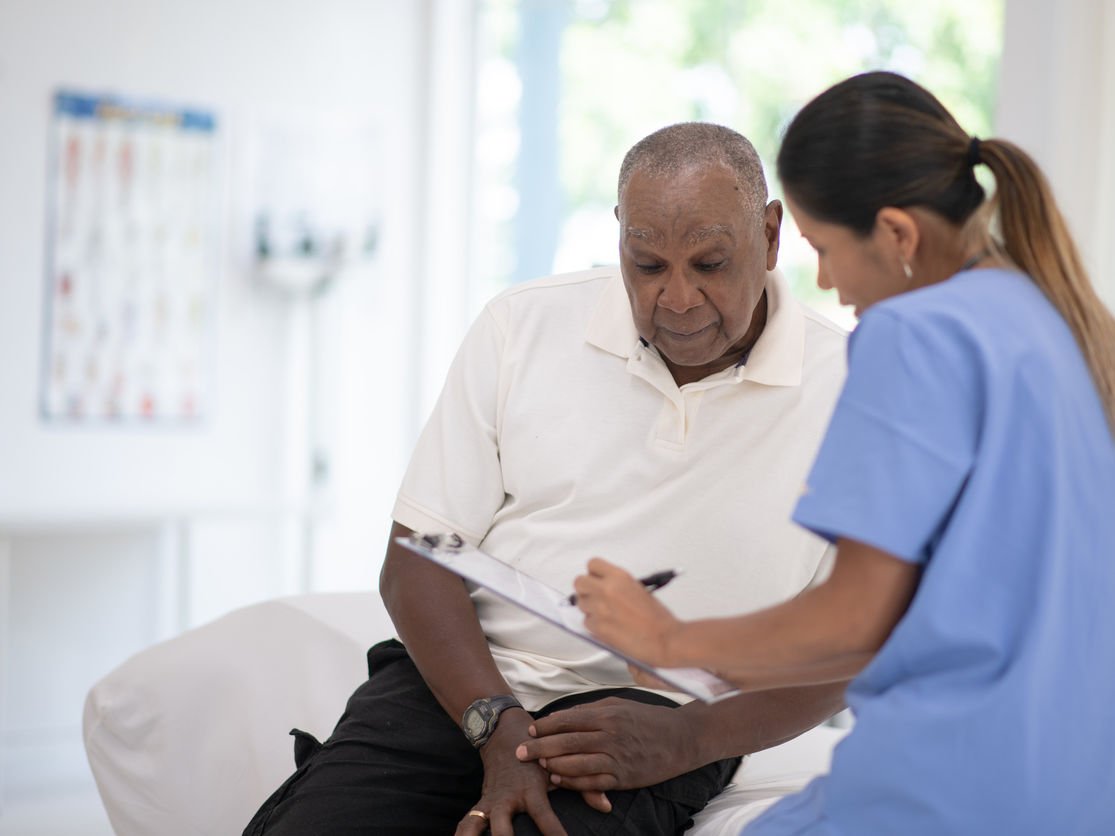 Key Points
---
Listing of a new prostate cancer drug on the Pharmaceutical Benefits Scheme makes it cheaper and more accessible.

The drug, Nubeqa, is taken as tablets, in conjunction with traditional androgen deprivation therapy.
Less men were screened for prostate cancer during COVID-19 restrictions.
A new prostate cancer therapy has been added to the Pharmaceutical Benefits Scheme (PBS), dropping the price of the treatment from $44,000 a year to just $41.30 a month for general patients and $6.60 a month for concession holders.
The taxpayer subsidised drug is now more accessible for the 1,000 Australian men with castration resistant prostate cancer (nmCRPC) – which means the cancer is set to spread to other parts of the body and no longer responds to traditional testosterone-lowering therapy.
The medicine, sold as Nubeqa, is an androgen receptor inhibitor that starves cancer cells of the hormones they need to grow and divide. Nubeqa is taken as tablets, in conjunction with traditional androgen deprivation therapy.
According to Associate Professor David Pook, a Medical Oncologist at Melbourne's Cabrini Hospital, access to Nubeqa on the PBS will come as great news to men no longer responding to hormone therapy.
"We no longer need to wait until we can see cancer spots on CT scans and bone scans before we initiate treatment," he said.
"We now have the option to act earlier with the goal of delaying the spread of prostate cancer."
The announcement comes as medical experts and advocates express concern about the impact of COVID-19 lockdowns on prostate cancer screening and diagnosis, blood tests (also known as PSA tests) and scans to gauge cancer activity in those already diagnosed.
"Protecting against COVID-19 must not be at the expense of timely diagnosis or appropriate monitoring of cancer activity," Dr Pook said.
"We rely on regular PSA blood tests as well as medical imaging to monitor cancer. When PSA levels double within 10 months, the prospect of cancer becoming visible in lymph nodes and bones is more likely," he said.
While 95% of all men with prostate cancer will live at least five years after their diagnosis, Dr Pook explained that once it is detected in lymph nodes, bones or other parts of the body (stage 4), and is not responding to testosterone suppression alone, the chance of a man being alive in five years' time is only 36%.
"More treatment options in the earlier stages of prostate cancer highlights the importance of prostate cancer testing to support early diagnosis as well as routine PSA testing during the earlier stages of the disease to identify early cancer progression," Dr Pook added.
It is estimated that more than 200,000 Australian men are currently living with prostate cancer. Each year, close to 17,000 men are diagnosed with the condition and approximately 3,200 lose their lives to the disease.
As with all medicines, Nubeqa has some side-effects. While uncommon, the most frequent adverse events are fatigue, rash, or pain in an extremity.
Nubeqa is not suitable for patients with hypersensitivity to the medicine or other substances in the tablet. It is currently not recommended for women to use and can adversely affect foetal development, so it is advised males with female partners of reproductive potential use effective contraception during treatment and for one week after the last dosage. It is also linked to fertility problems in males.
Caution is also advised for those who have recently suffered a cardiovascular event, or who have impaired liver or kidney function, or are aged under 18 years of age.
Respiratory illness
Australians with a respiratory illness and blood cancer will also have improved access to subsidised medicines through the PBS.
Chronic obstructive pulmonary disease (COPD) is a preventable and treatable lung disease, which causes the airways in the lungs to narrow, making it difficult to breathe.
About 1 in 20 Australians aged 45 years and over have COPD and in 2018 it was the fifth leading cause of death.
Breztri Aerosphere® (budesonide + glycopyrronium + formoterol) is one of the medications now available on the PBS to treat COPD.
The three ingredients of Breztri Aerosphere® work to reduce swelling and irritation in the lungs and relax the muscles in the airways. Together, they act to relieve and prevent shortness of breath, wheezing and coughing.
Without PBS subsidy, around 68,000 Australians per year might pay more than $1,000 per year for treatment.
Blood cancer
Also now listed on the PBS is Darzalex® (daratumumab) for use in combination with bortezomib and dexamethasone, as a second-line treatment for people with multiple myeloma or blood cancer.
It is estimated that around 2,423 Australians will be diagnosed with multiple myeloma in 2021. Darzalex® is a ground-breaking treatment that mobilises the patient's own immune system to fight the disease. This treatment helps to bring improved clinical outcomes and quality of life for those affected by this disease.
As of 1 November 2021, multiple myeloma patients will now have access to a new subcutaneous form of Darzalex® – which means it can be given as an injection under the skin.
This provides a more convenient alternative for patients, delivered as a 5minute injection that can be administered at home compared, instead of via hours-long intravenous infusion in a healthcare facility.
Without PBS subsidy, this new form of treatment would cost patients $136,000 per course.