COVID-19 vaccination - what you need to do
---
National Seniors is playing an important role supporting and informing seniors. Here's important practical information about what to do next.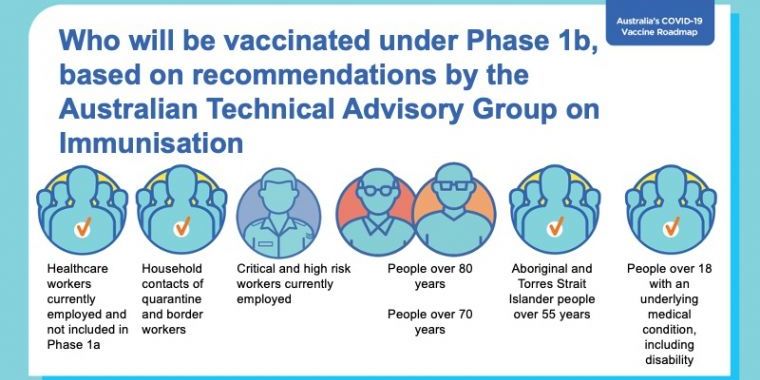 Key Points
---
Phase 1b of vaccine rollout is for adults aged 70-plus and adults with serious medical conditions
National Seniors Wellbeing Support Team is calling members aged 70-plus
Read below for things you can do in preparation for getting vaccinated
The COVID-19 vaccination is being rolled out across the Australian population in phases to ensure those who need it most get it first.
Phase 1b of the vaccination is happening now, specifically for:
elderly adults aged 80-plus
elderly adults aged 70-79 years
health care workers
Aboriginal and Torres Strait Islander adults 55-plus
Adults with an underlying medical condition or significant disability.
Phase 2a will begin at a date yet to be announced. Those eligible are:
Adults aged 60-69 years
Adults aged 50-59 years
Aboriginal and Torres Strait Islander adults
Other critical and high risk workers
Vaccination rollout facts
---
More than 1,000 GP clinics have already signed up as part of the COVID-19 immunisation program
GP clinics to reach 4,000 in coming weeks
541,761 Australians have received a COVID-19 vaccine, including 82,542 Commonwealth delivered vaccines given to people in aged care and disability care (as part of the 1a group)
795 aged care and residential disability facilities have taken part in the vaccination program
As part of our mission to support older Australians, we are regularly supplying updated information about the vaccine rollout. A recent information article can be read here.

Also, our COVID-19 Wellbeing Support Team is contacting members aged 70-plus who may qualify for the vaccine to let them know about the rollout and what they need to do.
Contacting members takes time, so if you have any questions or need support please call our Wellbeing Support Team on 1300 887 626.
If you are over 70 you are in group 1b, you can check your eligibility and find clinics near your postcode here.
Actions for you to take:
Check your eligibility here
Book your appointment with a participating GP (bear in mind GPs are facing a rush of inquiries and in some cases uncertain supply of the vaccines).
You will need to complete the Consent Form downloadable here.
Remember to bring to the GP or clinic your Medicare Card and Photo ID (if you have this)
A vaccination fact sheet can be accessed here

The best source for information is the Australian Health Department and the COVID-19 vaccinations update page here. Check out their Frequently asked Questions (FAQs) "COVID-19 vaccines ⁠–⁠ Is it true?" page here.
Contact us
You are also welcome to call our COVID-19 Support Line for more information or a chat on 1300 887 626.