Invisible no more: Giving a voice to older people through art
---
The older you get, the more invisible many of us seem to become. This revolutionary art exhibit is turning the tables on this and giving older people a voice.
Sponsored Story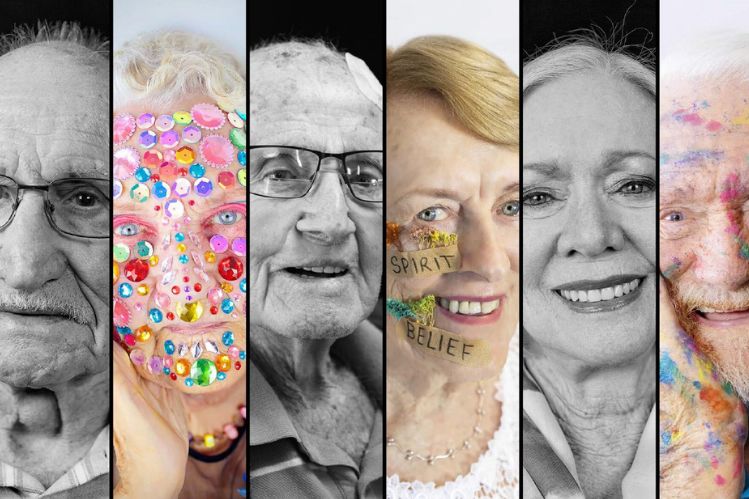 Betty Gregory is 91 years old. She's jumped out of a plane not once, but twice – once on her 80th birthday and once on her 85th. She also loves hot air ballooning, tap dancing, and performing burlesque.
Joe Feeney is 88. His childhood in a Scottish children's refuge inspired him to become a Westfield Santa. He's been doing it for 16 years and, along the way, donating hundreds of dollars' worth of gifts to kids in need.
92-year-old Kevin made the sport of skipping popular in Australia. He still trains every night, doing weights, sit-ups and squats. He says that you "don't stop exercising because you grow old, you grow old because you stop exercising".
Betty, Joe, and Kevin are three seniors with three unique, inspirational life stories. But they do have a few things in common. They all know what it's like to feel invisible, and they were all inspired to do something to ensure their stories were seen and heard.
Imagine lining up to pay for something. Everyone is being served around you, but no one seems to see you – or that it's your turn – and you're left standing there.
That's exactly what happened to Joe, one of the participants in 'Visible Me', a new photo exhibit showcasing seniors who should be seen and heard.
"I waited and waited, then finally mustered up the courage to ask if anybody could see or hear me; it fell on deaf ears," Joe says. "I thought, 'I'm not invisible, am I?"
Ask any elderly person you know, and they'll have a similar story. Invisibility is a common feeling that the most vulnerable members of our communities can relate to, and yet there's little being done to make seniors feel visible again.
That's why 'Visible Me' was born. The team at Feros Care recognised there were older Australians with incredible stories to tell, and younger Australians that could really benefit from hearing those stories.
Feros Care is a trusted home care provider that works with thousands of seniors every day.
They don't just want people to live. They want people to laugh, to have dreams, to smash stereotypes. And what better way to smash stereotypes than to work with seniors in an art project?
"We didn't go looking for stories," says Tarnya Sim from Feros Care. "We went looking for seniors willing to tell their stories, and for society to know the value of these stories. We wanted to give people opportunities to participate and contribute to their own community, while reminding others that seniors should be seen and celebrated."
The result? Twenty-nine seniors, aged between 73 and 100, showcased in both digital and physical form through the art exhibition.
One of them is Berenice, an 81-year-old that has lived all over the world. She has a fondness for adopting monkeys in need, raising a spider monkey in Mexico and a bad-tempered macaque in Malaysia.
"I think it's true that we're not seen, we're not heard, not listened to," Berenice says. "We still have worth; we still have experience on our side… we've done so much we can talk about and should feel very proud of."
You can click here to view the Visible Me gallery online.
Need support to live independently at home?
Feros Care will work with you to deliver personalised care through housework, home maintenance and more. Speak to their aged care experts on 1300 768 583 or visit feroscare.com.au/enjoylife
Images copyright Katie Hooper Art.