Keeping mobile can be "wheelie easy" says biker Bill
---
What do you do when Alzheimer's puts a brake on cycling with the love of your life? Now, Bill's peddling his solution to the USA.

Image courtesy: The Bike Chair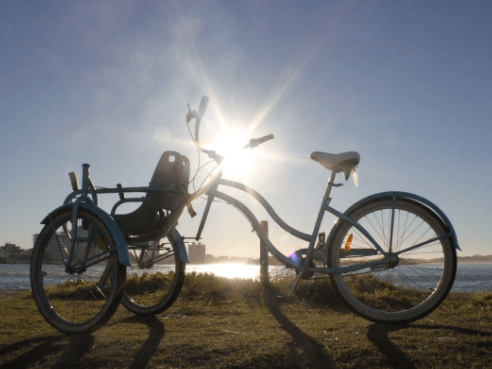 Remember this old song?
---
Daisy, Daisy, give me your answer, do

I'm half crazy all for the love of you
It won't be a stylish marriage
I can't afford the carriage
But you'd look sweet on the seat
Of a bicycle built for two
For Queensland Sunshine Coast couple, Bill and his wife Glad, the love they've shared for many decades is being kept alive by Bill's custom-built bicycle he's built for two.
They have a lifetime of cycling in common but when Glad was diagnosed with Alzheimer's it seemed cycling would have to be the first thing to go.
But Bill had other ideas. He says providing care for his wife is a privilege, and so finding a way to enable her to continue doing what she loved came naturally to the generously minded husband.
"She has done so much for me over all of these years, and now she can't, but I can, and I can return her love and it means that I can do everything for her," Bill told care nursing newsletter Hellocare.
"I clean her teeth, I shower and dress her, everything – but it's a privilege to care for this woman who I've loved all these years and continue to love."
As a child, Bill would spend hours riding his bike with his best friend who happened to be the brother of his future wife. Bill and Glad got to know each other and together they pursued a life-time romance on wheels.
Bill's bicycle is unlike most you've ever seen. Glad sits at the front.
"I wanted the passenger seat in front of me so that we could see and talk about the same things together and then as her disability progressed, I would be able to see if she was in some difficulty or another," Bill explains.
The motivation for Bill's invention was spurred by his deep sense of loss, for himself and Glad, when several years ago he noticed Glad was losing her ability to walk by the sea and besides the rivers she loved.
So he modified a bicycle along the lines of the trishaws he'd seen when travelling in Asia.
"The first bike I had made was unstable and dangerous so I took the concept to my good friend, Ken, who immediately spotted the problems. With his skill and knowledge we were able to produce the original Bike Chair.
That has now been further developed for safety and comfort, and Bill puts it in his box trailer for trips to the beach.
"It is a wonderfully liberating experience to be able to get out again together and cycle along bike paths everywhere. I get the exercise I need to stay healthy and my wife loves to meet and greet people along the way," he said.
According to Bill's and Glad's Bike Chair Facebook page, he and his supporters are working closely with a USA bicycle manufacturer to get the Bike Chair to market.
They are also working with an Australian medical equipment manufacturer to ensure the bike will suit a wide variety of disabilities.
"If all continues as we hope (pending COVID-19 holdups) we should be available to market anytime from as soon as September this year," Bill predicts.
You can see Bill and Glad and their Bike Chair on YouTube below.