Prostate cancer boost for survivors
---
Prostate cancer awareness and survival rates are "never better" – but what happens to the survivors once the cancer is gone?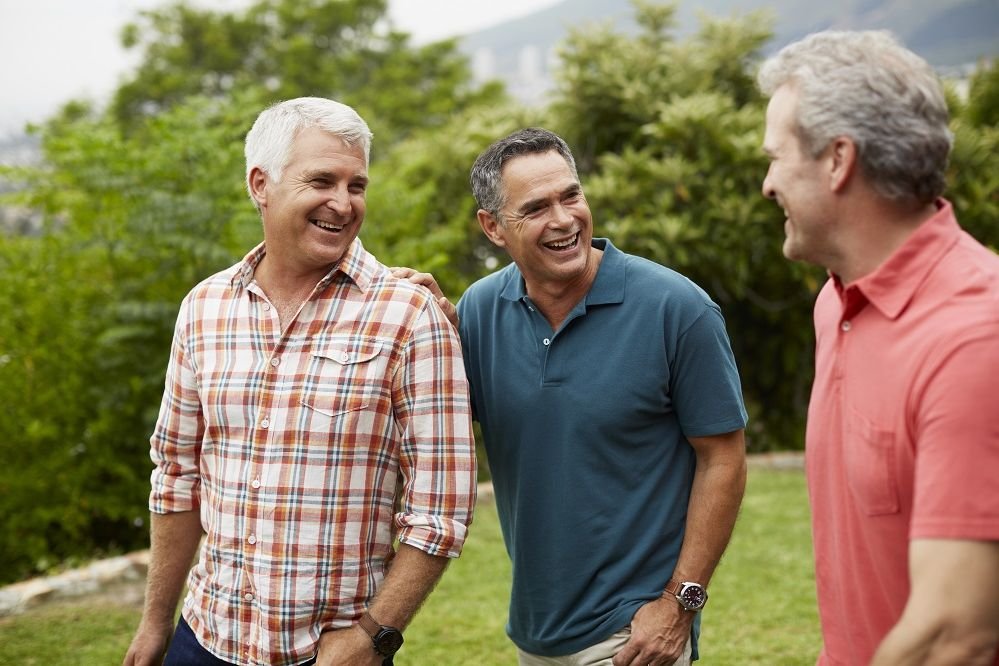 Key Points
---
Survival rates have never been better – but therapy support is lacking

Survivors face mental health and other battles
Multi-million-dollar research project aims to improve care and support
Each year, 17-thousand Australian men are diagnosed with prostate cancer and the good news is survival rates are on the rise. With more survivors than ever before, many face lingering physical and mental health conditions. A new multi-million-dollar research project is seeking to understand how to improve care and support for survivors to help them achieve a better quality of life.
Prostate cancer occurs when abnormal cells develop in the prostate, forming a malignant tumour (cancerous growth). These abnormal cells can continue to multiply and may spread outside the prostate into nearby or distant parts of the body.
The cancer can sometimes be triggered by a germline mutation – a gene change in a person's reproductive cells (egg or sperm) that becomes incorporated into the DNA of their offspring. This means having a family history of prostate, breast or ovarian cancers can significantly increase your risk of developing it yourself.
Prostate cancer is not infectious or contagious and is generally slow to develop. The majority of men can live for a long time without painful symptoms or the cancer spreading. This is not always the case, so it's important to see a doctor as soon as you notice symptoms.
Several factors can increase your chances of developing prostate cancer including:
Being 50 years or older (if there is no family history of prostate cancer)

Being 40 years or older if a father, brother or son has been diagnosed with prostate cancer – especially if they were diagnosed when they were young
Family history of prostate, breast or ovarian cancer (especially gene germline mutations)
Black African ancestry
In the early stage of prostate cancer, there are usually no obvious signs. Later stage prostate cancer can display symptoms such as:
Feeling the frequent or sudden need to urinate
Finding it difficult to urinate (such as trouble getting started, not being able to urinate when the feeling is there, or poor urine flow)
Discomfort when urinating
Finding blood in urine
Bone pain (which could indicate cancer has spread to them)
Having these symptoms doesn't always mean prostate cancer. They can be caused by other prostate-related diseases that are not cancerous, such as benign prostatic hyperplasia (enlargement of the prostate) or prostatitis (inflammation of the prostate).
If you have any of these symptoms, it is important that you speak with your doctor as soon as possible – the earlier you get treatment, the better the outcome.
Australian men and families impacted by prostate cancer are set to benefit from $2.25 million in funding from federal government and other organisations to improve the care of survivors.
The trial will test the clinical and cost-effectiveness of nurse-led survivorship care for improving the health and well-being of men on hormone therapy for prostate cancer.
Hormone therapy is widely used in the treatment of prostate cancer with 30 to 50 per cent of all men diagnosed with the disease undergoing the treatment.
Professor Dunn, a behavioural scientist at the University of Southern Queensland and chief executive of Prostate Cancer Foundation of Australia (PCFA), said the four-year project would provide hope to thousands of men and their families impacted by prostate cancer.
"Prostate cancer is the most common cancer diagnosed in Australian men, with more than 230,000 men alive today after a diagnosis," Professor Dunn said.
"While survival rates have never been better, we now have more men diagnosed with prostate cancer living much longer, therefore the focus on survivorship care after treatment has never been more important."
Although it slows the disease and increases survival, hormone therapy can cause loss of muscle mass and bone density, sexual dysfunction, and other chronic health conditions including cardiovascular disease and diabetes.
"In addition to the substantial physical side effects, the supportive care needs of men on hormone therapy are not adequately addressed or treated right now, with many men experiencing unmet informational, psychological, and sexual help needs," Professor Dunn said.
Men receiving therapy are more likely to develop mental health issues, such as depression and anxiety, and are at a higher risk of suicide.
More than 200 men will participate in the trial, which will cover distress management strategies, decision support, treatment education with self-management and skills training for symptom effects, and communicating with health professionals.
"If we prove this works our aim is to have this service made available to every man diagnosed with prostate cancer on hormone therapy," Professor Dunn said.
To learn more about the Prostate Cancer Foundation of Australia and access support resources, visit their website.
Source 1: Prostate Cancer Foundation of Australia