Winter flu – are you at risk?
---
Here's why we're especially vulnerable to flu this year, and what you can do about it.

Article last updated 23 May 2022.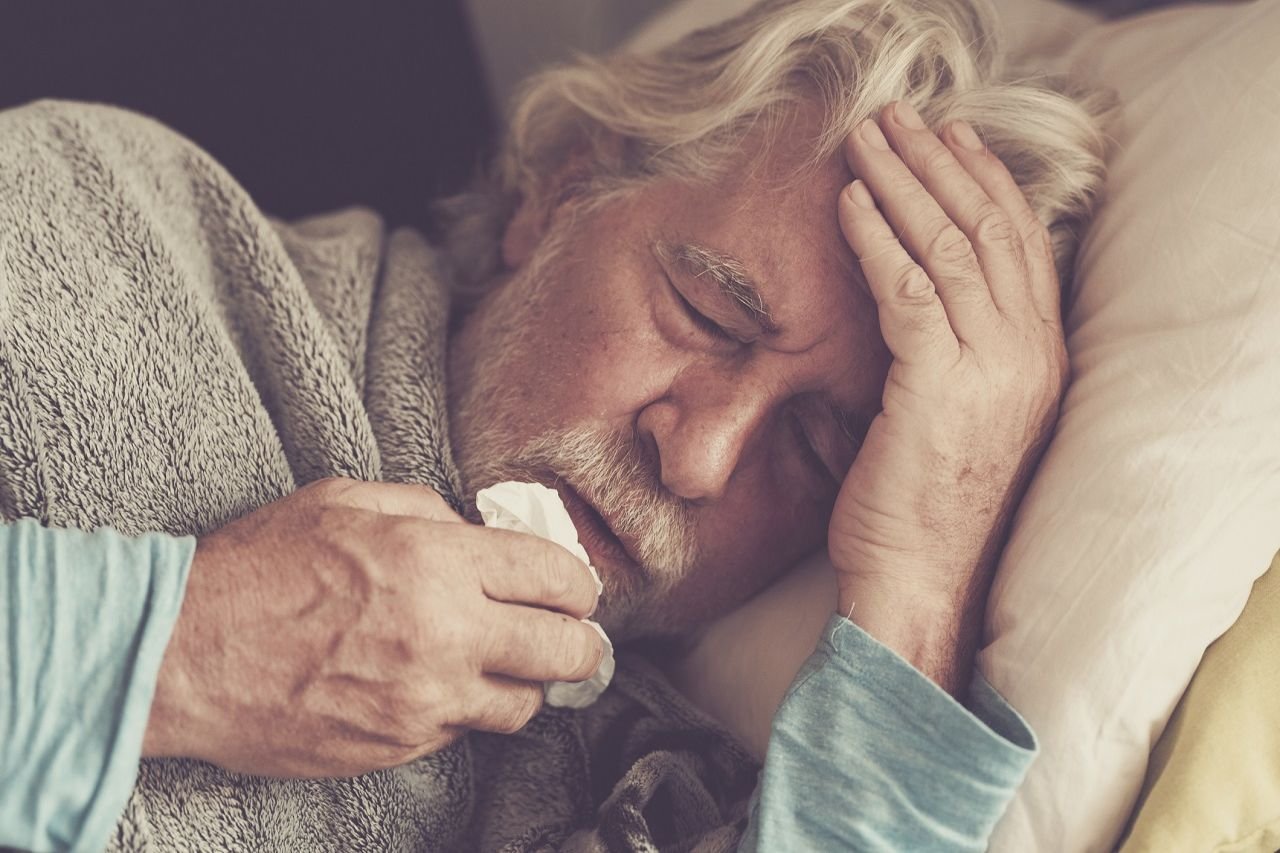 Key Points
---
Closed borders and lockdowns resulted in fewer flu cases during the pandemic.
As a result, we could be more vulnerable to the flu this year.
Flu vaccination is crucial to keep a lid on flu numbers this year.
Over the last two years, flu infections had declined so significantly it led some experts to believe it was on the verge of disappearing.
The reason for historically low flu levels is because the virus, in non-pandemic years, hitches a ride on incoming passengers from overseas.
However, with international borders closed for the better part of the past two years, and the trickle of arrivals spending two weeks in quarantine, any inbound flu viruses were essentially stopped before they could take hold in the wider population.
Now, with borders open and quarantine rules relaxed, it's inevitable that the flu will spread — and we're already beginning to see it, said Ian Barr, Deputy Director of the World Health Organization's Collaborating Centre for Reference and Research on Influenza at the Doherty Institute.
"We've gone from a non-season in 2021 to things starting to happen here in Australia."
Relatively low overall flu numbers overseas are a reason for cautious optimism for Australia as the weather cools.
"It's a hard thing to predict, but I think it's likely we'll have a low-to-moderate season rather than a severe season," Professor Barr said. "But once enough of these viruses get in, it could take off. "
The Queensland Government has taken the "unprecedented" move of offering free flu vaccines to all Queenslanders as cases of Influenza A surge across the state. There are now more than 4,000 cases in Queensland, with cases doubling each week.
"Case numbers are climbing earlier than expected," said Queensland Premier, Annastacia Palaszczuk.
Queenslanders can now access their flu jab for free from their local GPs and pharmacies until mid-June.

The Queensland Health graph below demonstrates how this year's flu outbreak is striking earlier and spreading more rapidly than previous years.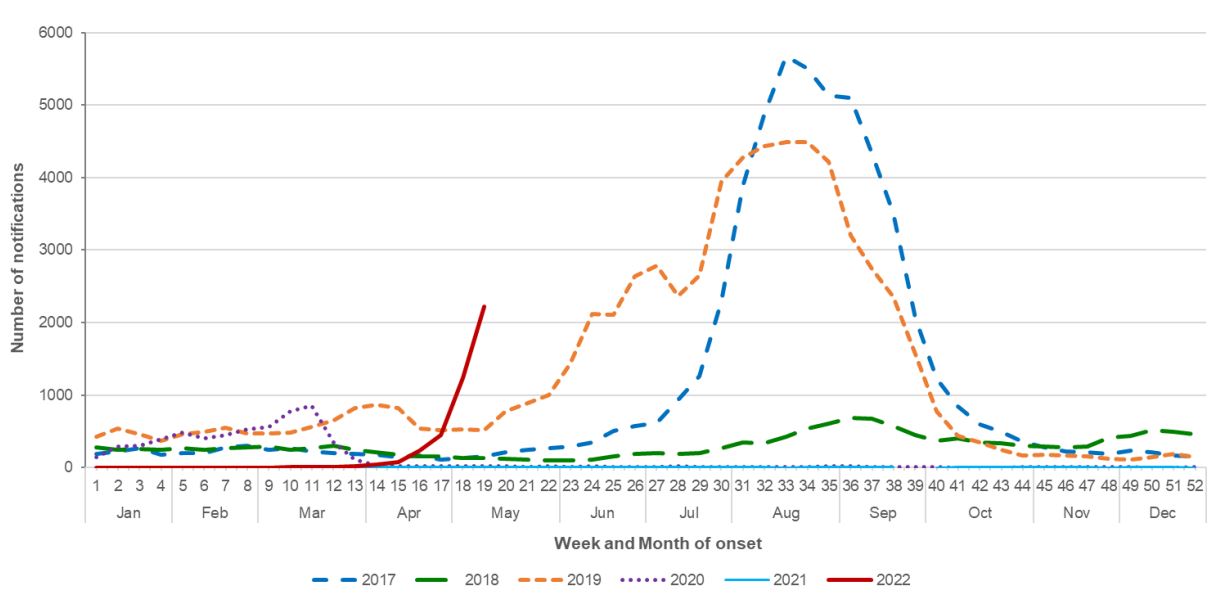 Source: Queensland Health
Flu season – is your loved one's aged care good enough?
---
Residents in aged care and home care recipients can expect to see a spike of COVID-19 and influenza infections this winter.

A from the aged care regulator calls on providers to prepare now and warns that 'action' will be taken against those found to be negligent.
Read more
Vaccination is crucial if we're to keep a lid on flu numbers this year.
The reason we need a flu shot every year is because influenza is a shape-shifter – it mutates readily, creating new viruses that we have no immune protection against.
Each year, the vaccine is tweaked to protect us against specific members of the influenza family, particularly strains that have been prevalent overseas and likely to spread here in winter.
While we're all encouraged to get the flu vaccine, the government is urging those who fall into one of the below categories to get vaccinated as a high priority:
Infants and children aged 6 months to 5 years
Adults aged over 65
Aboriginal and Torres Strait Islander people over 6 months
Anyone aged 6 months or over who has a medical condition, such as diabetes or cardiac disease (meaning they are at higher risk of getting serious flu disease and complications)
Travellers
Workers in settings such as healthcare, aged care, and poultry and pork industries
People who are homeless
People who are pregnant.
It's around this time of year that flu shots are rolled out in Australia, and that's no accident.
Antibodies generated by the flu shot tend to wane a little after about four months, but still provide solid protection for at least six months.
But this, as we know, isn't a normal flu season. So, when will it peak?
That's a difficult question at the best of times, according to Megan Rees, Head of the Royal Melbourne Hospital's Sleep and Respiratory Unit.
"We think this year, flu could come very early. We're a bit worried about that.
"So, our recommendation would be to get your flu vaccine as soon as possible, and you will be well protected for August and September, even if you got your flu vaccine now."
While the effectiveness of flu vaccines isn't as high as we've seen with the mRNA COVID-19 vaccines, they do help stop the disease spread and, should you be infected by a flu virus, stop you from getting as sick.
And, of course, a flu vaccine (plus COVID-19 vaccines) will decrease your risk of being co-infected with COVID.
Did you know?
---
It takes up to two weeks for the vaccine to be completely effective, so it's important to get vaccinated before June.
Peak flu season is June to September.
COVID-19 vaccines do not provide protection against influenza, and flu vaccines don't protect against COVID-19.
If you have been sick with COVID-19, you can receive a flu vaccine as soon as you feel well.
We're yet to see widespread influenza and COVID-19 at the same time in Australia, and overseas data indicates flu co-infection makes up less than 1% of COVID-19 infections (although estimates vary by region).
However, patients with the flu/COVID-19 combo – dubbed "flurona" – are likely to appear as rules and restrictions continue to relax, and this has Dr Rees worried.
"I certainly haven't looked after any patients yet who've had both at the same time, but there is quite a bit of overseas data that suggests that you get much sicker if you have both of them at the same time."
Recently, a study of more than 200,000 people in the UK found patients with COVID-19 and flu had twice the risk of dying than people infected with the COVID-19 virus alone, echoing conclusions drawn by previous studies.
As we reported in a previous Connect, the Australian Technical Advisory Group on Immunisation (ATAGI) is encouraging people to get both vaccines at the same time.
This is a change from their earlier recommendation of leaving a two-week gap between the two vaccines. That 14-day break between COVID-19 and flu shots was mostly a precaution in case people had a reaction to either vaccine.
Everyone 6 months and older should get a flu vaccine each year.
Vaccines are the best way to protect against influenza and transmitting it to others. If you have been vaccinated, you can still get the flu but it is generally a less severe illness.
Getting your flu vaccination ahead of the peak flu season will provide the highest level of protection.