A pre-schooler and a 90 year old walk into a TV program. What happens next?
---
At last, seniors are starring on Australian TV shows. Big Brother and the ABC are at the forefront.

Image courtesy: ABC iview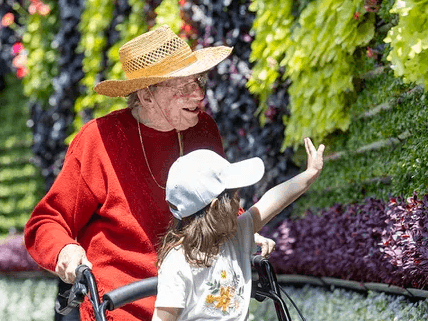 Have you caught up with the heart-warming second season of the fly-on-the-wall documentary Old People's Home for Four Year Olds?
How about Big Brother on the 7 Network?
It's not quite a television revolution, but after decades of ignoring, or at best stereotyping, older people, it seems our TV producers have found there's an audience, and money, in getting real about age.
In Big Brother, entrepreneur, author and style icon Sarah Jane Adams, 66, and stay-at-home mum Mary Kalifatidis, 56, have joined the other 18 Big Brother housemates.
Both want to dispel myths around ageing.
"Sometimes as women, we get to an age where we feel invisible and don't feel like us anymore," Mary told The Senior.
"You get so lost in the role of being a mother, daughter, and sister that you lose yourself but in the Big Brother House you're pushed to find yourself and find strength you forgot you had."
"I just want women, particularly older women, to know they can do anything. We need to get rid of this stigma that because you're old you shouldn't be doing things.
Sarah Jane (known as SJ) doesn't want to be seen as a token older person.
"We're all so much more than that. Our age is a gift and a blessing," she told The Senior.
"The way older people are framed is just taking the piss. Forty is the next 60 is bull.... 60 is 60, this time is our prime. You're alive, you're here, embrace your own age."
"I want to show audiences it's possible at 65, 66 to live each day to the fullest with love."
This show is also breaking down the stereotypes and revealing how older people with chronic conditions live strong and fulfilling lives, especially with support.
In In the first series sought to find if uniting young and old could improve the health and happiness of older adults. This series a new group of older Australians join a bunch of lively 4-year-olds, in a purpose-built pre-school, for fun, games, learning and friendship.
The new group of seniors all live in their own homes, but we find that loneliness and isolation don't just effect those living in aged care. Like the 1.6 million Australians over the age of 65 who live alone at home, the seniors find themselves at the crossroads of wanting to live in their own homes but needing help to remain healthy and happy enough to stay there.
It's a bitter-sweet treatment of old age, frailty and loneliness arrested by the often cataclysmic but always heart-warming interaction with the children. They challenge the seniors' views of themselves – their immobility, memory loss and low self-esteem.
In turn, the children are challenged to connect with people other than their families, to learn empathy and care for others.
With the care of older Australians more important than ever, could this simple idea help older people live a more fulfilling life?
The stories of each of the older Australians offer insights into their experiences with isolation and depression, which can trigger decline in cognitive function and increased risk of dementia.

The researchers tracked many of the same measures followed in the first series: mobility, balance, physical strength and mood, but for this series they also measured quality of life, cognitive ability, and they had a particular interest in 'frailty' – which is an excellent predictor of things going wrong for older people.
The program is advised by consultant geriatrician, Dr Stephanie Ward.
HelloCare spoke to her about age-related conditions including frailty, which she said is a recognised clinical condition in which a person has increased vulnerability to things going wrong with their health.
"Frailty can be a good predictor of bad outcomes for older people. For example, the risk of needing to go into hospital, needing to move into residential aged care, or dying."
Frailty in old age can appear as weight loss, weakness, fatigue and loss of muscle mass. It can also be reflected in lower food intake, abnormalities in walking and weaker bones.
To measure frailty, the researchers looked at how physically active the person was, their muscle strength, how fast they walked, if they were losing weight without wishing to, and energy levels or levels of exhaustion.
Dr Ward told HelloCare the "interventions" undertaken over the course of the second series were helpful for the participants.
"We really wanted to help make some positive changes for the participants, in terms of confidence, in terms of physical function and mood, but also in terms of providing new opportunities for friendships to develop."
Many of the different measures the researchers tracked improved over the course of filming.
"We were really happy with the effects the experiment had for the participants," she said.
Ward says the first series inspired many great initiatives: "We want to continue that conversation and keep that momentum going," she explained.
Dr Ward herself is working with NeuRA (Neuroscience Research Australia) on an intergenerational program at a preschool in her neighbourhood. This project is profiled in the Winter edition of the National Seniors magazine Our Generation.
Called 'Intergenerational Integration Initiative', local older adults are invited to the preschool one day a week. The aim is to establish a program that's sustainable for the community.
"We want this to be a sustainable model that could be rolled out to other community-based preschools or early childhood settings," Dr Ward said.
"The connection you can have spending time with an older person can be particularly special because older people are often at a time in their lives where they have the time and the patience and the perspective and the wisdom to give to younger people, compared to working age, middle-aged people who are holding down jobs, or running households," she said.
The final episode of this series of Old People's Home for 4 Year Olds screens on Tuesday at 8.30pm and is repeated on Saturday afternoons (time will vary in your State based on live football coverage) and on Monday evenings at 11.00pm. Series 1 and the current series are available online anytime on ABC iview.
Source: The Senior