How much does a granny flat cost?
---
You want to live close to your family loved ones and a granny flat seems a good idea. But where to start? Read on.

Image courtesy: hipages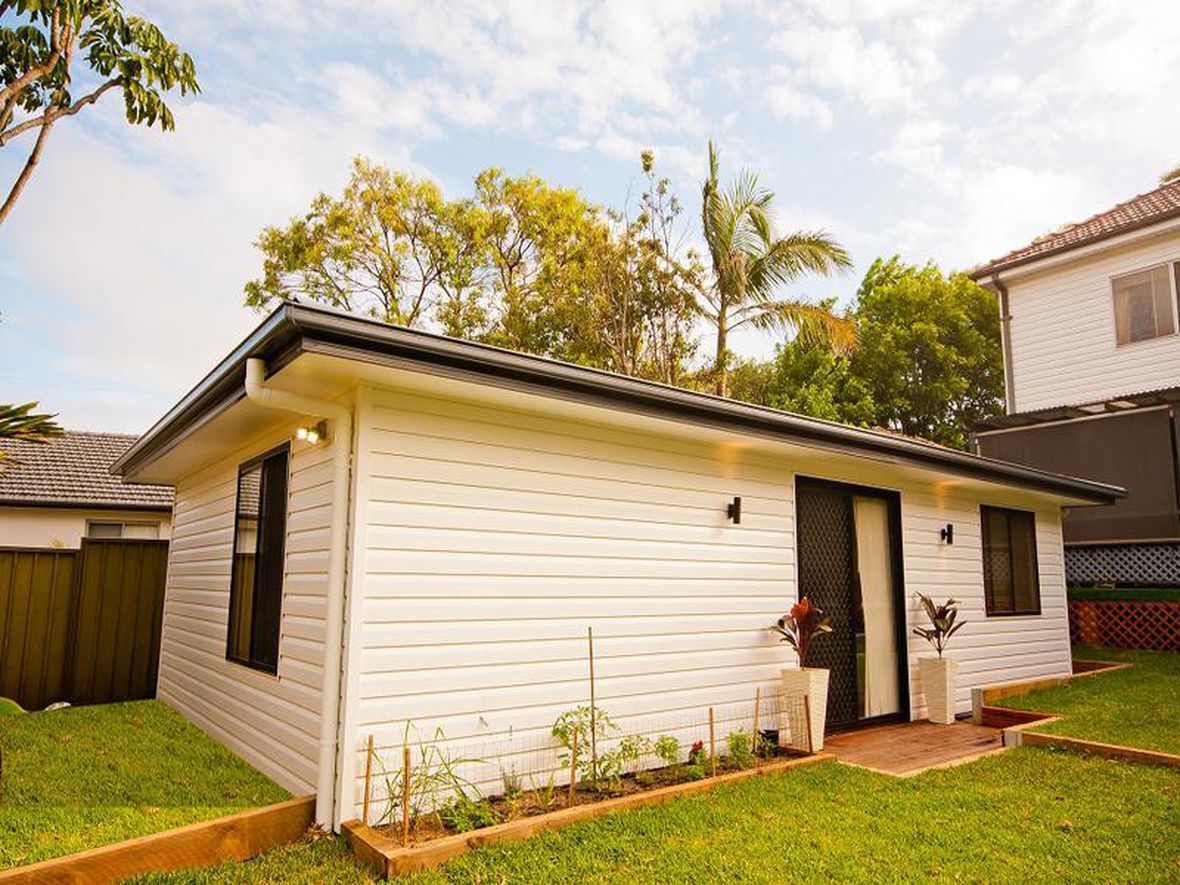 Key Points
---
'Granny flats' are not just for older family members
Know local government requirements when planning to build
Options include custom built, kits and flat packs
So called 'granny flats' are becoming a genuine alternative to aged care homes for older Australians and their families. However, it can be much more than just a place for granny.
While the idea is one that might appeal, it is vitally important that granny flat arrangements are carefully considered, and a formal agreement is in place to ensure harmony for all.
While a granny flat can also be a room in a home, this article deals primarily with the more traditional idea of a tiny house next to the pool out the back.
Most local councils allow granny flats, but it may depend on the area you live in and the size of the land. Check with your local council first and if you get the go-ahead, be aware you will have council fees to pay and the council will want detailed drawings of the granny flat before they will approve it.
When you apply to council be aware that:
A few councils may charge up to $20,000 for a "contribution fee." This is uncommon but could tip the scales against the building.
You may need to lodge a Development Approval (DA) application.
In Victoria, only a person dependant on the occupier of the main house can live in a granny flat.
All granny flats must comply with Australian building standards.
Granny flats must have everything needed for independent living, including bathrooms, kitchens and private access.
Only one granny flat is allowed on a single residential property. The home on the property must also be a primary residence.
The granny flat must have a private entrance and an outdoor space.
Custom built
Kits are available
Flat pack granny flats are available
Builders of granny flats can ship a granny flat to any location. If you buy a kit granny flat, it may arrive fully built, but you may still need to lay a foundation and attach water and electricity.
Kits and flatpack granny flats come in a variety of styles, but would a custom built granny flat be better for you? If you own a more expensive property, a custom built granny flat may be a better investment. Any granny flat can add to the value of a property, but don't skimp on the price. Granny flats have been offered for as little as $10,000, but they may not enhance the appearance of your property.
Granny flats are not inexpensive but can be less expensive than a home extension. They can also offer a good return on investment and can add more than their value to a home.
If you want a custom built granny flat, get quotes and compare them carefully because some will include a slab, plumbing and electricity in their quotes. Granny flat kit homes can be less expensive and are often just as good as a custom built granny flat.
Some prices you can expect to pay for a kit granny flat with a slab, plumbing and electricity might be:
$81,000 for a 38m2 granny flat
$95,000 for a 50m2 granny flat
$120,000 for a 71m2 granny flat
Some things that may be included in the price are:
Up to 10 power points and one external power point
Enclosed shower and all bathroom fittings
Full kitchen with laminate benchtops
Laundry tub and splashback
Carpeted bedroom and flooring in other rooms
Energy efficient lighting fixtures
Any kit home supplier/installer you get quotes from should provide a full list of inclusions and extra charges for upgrading the granny flat or for plumbing connections beyond a certain distance.
*Costs and prices in this article are indicative and should only be used as a guide. They also vary locally and are subject to market forces.
While the idea of a granny flat might appeal, it is vitally important that granny flat arrangements are carefully considered to ensure harmony for all.
This agreement between a parent and their child, means an older person agrees to contribute funds to build or buy a suitable dwelling (either by modifying an existing home or by buying a property in the name of their children). In return, the parent gets to live on the property with the expectation they will be provided with some form of assistance or care.
Most people who opt to have a granny flat do so with some form of agreement about the arrangements, which is a good thing, but up until recently many opted for an informal agreement to avoid Capital Gains Tax implications.
From 1 July 2021, legislative changes mean that parties receive a CGT exemption when they have a formal granny flat agreement in place. This was done to encourage everyone to think more carefully about these arrangements and ensure the rights and responsibilities of all parties are clearly written down as a way of protecting older Australians in case something goes wrong.
National Seniors participated in the consultation to develop the legislation. We recommended there be a minimum requirement for an independent witness to a formal agreement – just like when you draft a Will or a Power of Attorney document.
We were very disappointed this basic protection wasn't included in the final legislation which passed the Senate on 24 June 2021. However, we encourage everyone to use a formal agreement and, if possible, get independent advice when drafting it. One option is to talk to a Centrelink Financial Information Service (FIS) officer or a lawyer. This small investment may save a lot of hassles down the track.
More information about 'granny flat agreements' can be found here.
Don't forget, you can support our Better Housing campaign to improve housing options for older Australians.
Some of the information for this item was sourced from hipages.