Roll up for the roll-out
---
There was time when 'rolling-up your sleeves' was associated with hard work. Since the Australian roll-out of the two available COVID vaccines, 'rolling-up your sleeves' (for some) has taken on a new meaning.

By National Seniors Chief Advocate Ian Henschke.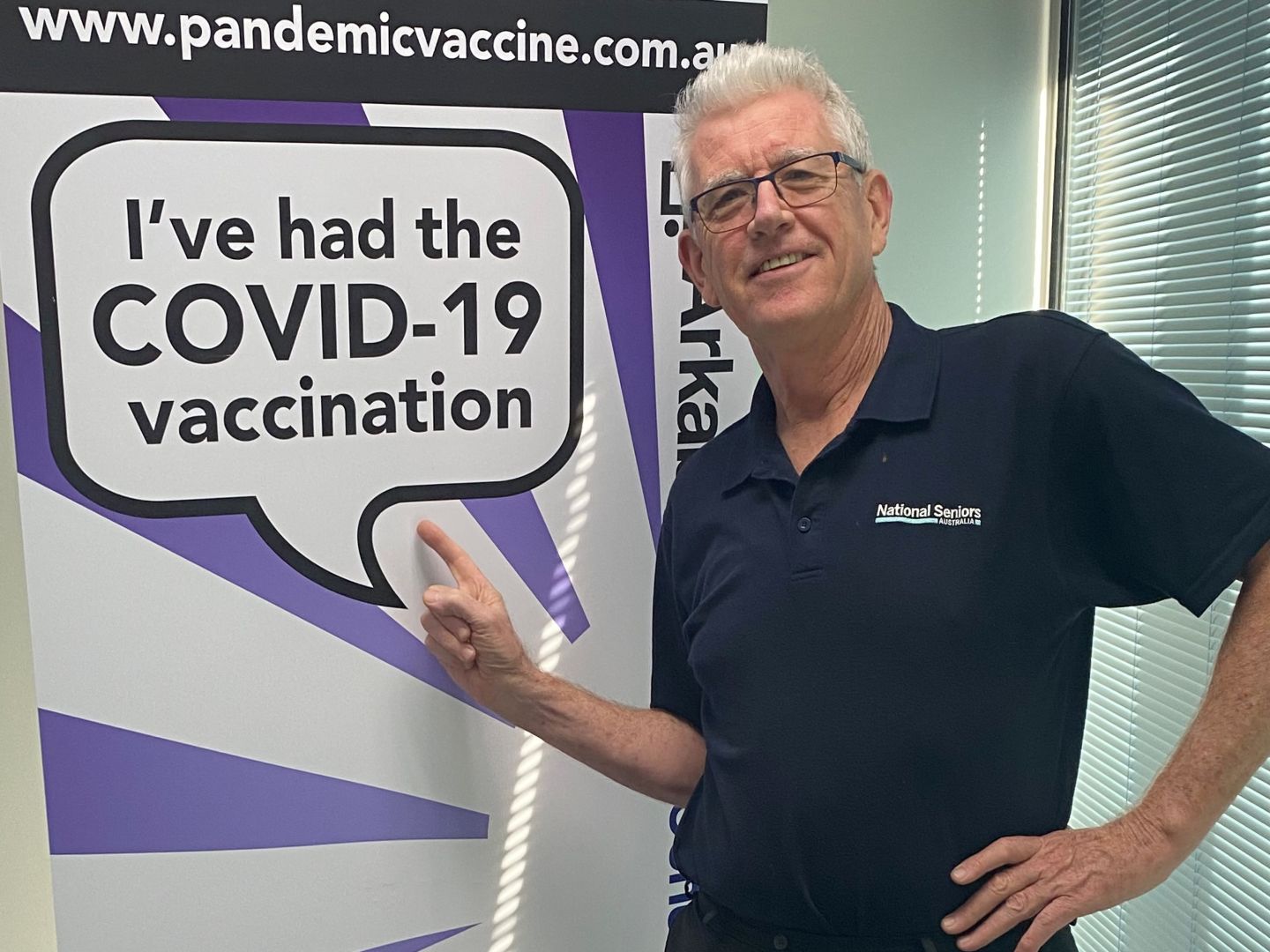 Think back to the image in February of our Prime Minister Scott Morison bearing his flesh in his polo shirt as he became one of the first people in Australia to receive the Pfizer vaccine together with 84-year-old World War II Survivor, Jane Malysiak, health care workers and quarantine workers.
Last week, I joined the increasing list of vaccinated and fortunate Australians by also rolling-up my sleeves (shameless plug in my National Seniors polo) to receive my first dose of the AstraZeneca vaccine.
And, while this article is not intended to "give further confidence to Australians these vaccines are safe and effective," (as was partly the case with Scott Morrison), this article may help reassure anyone who is eligible but hesitant to receive either vaccine, especially AstraZeneca.
As a former journalist I know first-hand that media report on the 'exceptions' as opposed to the 'the rules' and 'norms.' After all, it is these exceptions that make headlines, not the 'normal' and 'every day.'
According to the Therapeutic Goods Administration as of 2 May, approximately 1.4 million Australians have received the AstraZeneca vaccine and only 11 have experienced blood clots.
From a media perspective, there is no news in reporting on the 1,399,989 people who have received the vaccine and are okay.
But, these people are the other side of the equation who have not been reported.
I'm one of them.
Prior to receiving my vaccine, I was advised and well-aware of the possible and temporary side-effects that come with any vaccine including tenderness around the site of the injection, tiredness, headache, muscle pain, fever and chills. I was also aware of the very rare condition called thrombosis with thrombocytopenia syndrome (TTS) that has been linked with AstraZeneca, which appears to be more common in younger adults but has also been linked in adults more than 50.
After weighing the potential risk of severe outcomes from acquiring COVID-19 against the potential but far-less likely risk of a severe outcome from receiving the AstraZeneca vaccine, I opted, without hesitation, to receive the vaccine.
Like the flu jab and the many other jabs I've had over my lifetime, it was quick and to my surprise completely painless.
And, without trivialising the magnitude of the highly anticipated occasion, it disappointedly didn't come with a jellybean. Yet, despite my lack of sugary reward, it felt good and I felt good.
It's now almost a week later and I'm happy to report I haven't had any side-effects, not even the more common ones. Perhaps I, like the 1,399,989 Australians before me, am 'the norm' and not the 'exception.'
Again, as a former journalist, I've been trained to look for and to check the facts – do my research.
The facts, according to evidence produced by the Australian Technical Advisory Group on Immunisation (ATAGI) and its overseas counterparts, are very clear – the risks of acquiring highly unlikely serious side effects from the vaccination are far outweighed by the more than likely effects from COVID.
As a journalist and more importantly as a husband and father of two teenagers, the facts speak for themselves. And, while I can't speak for others, I can speak with absolute certainty that I'm grateful for the opportunity and that I have chosen to 'roll-up.'
I told my girls when I got home all I could think of when I got my jab was Fred Flintstone. I shouted to myself, "yabba dabba doo!"
Now, back to that jellybean …I wonder if you need to be under 50?