A guide to stairlifts
---
A new TV series raises questions about ageing at home and stairlifts. Image: Malcolm McDowell in Truth Seekers (courtesy of The Herald, Scotland).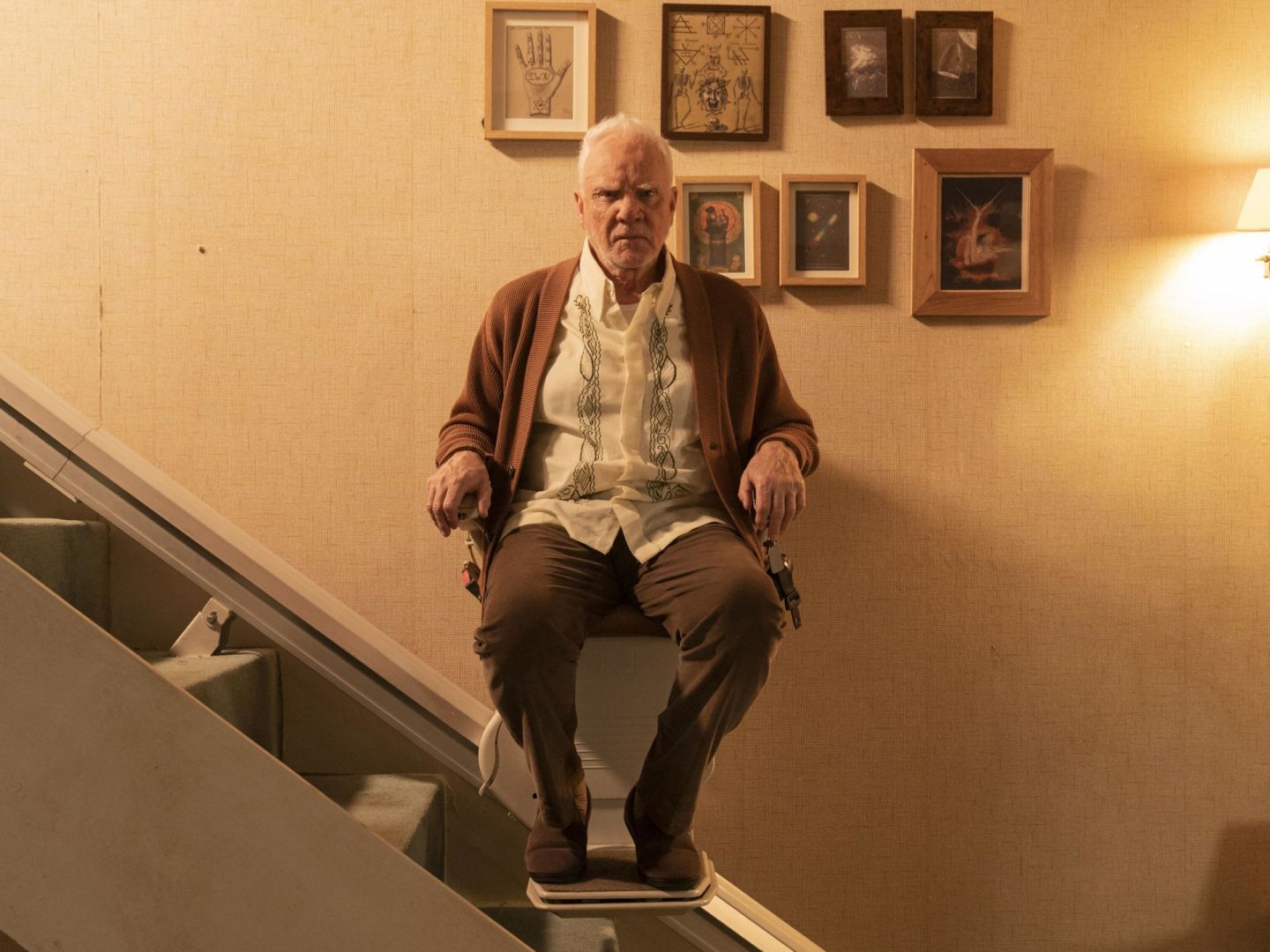 Key Points
---
Malcolm McDowell's TV character finds his stairlift frustrating
Accidents raise questions about stairlift safety
Professional installation is the key
You might remember him as the very active Alex DeLarge in Stanley Kurbrik's 1971 film A Clockwork Orange.

The now 77 year old actor Malcolm McDowell was the infamous sadistic gang leader who was given conduct-aversion therapy to control his ultra-violence.

Fast forward to 2021 and McDowell is the father of one of the main characters in the Amazon Prime TV series, Truth Seekers.

A cantankerous senior citizen who's pining for company, McDowell describes his character as just another "lonely old man".

"He's such a lonely person," McDowell asserts earnestly.

He also has mobility issues.

"Going up and down on the upstairs-downstairs (chairlift/stairlift), that sort of became a fun kind of thing," McDowell recalls.

"You get the whole character from that by the way, because when he's excited or in a little bit of a hurry, he just jumps off the thing and runs up the stairs."

So, are stair-lifts, as they're also called, a solution to getting up and down stairs?

As we age, mobility (especially climbing stairs or outside steps) can pose a real problem. As with so many mobility challenges, technology has come to the rescue and chair lifts are a boon for many seniors who want to remain in their own homes.
Sometimes called a stair elevator, a stair lift carries a person up an incline by means of a rail that is mounted to the stair treads or wall and a carriage that houses the lift mechanism and the wheelchair platform or seat.

Stair lifts have been commercially available since the 1930s, but have only become widely used more recently, since improvements in design and technology have made them safer and more affordable. But that doesn't mean accidents don't occur.

Last year in the Far North Queensland city of Ayr two elderly people died after an accident involving their home stair lift. Police and others are examining what went wrong.

This is the latest in a string of serious accidents, mostly overseas (especially the UK), to do with these mobility and independence-preserving devices.

As with any technological device, buyer and user beware! Devices are only as good and as safe as the person using them. You have to know the safety rules, as with any form of machinery.
Stair lifts have mechanical or structural restraints to keep you secure in the chair. These include seat-belts and harnesses but just like in a car they have to be fastened.

Some stair lifts have seatbelts that are automatically retracted when released, and safety sensors stop it if there's anything in the way.

Another possible challenge is what happens if there's a power outage and the chair stops mid climb? We can't all run up the stairs like Mr McDowell.

This is definitely a question to ask the installation company; it could be there's a battery back-up or you could wear the alarm that alert family and others when you're in need.

If you have stairs or difficult to manage steps then a stair lift can significantly decrease that risk, helping a senior live independently with confidence.
Stair lifts are fitted with rollers that fit securely within the tracks, enabling the lift to glide up the stairs by means of a rack and pinion or pulley system. Stair lifts come with several optional features that make them suitable for use in a variety of situations:
Straight rail systems are designed for straight stair runs.
Curved rail systems can follow the configuration of a curved staircase.
Some stair lifts are designed to carry wheelchairs, while others have seats attached.
Stair lift rails can often be mounted against a wall, when stair treads are not appropriate or when the lift is needed for a stairless incline.
However, installing a stair lift can be a big job, which needs planning and qualified installers. So, do your research, find out what's available and who is qualified to do the job.
By the way, the average chair lift can carry 159kg or 25 stone, in the old weight measurement.
When installing a stair lift, it's important to plan for the:
landing areas,
nearby doorways,
stairs with curves and
necessary electrical outlets.
For a straight Stair lift, you are looking at a cost of $5,000 - $10,000 including measure, site survey installation and freight.
For a Curved Stair Climber with a custom-made rail to suit your homes corners, inclines and landings you should expect to pay anywhere between $12,000 and $18,000.

Standard health insurance policies and Medicare will not typically cover the purchase or installation of a stair lift, even with a doctor's order.  It is best to check with your health insurer.

Quotes from Malcolm McDowell appeared in the The Herald (Scotland). Original article here.