Be weather ready this summer
---
The Bureau of Meteorology has officially declared a La Niña event that is likely to bring an increased risk of storms, cyclones and flooding to some parts of the country.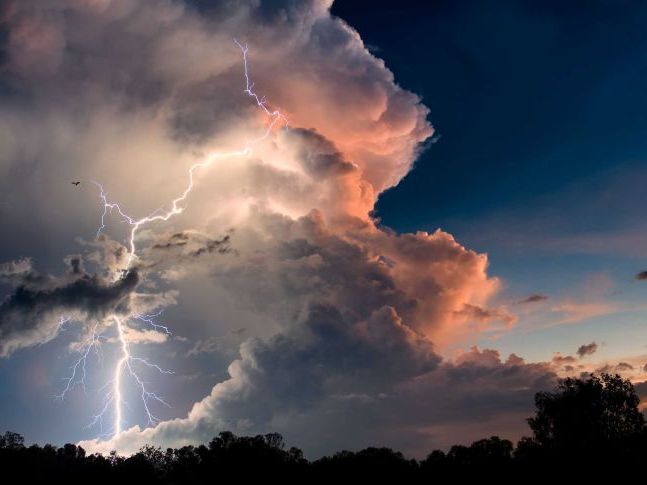 Image credit: abc.net.au
Last year was an extremely challenging summer for all Australians. Everyone will remember 2019/20 for the bushfires. But few will know that storms and floods over the same period caused over $3 billion in damage and gave rise to more than 250,000 insurance claims1.
This summer, the Bureau of Meteorology has officially declared a La Niña event that is likely to bring an increased risk of storms, cyclones and flooding to some parts of the country. This season we want to help you understand the extreme weather predicted for this summer, what it means for you, and how to go about taking precautions to prepare for it.
La Niña is a natural phase of Australia's weather cycle that warms the waters off Australia's north coast, increasing cloud development and rainfall2. This heightens the chance of hail, storms and associated flooding through the warmer months of the year across central, eastern and northern Australia. A La Niña event is also likely to increase the number of cyclones we experience and bring forward the start of the cyclone season in the north of the country. Fortunately, La Niña is also likely to result in a milder bushfire season, nationally³.
Living in Australia we know how quickly sunny skies can turn to storm clouds. No matter where you are ‒ from regional, rural and remote Australia to our metropolitan areas ‒ it's important to be ready for extreme weather. For a copy of our tips on how to protect your home, contents and vehicles, and get your insurance ready for this summer⁴, click here.
We're ready to help you face the challenges of this summer. Our partners at Allianz are working closely with the Insurance Council of Australia (ICA) to ensure that they have staff in all states. Allianz's assessors are ready, and their team is prepared to respond to your questions and claims quickly. Allianz is also offering alternative accommodation for Home Insurance customers for up to 12 months if their home is made unliveable because of events such as a storm or a fire⁵,⁶ and our Comprehensive Car Insurance covers any accidental vehicle damage as a result of flood, storm or hail – please note that waiting periods may apply⁵.

Make sure you have the right cover for your circumstances

Here are some tips to help you review your insurance and get weather-ready:
• Ensure that your insurance is up to date and relevant to your current circumstances.
• Review the sum for which you are insured, checking that it covers the replacement value of what you would like to insure⁵.
• Check that your premiums are paid to make sure there are no interruptions to your cover.
✓ Know what you're covered for
✓ Review your sum insured
✓ Check that your payments are up to date
There are a few simple things you can do before you claim to make this process easier during what can be a very stressful time:
• While it's easy to forget, keeping photographic evidence of your belongings and any receipts for purchases made will be help with your claim.
• Making a full inventory list isn't necessary for your claim, but it will generally be helpful.
• You can also prepare your premises for extreme weather using the tips.
✓ Take photos of your belongings
✓ Make an inventory
✓ Be prepared for extreme weather
If your property or motor vehicles have been damaged by cyclones, flooding, storms or bushfires, we will be ready to help you. You can contact Allianz using any of the following methods:
To minimise delays, we advise customers lodge their claims online at allianzclaims.com.au. Once you place your claim, a Claims Team consultant will contact you as soon as possible.
Alternatively you call Allianz on 13 10 13.
If you require temporary accommodation as a result of damage to your premises, simply advise Allianz when lodging your claim.
✓ Claim online for faster service
✓ Call Allianz on 13 10 13
✓ Advise Allianz of additional needs during lodgement
Insurance Industry data inclusive of Allianz Australia losses.
Bureau of Meteorology, 'What is La Niña and how does it impact Australia?'.
ABC 'How La Niña will impact Australia' .
All tips are general in nature and do not take into account your objectives, financial situation or needs.
Please note a 72 hour exclusion period may apply for loss of or damage caused by cyclone, flood, grassfires and bushfires after you first take out or increase the cover under the policy. Please refer to your PDS for full details, terms, and conditions.
Eligibility criteria, limits and exclusions may apply. Please refer to your PDS for Terms and Conditions
Please note the information in this article is general in nature and does not take into account your objectives, financial situation or needs. You should consider obtaining independent advice before making any decisions based on this article.
This article has been prepared by Allianz Australia Insurance Limited ABN 15 000 122 850 AFSL 234708 ("Allianz"). Information contained in this article is accurate as at 06 11 2020 and may be subject to change. In some cases information has been provided to us by third parties and while that information is believed to be accurate and reliable, its accuracy is not guaranteed in any way. Any opinions expressed constitute our views at the time of issue and are subject to change. Neither Allianz, nor its employees or directors give any warranty of accuracy or accept responsibility for any loss or liability incurred by you in respect of any error, omission or misrepresentation in this article.
National Seniors Australia Ltd ABN 89 050 523 003 AR No. 282 736 arranges this insurance as agent for the insurer Allianz Australia Insurance Limited ABN 15 000 122 850 AFSL No 234708. We do not provide any advice based on any consideration of your objectives, financial situation or needs. Terms, conditions, limits and exclusions apply. Before making a decision, please consider the relevant Product Disclosure Statement available from National Seniors Insurance Home Buildings. To see some of the events covered and not covered, please refer to the National Seniors Insurance Home Buildings, National Seniors Insurance Home Contents, National Seniors Insurance Landlord Buildings or National Seniors Insurance Landlord Contents Key Fact Sheets (KFS). If you purchase this insurance, we will receive a commission that is a percentage of the premium. Ask us for more details before we provide you with services.