Age no barrier for this tech whiz
---
"Some people haven't had the opportunity to learn technical skills and it can be hard to change the habits of older people,"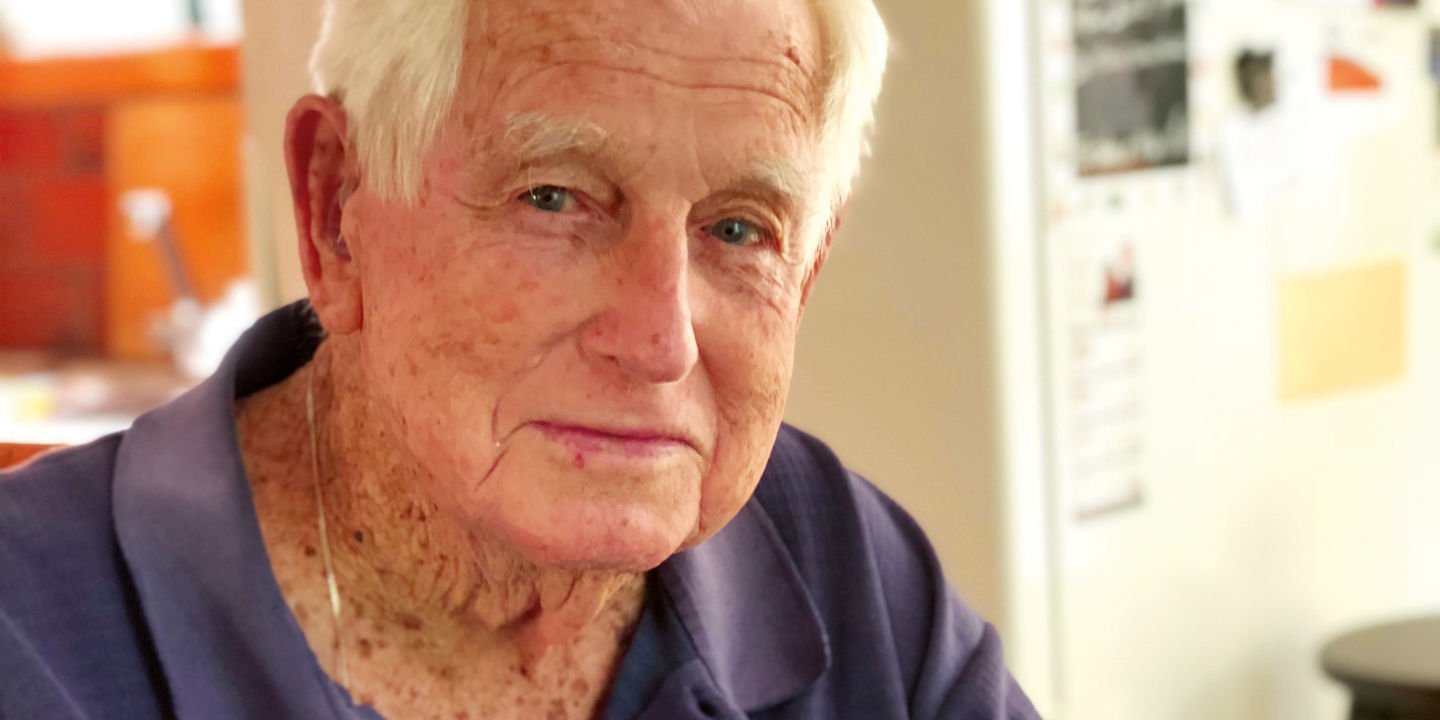 At 97, retired station master Samuel 'Micky' Mullins is something of a technical whiz.
In the corner of the living room is a big Smart TV (a recent acquisition), and on the table is more evidence of Micky's love of all things digital. The iPad is his favourite, especially for online banking and Skyping friends - around the world in Paris or just a couple of suburbs away in Wynnum West.
At the ready is a Bluetooth keyboard he can use with both the iPad and his Notebook, and an iPhone (used mostly for emergency calls or when he needs a taxi).
Micky's love affair with things technical began when he was just a lad. He'd started work with Queensland Railways at age 14 and began helping a friend who built and repaired radios for a living.
"In 1939, I got a diploma in construction and repair of radios from the Australian Radio College," Micky recalled. "In my spare time I'd ride my bike from Ascot to Ballymore, where my friend's workshop was, and help him do radio repairs. We'd also build new radios from scratch. I loved it."
Fast forward to the 1960s, when Micky was married and living on Brisbane's southside with his late wife Georgina and daughter Bev. By this stage he'd been promoted to station master, but at weekends and during the holidays he'd work at the tote at Eagle Farm Racecourse to earn extra money.
It was pre-computers and Micky calculated all the dividends for the TAB. "They'd send us their figures a few minutes before the race started and we'd combine them with ours and work out the dividends. We had to work fast but I enjoyed it."
Then his interest in photography prompted him to build a dark room in the garden, which came in handy when he and son-in-law Wally wanted to know more about integrated circuits and miniaturization.
"Wally and I prised the top off an integrated circuit and there was a tiny chip about 2mm square and we blew it up to A4 size in the darkroom after taking a photo of it," Micky said. "It was great – we learned so much."
To say Micky was something of an 'early adopter' is an understatement. When he and his wife went off on holidays during the 1970s, they took with them one of the earliest mobile phones available, thanks to son-in-law Wally who worked at Telecom (the forerunner of Telstra).
"It was the size of two house bricks and had a normal landline handset on the top," Micky laughed. "But it worked."
Micky bought his first computer, a Vic20, in the early 1980s to ensure he could keep up with his grandchildren. Soon, he was their go-to person for technical questions. He even taught himself to write programs, by reading the instruction manual.
Micky credits his lifelong interest in problem-solving for his ability to stay across the latest technology.
"Some people haven't had the opportunity to learn technical skills and it can be hard to change the habits of older people," Micky said. "But people who have had an active life of solving problems will usually pick it up."
Around Australia, about a third of the 8.5 million Australians aged over 50 have "little or no engagement in the online world", according to a report earlier this year from the e-Safety Commissioner.
If you're one of them but would like to improve your skills (and research shows half of Australians aged 50 years and over want to use the internet more), the Be Connected program could be your opportunity. An initiative of the e-Safety Office, a national network of 1,200 community groups, including National Seniors, is delivering free face-to-face coaching.
To access the Be Connected learning program from home, complete your details when you click this link https://beconnected.esafety.gov.au/login/ and select National Seniors Australia as the training provider.
If you know someone who wants to be connected, help them, and tell them about the Be Connected program.
If you want more information, including which National Seniors branches will be delivering learning programs in their communities, telephone Kristie Forrest at on 07 3233 9141.
This article by Lynda Schekoske originally appeared in the November/December/January 2019 edition of 50 Something magazine.