When Frank Sinatra sang Fairy tales can come true, it can happen to you, if you're young at heart he nailed the Apia Young at Heart Seniors Film Festival at Palace Cinemas nationwide.
A magical collection of carefully selected films targeted specifically for the "young at heart" will whisk audiences away to the land of ultimate entertainment.
National Seniors members can attend any film at the festival (apart from opening night) for $8* per ticket at the door.
Hilarious and heartfelt comedies, must-see documentaries and critically acclaimed dramas make up the program of 15 titles starring some of the big names of the big screen – Dame Judi Dench, Bill Nighy, Claudia Cardinale and Rob Brydon, among others.
The funny-bone will receive a robust tickling with Nonnas on the Run, starring screen icon Claudia Cardinale as one of two bored retirees running away from a retirement home for a dream trip in Venice.
Red Joan, based on the life of British KGB agent Melita Norwood, tells the story of Joan Stanley, one of the most influential spies in living history. Sophie Cookson plays young Joan with legendary Judi Dench playing Granny Spy.
Bill Nighy stars in Sometimes, Always, Never, a stylish comedy-drama about a Scrabble-obsessed tailor searching for his son, and Rob Brydon leads as a man who finds a new lease on life after joining an amateur, all-male, synchronised swimming team in Swimming with Men (pictured above) .
Now in its 14th year, the Apia Young at Heart Seniors Film Festival celebrates mature-aged movie lovers from Wednesday 13 February until Wednesday 27 February at Palace Cinemas in Melbourne, Sydney, Brisbane, Canberra, Adelaide and Perth.
For more information and the program, click here.
Remove the stress of finding the right aged care home with a free Care360 top-ten match report based on specific needs and preferences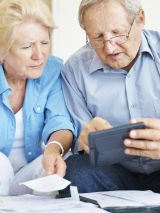 Managing your own super? Save $20 on a 12 month SMSF Connect membership – your comprehensive information and education resource for your self managed super fund, brought to you by the SMSF Association.