Australia's scientific research agency, the CSIRO, has released a new book focussing on the gut.
Following the hugely successful The CSIRO Low-Carb Diet and CSIRO Low-Carb Every Day, both of which became instant bestsellers, The CSIRO Healthy Gut Diet provides another variation of a high-fibre and starch-resistant diet designed to benefit the gut and overall bodily health.
This is a crucial to the prevention of the rising rates of bowel cancer and other intestinal conditions such as inflammatory bowel disease and irritable bowel syndrome.
The book will also help Australians understand how the gut is pivotal to a healthy metabolism, brain and immune system.
The authors are Dr Tony Bird, Dr Michael Condon and Pennie Taylor, who all work at CSIRO Health and Biosecurity.
Dr Bird is a principal research scientist who leads multidisciplinary research teams investigating the influence of foods and food constituents on human health and wellbeing.
Dr Condon is a senior research scientist focussing on understanding the effects of dietary components such as fibres and proteins of gut physiology.
Ms Taylor is a senior research dietitian whose expertise spans clinical and community nutritional advice for diabetes and obesity management.
The CSIRO Healthy Gut Diet provides 85 delicious easy-to-cook recipes, plus fibre-boosted daily meal plans.
To go into the draw to win one of five copies of The CSIRO Healthy Gut Diet, write your name and address on the back of an envelope and send it to: Healthy Gut Diet competition, GPO Box 1450, Brisbane 4001. Or entries can be lodged at nationalseniors.com.au/competitions. Entries close 30 September 2018.
And for those who can't wait to see if they are among the lucky five who win the new CSIRO book, here's a tasty sample of the recipes it includes:
Serves 6
Preparation 15 minutes, plus soaking time
Cooking 15 minutes
Ingredients
1/3 cup (50g) raw (natural) rolled oats
Up to ¾ cup (100g) green banana flour (or potato starch)
1 teasp baking powder
¼ teasp freshly grated nutmeg
1 cup (250ml) high-calcium, lactose-free skim milk
1 egg, lightly beaten
2 bananas, mashed
Olive oil spray, for cooking
2 large bananas, extra, sliced
600g lactose-free natural yoghurt
Method
Place the oats in a food processor and process until finely chopped to a flour texture. Transfer to a measuring jug and add enough green banana flour to make 1 cup total (100g) flour.
Place the flour mixture in a large bowl, add the baking powder and nutmeg and whisk to combine. Whisk in the milk and egg to form a batter, then fold in the mashed banana.
Heat a large non-stick heavy-based frying pan over low-medium heat and spray with olive oil. Working in batches so as not to crowd the pan, add 1 tablespoon of batter for each pikelet and cook for 1-2 minutes until bubbles start to appear on the surface. Carefully turn over and cook for another 1-2 minutes until golden. Transfer to a heatproof plate and repeat with the remaining batter, spraying with a little more oil if needed. You should have enough batter to make 24 pikelets.
Serve the pikelets with the sliced banana and yoghurt. Any leftover pikelets can be stored in a single layer in an airtight container in the refrigerator for one day.
Serves 4
Preparation 24 minutes, plus refrigerating time
Cooking 40 minutes, plus potato cooking time

Ingredients
Fishcakes
1 small head cauliflower, trimmed and cut into small florets
2 potatoes, quartered, steamed and chilled overnight
545g tinned salmon, drained, skin and bones removed, flaked
¼ cup (35g) plain flour, plus extra for dusting
Finely grated zest of 1 lemon
2 tblsp finely chopped chives
2 tblsp finely chopped flat-leaf parsley leaves
Olive oil spray, for cooking
Pea, spinach and asparagus salad
4 eggs
1½ cups (180g) frozen peas
1 bunch asparagus, trimmed
2 cups (150g) baby spinach, stems trimmed
2 tblsp lemon juice
1 teasp wholegrain mustard
1 tblsp extra virgin olive oil
Minted yoghurt
100g reduced-fat natural Greek-style yoghurt
2 tblsp finely chopped mint leaves
1-2 teasp lemon juice, to taste
Method
Steam the cauliflower for 6 minutes or until tender. Transfer to a food processor or blender and blend to a chunky puree. Place in a bowl, add the potato and mash to combine. Stir in the salmon, flour, lemon zest, chives and parsley and mix to combine. Divide into 8 even portions, then shape into patties. Place on a baking tray lined with baking paper, cover with plastic film and refrigerate for 30 minutes to firm.
Meanwhile, to make the salad, boil the eggs in a saucepan of simmering water for 7 minutes for medium-soft. Drain, allow to cool, then peel and cut in half. Cook the peas in a saucepan of simmering water for 3 minutes or until tender, drain and set aside. Blanch the asparagus in a saucepan of simmering water for 2 minutes or until tender but still crisp, drain and set aside. Place the spinach leaves in a bowl, all the cooled peas and asparagus. Mix the lemon juice, mustard and olive oil in a small bowl until well combined and emulsified, then set aside.
To make the minted yoghurt, mix the yoghurt and mint in a small bowl, then stir in lemon juice to taste. Cover with plastic film and refrigerate until required.
Heat a non-stick heavy-based frying pan over medium heat and spray with olive oil. Dust the salmon cakes lightly in flour, shaking to remove excess. Pan fry in batches if necessary for 4-5 minutes on each side until golden brown and warmed through, reducing the heat to low-medium if necessary.
Add the dressing to the salad and toss gently to coat. Divide the salad among 4 plates and top with one egg and 2 salmon cakes, then serve with minted yoghurt on the side.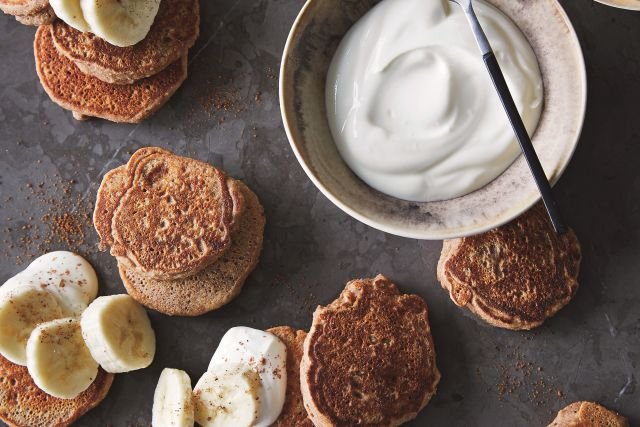 Banana and oat pikelets with yoghurt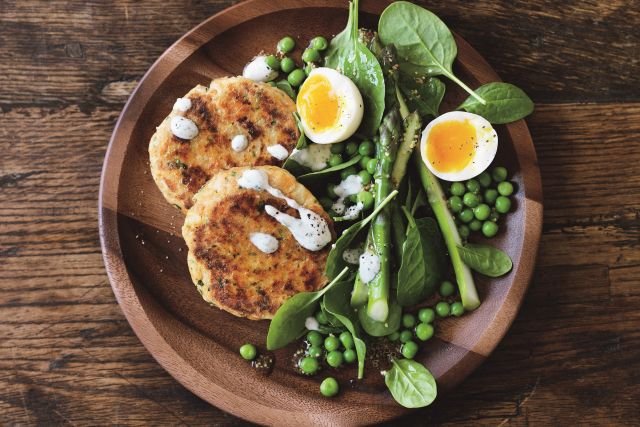 Salmon and cauliflower fishcakes with pea, spinach and asparagus salad