By Chief Advocate Ian Henschke
Politics, it's never simple.
You may remember during the 2017-18 parliamentary eligibility crisis, 15 MPs had to stand down, then stand for re-election because they were dual citizens.
One of them was the Federal Member for Mayo, Rebekha Sharkie. She was a former Liberal staffer who held the seat previously belonging to Alexander Downer.
After he left politics in 2008 his replacement was one of his former staffers, Jamie Briggs. Then in 2016, one of Jamie Briggs's former staffers, namely Rebekha Sharkie, stood against her old boss and won. She stood for the Nick Xenophon Team (NXT). Then that party changed its name to the Centre Alliance.
Are you still with me? Good.
Well, Rebekha won back her seat in July this year, despite the Liberals putting up Alexander Downer's daughter against her. In that by-election she recognised the issues affecting seniors were vitally important. She promised, if re-elected, she would introduce a Private Member's Bill to mandate the publication of staff-to-resident ratios in aged care homes by job description on the federal government's My Aged Care website.
Rebekha has the oldest electorate in South Australia and had been listening to the concerns of the community. National Seniors has met with her and her staff twice in the past six months. Our SA Policy Advisory Group (PAG) Chair, Myrana Wahlqvist, and I visited earlier this year. Then I followed up with a second visit with Joel Pringle, a campaigner with our partner The Benevolent Society. We're pushing the Fix Pension Poverty campaign as well as a range of other issues with this key independent MP.
So, we were pleased to see last Friday our call to pass the legislation she's proposing came one step closer to reality. The Standing Committee on Health, Aged Care and Sport recommended the publication of staffing ratios in its recent report .
The committee said staff numbers alone wouldn't guarantee quality care, noting that the Oakden Older Persons Mental Health Service had a high staff-to-resident ratio.
"Nevertheless, the committee is of the view that there is a minimum level of staffing that is required if quality care is to be consistently provided," it said.
We made a submission to that committee and see this as a simple way of increasing transparency, choice and, ultimately, quality in residential care.
The bill offers a common-sense approach. If passed it will give consumers and their families more understanding about the capacity of a home to look after older people's needs. The number of staff and the relative number of skilled staff has an impact on the quality of care. This is the view of professionals who work in aged care and our members say the same thing all the time.
This is one of the quotes we received from a member: "The provision of care to older Australians is labour intensive. It requires adequate numbers of staff with appropriate qualifications to give assistance to residents who are increasingly frail and who are often suffering difficult medical conditions, such as dementia, which require constant support and supervision." (See more member comments below.)
National Seniors also hopes the issue of staffing ratios will be examined as part of the Aged Care Royal Commission. We call on the parliament to pass this amendment as it will be one further step toward better quality and safety in aged care.
We also note the Committee has again recommended the National Aged Care Quality Indicator Program be made mandatory and legislation introduced to require a minimum of one registered nurse on site always.
As you can see from the above, politics and lobbying for better policy is a long and winding road. We need to work with politicians, partners, aged care experts and you, our members, to achieve results. It's also invaluable at budget and election time to remind all politicians every second voter is now aged over 50 and they want the system fixed, not just for those in aged care now but for those heading there in the years to come. With your help, and your continued membership, we are making a difference.
I was also able to present a National Seniors background paper at the Aged Care Round Table, organised by the Royal Commission in Adelaide at the end of last month. Our wonderful research done by NSA CEO Professor John McCallum and his team, built on your stories, was so powerful during that session. We emphasised again the need for compulsory dementia training for all aged care staff. This came directly from our NSA research and feedback from members.
Another powerful member story came from a 74-year-old retiree whose wife had brain cancer. He was her carer for two years before she died last November (2017). This November he received a letter from My Aged Care addressed to his deceased wife. It said: "You have moved up the queue and I expect that you will be assigned a home care package in about three months. This package may be lower than the level you are approved for."
The Royal Commissioner and her team saw this as a real example of a system in need of improvement in care and quality. It's another powerful reminder that your voice is being heard through National Seniors and I encourage you to talk to family and friends over the holiday season about joining to give us an even bigger voice.
You can also read more quotes from members relating to staffing (we use these stories to inform our advocacy and once again thank the members for them):
The second most common complaint is the understaffing. Mostly there is only one qualified nursing sister supported by nursing aides who cannot administer medicine or make decisions about care.
Minimum staff to resident ratios is urgently needed in aged care. I was a registered nurse (RN) employed in an aged care facility for just under 20 years and during that time where we use to have two RNs for 50 residents in three high care sections and an RN in the hostel section of 40 residents on a day shift (7am-3:30pm), in the last 12 months our number was reduced to one RN for the whole facility of 90 residents.
There is no current requirement for a registered nurse on each shift but there should be.
There should be an established nurse-to-patient ratio requirement for all aged care facilities. It is interesting to note that the childcare industry has mandated minimum staff to children ratios, public hospitals have or are introducing nurse to patient ratios, but the equally vulnerable older people are seemingly not sufficiently important to warrant such ratios. This is an example of ageism at its worst.
There were wonderful carers mostly, but they were so pushed, not enough of them, poor language skills, not enough awareness of important issues. But even so it is compassion, empathy, communication, respect and a willingness to listen and work hard which is needed in aged care, degrees are not what is needed, more caring hands are sorely needed.
I have friends who had a parent in aged care, and they felt that their complaints were not attended to properly. The main problem, of course, is lack of staff numbers to properly care for people in nursing homes. The number of staff needs to be doubled. It is even worse on weekends.
Make sure there is an adequate number of trained staff available to match demand. Many staff members work very hard and are under strain at present.
Residents have at times waited up to 30 minutes for a response to their call button when they have needed help, medicines have been late, urine containers have not been emptied, beds have not been made. The staff are doing the best they can, but they cannot care for high care, dementia, and low care residents as they want to.
My Dad passed away in a palliative care unit at the local hospital – the hospital insisted that he should return to the home and be nursed. When he arrived by ambulance at (the hospital), he had been suffering from diarrhoea, vomiting and his overall condition was very poor. I had left work to help care for him. In the home the situation was deplorable, hygiene was at a low and a number of residents had the same complaint, staff just couldn't cope.
My mother was in a nursing home for just under two years. She was unable to leave her bed. I visited her every day. She was well looked after, and the people were kind but too busy to really stop and care beyond meeting physical needs.
With an ever-ageing population and their residents only going to need greater levels of care, I think a good look at staffing levels per number of patients and level of training needs to be addressed - across the whole aged care sector!
There are not enough staff to handle patient care such as moving someone when more than one nurse may be required or when more than one person needs help at the same time.
The workload for RNs in aged care is excessive with missed meal breaks and rarely finishing on time. Trying to keep up with each resident's condition/needs, supervising staff, documentation including nursing care plans, attending meetings, doctor's rounds was exhausting.
My mother has been in a home for six years and I have watched the level of care decline over this time and they have drastically cut staff.
At night there are no RNs on duty, so no-one with true medical experience is there to help with minor or major problems... practice is to call an ambulance - not helpful if someone is bleeding after a fall or having breathing difficulties.
At night patients are looked in on too infrequently. If anyone falls after 10.00pm they may end up lying there till 6.00am if they cannot reach the buzzer (which happened with my mum).
There is generally a shortage of adequately trained aged care workers, especially during the night.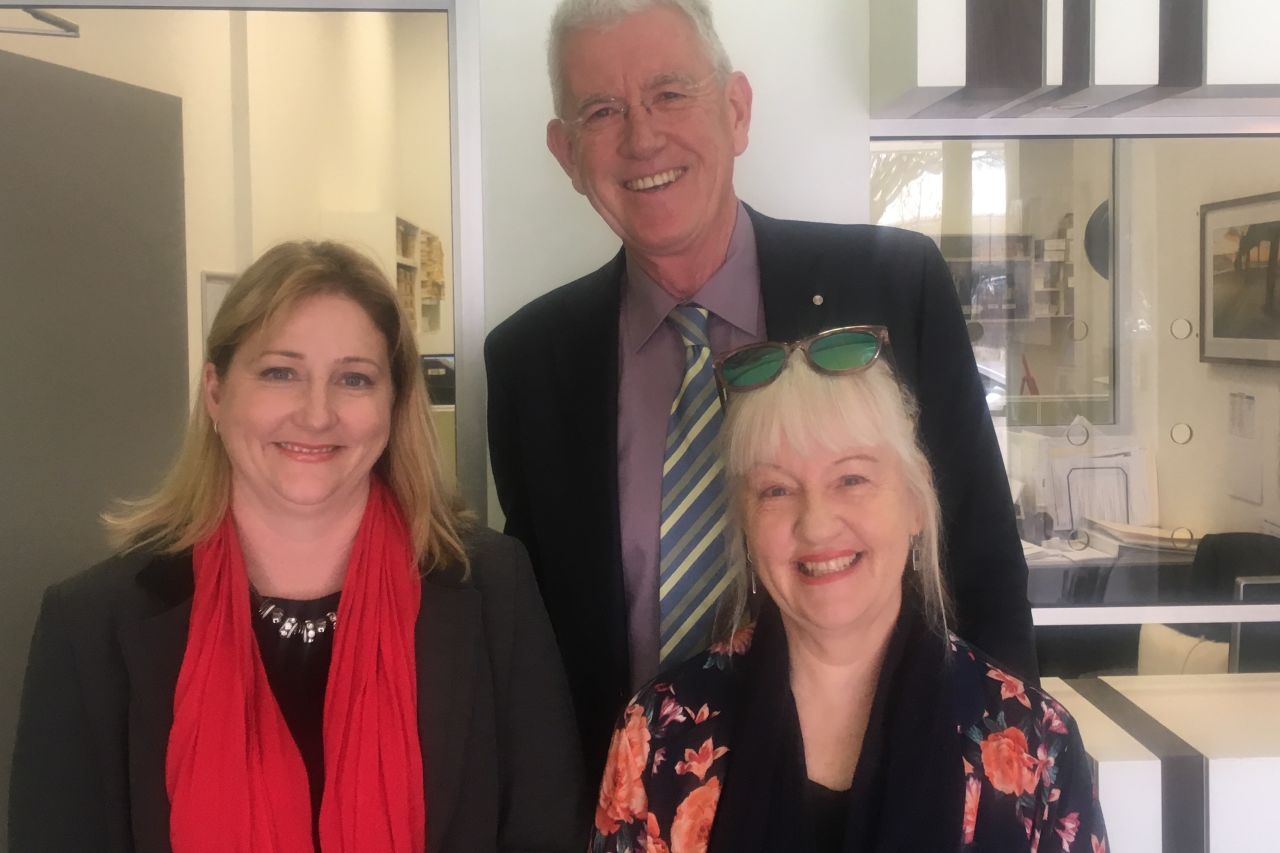 Caption: (From Left) Rebekha Sharkie MP, National Seniors Chief Advocate Ian Henschke, and SA Policy Advisory Group Chair Myrana Wahlqvist.