Superannuation funds have posted a positive return for the 10th consecutive financial year.
Amidst periods of share market volatility and currency fluctuation the median growth fund returned seven per cent with top funds returning 9.9 per cent. Even the worst performer in that category returned 4.3 per cent.
Research, data and technology company, Chant West, says returns are more than 5.5 per cent above the current rate of inflation, well above the typical long-term objective of beating inflation by 3.5 per cent.
"We should remember that it really represents the recovery from the setback of the GFC, so it would be a mistake to assume it's sustainable. Indeed, with many asset sectors looking to be fully valued or close to it, we're expecting some challenging times ahead."
Some National Seniors members have also predicted "challenging times ahead."
Earlier this year, our research report, Feeling financially comfortable? What retirees say expressed some of the concerns held by older Australians in a post-GFC world.
Chant West says global economic circumstances remain uncertain.

These include US-China trade tensions, economic growth concerns, and uncertainty surrounding Brexit and the new UK Prime Minister.
The table below shows the estimated median performance and ranges for each traditional diversified fund category in Chant West's Multi-Manager Survey, ranging from All Growth to Conservative.
The chart below shows the year's top 10 performing growth options over the 2018/19 Financial Year.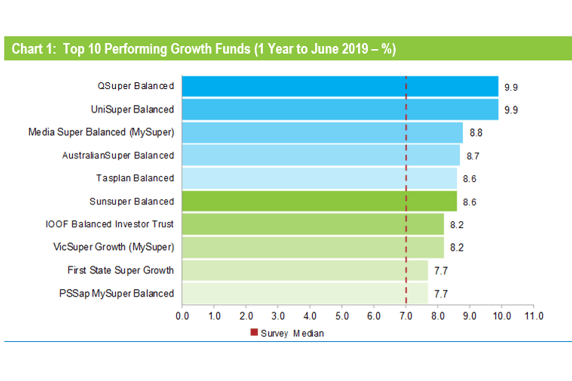 Source: Chant West
Notes:
1. Where a super fund has more than one investment option in the Growth category, only its main investment option has been included in the top 10.
2. Performance is shown net of investment fees and tax. It is before administration fees and adviser commissions.