This week, National Seniors Australia stepped up its campaign to bring deeming rates down, saying the cuts in July were not enough.
This follows growing speculation that the Reserve Bank will cut interest rates to an historic low of 0.75% when its board meets next Tuesday.
Lower term deposit rates will undoubtedly be the outcome, further jeopardising a previously secure source of retirement income for pensioners with savings.
Deeming rates are used to 'deem' the amount of income from investments, including savings. The more you are deemed to have earned, the less pension you get.
A cut to the official interest rate is increasingly likely after a worse than expected unemployment rate was announced and the US Federal Reserve cut its own rate.
National Seniors issued a media release this week saying another interest rate cut would further widen the gulf between low interest rates and high deeming rates.
Chief Advocate Ian Henschke said the higher deeming rate of 3% is hurting pensioners because it is almost double the typical return on term deposits which are now around 1.5%.

"If interest rates are lowered next week, it will be the seventh drop since 2015.
"If each one of those cuts were passed on, the higher deeming rate would be 1.75% and not 3%." he said.

A cut in the deeming rate would also act as an economic stimulus by putting extra money in the pockets of around one million pensioners.
When deeming rates were introduced, they were coupled to the Reserve Bank cash rate.
As the following chart shows, they were decoupled in 2010 to fund a pension increase in a classic budget funding tactic - giving with one hand and taking with the other.
It appears the Rudd government increased the pension and helped fund the increase by leaving the deeming rates high.

As interest rates and savings returns fell, the gulf between what the government deemed pensioners to have earned compared to what they actually earned widened, giving successive governments from both sides a growing windfall.

"Deeming was never meant to be a way of making money out of pensioners," Mr Henschke said.
"It never was under the Hawke, Keating or Howard eras when the deeming rate was always coupled to the RBA cash rate."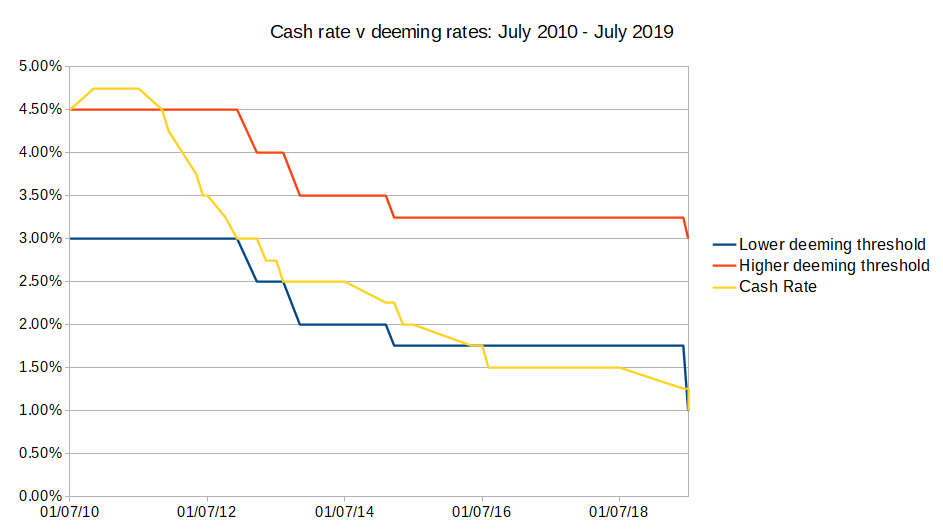 Source: 'Solepurposetest.com'