Both sides how – Joni Mitchell returns but where's Dylan?
---
She was the folkie hippie troubadour with a voice that levitated music notes off the score and transported a generation to hope and believe.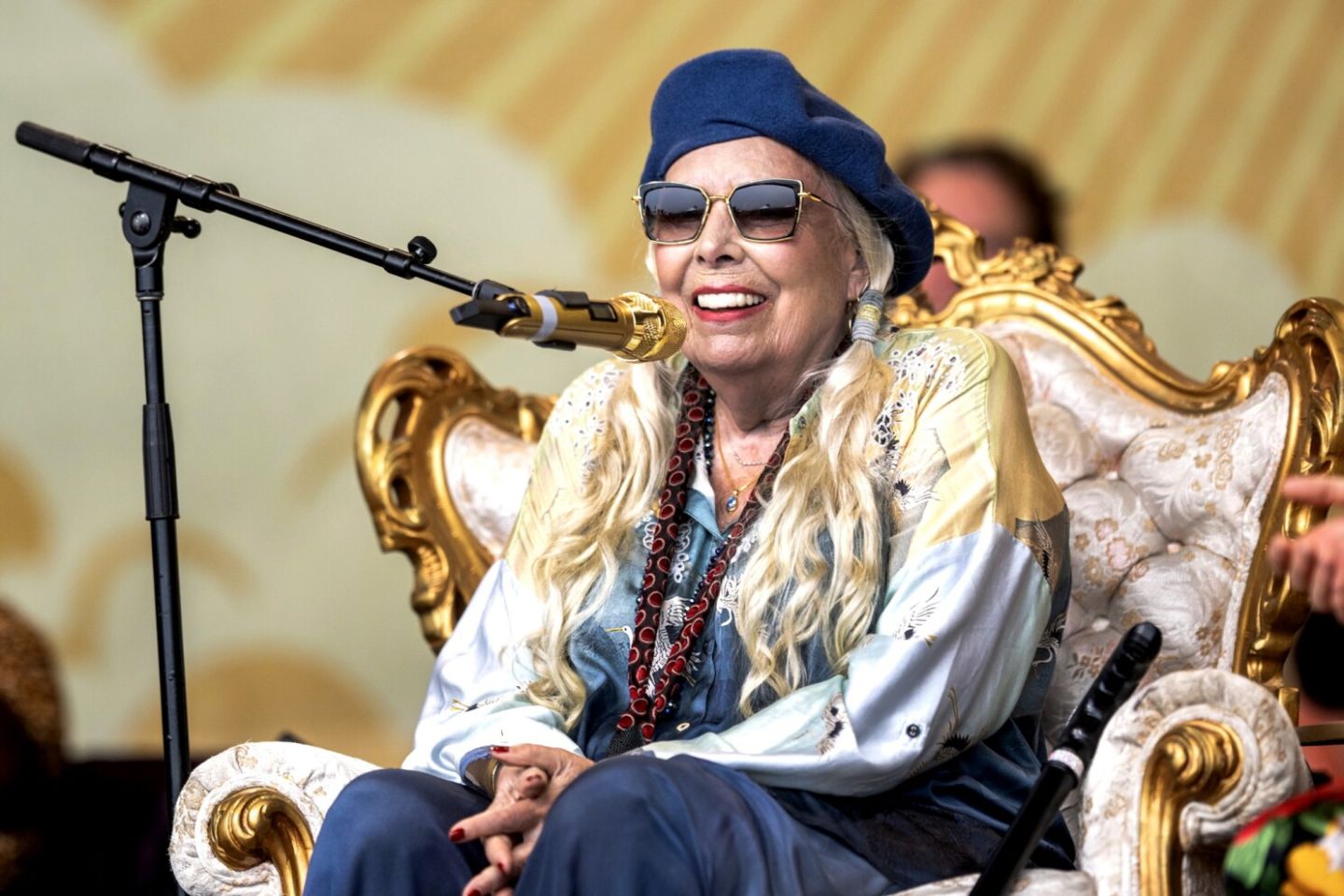 Did you know Joni Mitchell has turned 78?! Just saying – like the rest of us, the years have snuck up on those we thought were ageless.

Like so many musicians from the golden 60s and 70s, Joni has made a comeback.
Wheelchair-bound since 2015 and retired from touring, Joni appeared at the recent Newport Folk Festival.
Critics were ecstatic saying her performance brought fans, critics and other musicians to tears.
It also led to questions about her relationship with the owner of that other voice that expressed the hopes, dreams, impatience and anger of his generation - Bob Dylan.
He's continuing to perform and make news, having banned mobile phones from a recent concert and having an abuse case against him, dating from 57 years ago, dropped.

Dylan and Mitchell first met on the Johnny Cash Show in 1969. "Over the years, there were a series of brief encounters," Mitchell told the then Rolling Stone journalist Cameron Crowe in 1979. "Tests. Little art games. I always had an affection for him," she said.
Media reports say that when they'd meet, they usually talked about painting. After a 1975 party thrown by Paul McCartney on the Queen Mary, they shared a table and imagined painting the room. "Afterwards, she wrote Paprika Plains, and he wrote One More Cup of Coffee," according to The Times.
They were never a couple, so far as anyone knows, but often performed together on stage. While bringing delight to fans, their stage relationship was fraught and more about it has become public.
In 2010, Mitchell told the Los Angeles Times: "Bob is not authentic at all. He's a plagiarist, and his name and voice are fake. Everything about Bob is a deception. We are like night and day, he and I."
It got worse for Bob!
In Brian Hinton's biography, Both Sides Now, Mitchell reflected on a tour and revealed that "on the third night, they stuck Bob at the mic with me, and he never brushes his teeth, so his breath was like right in my face."
A complaint supported by Dylan's former tour manager, Victor Maymudes, who said: "He doesn't take his clothes off when he goes to sleep, and the guy doesn't clean his teeth. Horrible breath."
In 2013, Joni told CBS: "Musically, Dylan's not very gifted; he's borrowed his voice from old hillbillies. He's got a lot of borrowed things. He's not a great guitar player. He's invented a character to deliver his songs - it's a mask of sorts".
Maybe in their later years, the two have found, as wise older folk do, that there's no point holding onto old grudges.
These days, on Twitter, Mitchell is more affectionate towards Dylan, with clips from gigs even showing them jamming, playing Mitchell's song Coyote.
As for Bob Dylan, he has never responded to Mitchell's comments and allegations.
In fact, while Mitchell was making those comments, he played the album version of Coyote on his satellite radio show Theme Time Radio Hour in 2009.
He introduced it as a song by a "strong-willed woman, and I mean that in the best possible way".
As the Times reporter said, "Perhaps he'll return to Newport himself next year, and maybe they'll play together again."
We can only hope.
Image: jonimitchell.com