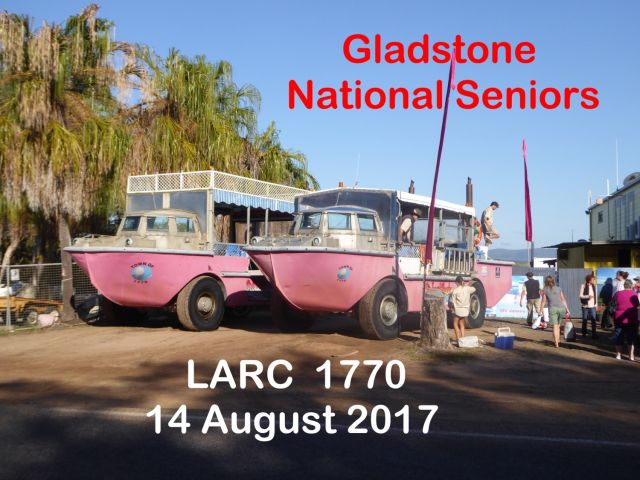 Gladstone
---
Yaralla Sports Club, O'Connell Street, Barney Point

Third Tuesday of the month (except December) at 9am for 9.45am start.
As the only Branch in the Gladstone area, we attract members from neighbouring areas including Calliope, Boyne Island, Tannum Sands and Miriam Vale, while some members travel from even further afield to participate in our gatherings. We extend a warm welcome to visitors, and experience has shown that these visitors soon become new and lifelong members.
We endeavour to be a social gathering where people 50+ can meet, enjoy themselves and make new friends. After the meeting formalities, we break for morning tea to enjoy the fellowship of others before we welcome a guest speaker. There are usually several raffles and a chance to sign-up for our various activities which include national and international holidays, excursions to local and district points of interest, and theatre visits. Join us at our next meeting and experience for yourself the unique experience of mixing with mature, well-travelled and family oriented people who make up our membership. Indeed, several of our members are also very active in Gladstone community life and can point you in those directions. Fee for the morning is a very reasonable $2.00 to cover the cost of morning tea.
For more information contact Terry (President) on 0418 185 380, or Larney (Secretary) on 0400 610 277. Also, you can email us at nsagladstonebranch@gmail.com .
Stanthorpe Apple and Grape Festival
Apple & Grape Harvest Festival Coach Trip
6-9th March 2020

With the effects that the drought was having on Stanthorpe, who would have thought that our trip would be so successful. Everywhere was green & lush and we even started our travels with showery rain. Over forty Gladstone National Senior (GNS) participants met at the Big W Bus stop from 5am on Friday 6th March. With it still raining, we headed for Gin Gin for breakfast and then to the Nanango RSL for lunch. Next stop was Black Forest Hill Cuckoo Clock Centre at Cabarlah, which displayed many German grandfather and cuckoo clocks of all shapes and sizes. After this, we had a long drive and arrived at the Coachman Inn Warwick, where we were accommodated for the next three nights.

We were lucky enough to have clearer weather for our second day and after a hearty breakfast at the Ruperts Bar & Grill at our motel we departed Warwick and headed for the Queen Mary Falls. To reach these falls, we had a little exercise but were rewarded with a spectacular 40 metre waterfall, part of the Main Range National Park.

We then travelled overland to the outskirts of Stanthorpe where we visited Kents Saddlery, the family business of Lyle and Helen Kent. This was one of the highlights of our tour as the Kents were generous hosts telling us about their factory where they craft custom made saddles and leather, vinyl and canvas products. They gave us an insight into their high-quality business, which they established in 1988 to cater for the Australian country people. Their motto is 'going the extra mile' and they spend five months of the year hawking to all the country areas. They travel from Stanthorpe north through Central Queensland, across to the west and through to the Northern Territory, the Kimberly's and around the west coast as far as the Pilbara. Lyle and Helen are retiring from these mammoth expeditions and were about to head out on the last one a couple of days after we were there.

We then travelled into the main area of Stanthopre where the Apple and Grape Festival was in progress. The Stanthorpe CBD had come to life with arcades down several roads and Weeroona Park was crammed with entertainment, music, food and general market stalls. There was much to see (& eat). Everyone was ready at 2pm for the grand parade, which was explained by the TV and radio stations on site, as it filed down High and Maryland Street. This would have to be one of the longest grand parades in a country area and many bands, schools, sport, old cars and equipment, as well as community services and some retail businesses were displayed. The festival and parade celebrate the Granite Belt region's produce and the booming wine industry. The festival is one of the leading carnivals and has been successful for over five decades. In the past it has had as many as 70,000 people attend and has won several Festival awards. Our evening meal that night was at the Stanthorpe RSL. We were to watch the fireworks but, after such a long day, everyone voted to just go back to our accommodation at the Coachman's Inn in Warwick.

Our third day was quite pleasant, and we headed for Stanthorpe to visit the Sutton Juice Factory & Cidery. This factory is famous for its scrumptious apple pies and we were all treated to a huge piece of apple pie, partnered with cream and an ice-cream (which the company has specially made) to intermingle with the pie!

Our next feature was to visit Law Dogs Australia & Truffles Discovery Centre. This was a real treat and we were able to get 'close up and personal' to watch the dogs demonstrate their law enforcement training. These kennels are the first Australian privately owned specialist dog training kennels and, as advertised, is 'a dog show with a bite'. The police have their own training programs and as this is a private firm, they prepare the dogs for security corporations etc. These dogs are trained to bark on command, develop their skill bites, train for future arrest scenarios, controlling suspects and work around agility equipment.

You might wonder what truffles have to do with trained dogs! First – a truffle is a fruiting body fungus, one of the many species of tuber (like a mushroom) and they are usually found in close association with tree roots. The type of truffle we are talking about here, is a highly prized food and orchards of certain trees are sown to bear this premium cuisine. Now this is where the dogs come in – some of the dogs at these kennels are trained to find different objects by their smell, such as drugs, fruit etc. To produce these exotic truffles, some dogs are trained to find them under the ground on the tree roots and they are harvested from there. The Centre has some of these trees growing on the property and they have a tasting and sell a gourmet product range in their shop. Our group came hard and fast with the questions at this collaboration.

Next, we had a lovely lunch at Jam Works and, of course, there was the sale of many of their connoisseur foods. A trip to Girraween National Park showed us where the granite mountains meet classic Australian bushland. The more adventuresome members took the 1.6 km circuit and were treated to a stone archway created by massive balancing boulders. Some members choose an easy stroll beside Bald Rock Creek where they found a few of the local wrens and a snake necked turtle.

Our last visit for the day was to Bellandean Estate Wines for a wine tasting. There were a large range of wine products on offer, which were sure to suit many palates. We then returned to our motel in Warwick for our evening meal and to pack ready for an early departure in the morning.

We felt that we had been well looked after at the Coachman's Inn, Warwick, for our stay and, after breakfast, headed for home. It was again raining as we started this trip and, after an hour of driving, we reached Toowoomba. Here we visited the Cobb & Co Museum, an institution of the Australian transport era. This is somewhere that no matter how many times one visits, there is always something new to discover.

Refreshed by yet another cup of coffee, we travelled on to Kingaroy to their RSL Club for lunch. Our last stop was at Gin Gin for an early dinner before arriving back at the Big W bus stop at Kin Kora. This was a very constructive trip that was full of adventure and amusement and, with good company, it was declared very successful. Many thanks must go to Pauline (Activities Officer for GNS), Raymond (Departure Point Travel) and John (our Bus Driver) for all the work and effect they put in, and we were rewarded with four marvelous days.
Memory Lane - Activities previously enjoyed by Gladstone National Seniors Group
Stanthorpe Apple and Grape Festival - 6-9 March 2020

2019 Christmas Dinner at Yaralla Sports Club - 29 November 2019

Muriel's Wedding at the Lyric Theatre Brisbane - 8-10 October 2019

Spring Morning Tea at the Gladstone Botanic Gardens - 10 September 2019

Fern's Hideaway for Christmas in July Trip - 19 July 2019

Capricorn Caves Trip - 30 April 2019

Emu Park, Yeppoon and Rockhampton Trip - 5 March 2019
Planning for 2021 Activities
We've ALL had a difficult year but the future looks brighter.
Restrictions are easing - a little late for our famous Christmas Dinner, but we are planning to have a function in the New Year to make up for it.

Some of the Activities in the planning for next year include:
Gympie, 3 days 2 nights includes The Mary Rattler.

Biloela Silo - Heritage Park, Greycliffe Homestead, Rockhampton Mt Archer Skywalk, maybe Dreamtime, Kilburnie Homestead near Jambin.

Lyric Theatre Brisbane - watch this space

Imperial Station, Mary Briggs, Fingerboard Road, then to Agnes Water and 1770.

The New Gladstone Maritime Museum should be open by Easter 2021, followed maybe by a BBQ at East Shores.

Other ideas welcome - Pauline will cherish all submissions.