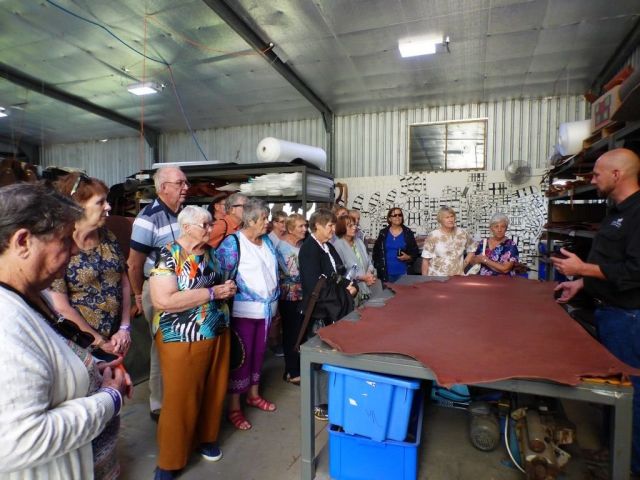 Gladstone
---
Yaralla Sports Club, O'Connell Street, Barney Point

Third Tuesday of the month (except December) at 9am for 9.45am start.
As the only Branch in the Gladstone area, we attract members from neighbouring areas including Calliope, Boyne Island, Tannum Sands and Miriam Vale, while some members travel from even further afield to participate in our gatherings. We extend a warm welcome to visitors, and experience has shown that these visitors soon become new and lifelong members.
We endeavour to be a social gathering where people 50+ can meet, enjoy themselves and make new friends. After the meeting formalities, we break for morning tea to enjoy the fellowship of others before we welcome a guest speaker. There are usually several raffles and a chance to sign-up for our various activities which include national and international holidays, excursions to local and district points of interest, and theatre visits. Join us at our next meeting and experience for yourself the unique experience of mixing with mature, well-travelled and family oriented people who make up our membership. Indeed, several of our members are also very active in Gladstone community life and can point you in those directions. Fee for the morning is a very reasonable $2.00 to cover the cost of morning tea.
For more information contact Terry (President) on 0418 185 380, or Larney (Secretary) on 0400 610 277. Also, you can email us at nsagladstonebranch@gmail.com .
Emu Park, Yeppoon and Rockhampton Trip
Sixty plus happy National Seniors boarded a coach and a mini bus at 7am on the morning of Tuesday 5th March at the Mall and headed North to Emu Park. Had a rest stop at Rockhampton Information centre before continuing on to a welcoming Morning Tea of warm scones, pikelets, jam and cream, all washed down with a cuppa at the Pine Beach hotel.
The threatening showers stayed away long enough for all to walk with excellently thought out layout and information presentation at the War memorial Walk. I learnt much eg the first time Australian soldiers fought overseas was in late 1800's, early 1900's in the New Zealand Maori conflict. Even the Testy wind did not deter the walkers.
Then off to Yeppoon for another walk around the newly opened shore line pool and water park complex which surprisingly had 3 lifeguards on duty and 2 people enjoying a dip. Think the unpleasant weather conditions may have been a deterrent. It is an attractive facility for families.
Lunched at Sailing Club where one had to locate one's seating card which served 2 purposes. It allowed members to meet and sit with those whom they may not have previously meet or conversed with and also assisted waiters to serve the pre ordered meals as tables were as per sitting eg steak, fish etc.all the while looking out at the wind churned ocean and the islands in Keppel Bay.
Tripped up to the now defunct Iwasaki Resort before heading into Rockhampton Zoo. Many made the most of being able to refresh with an ice cream before walking down to listen to an informative talk re the Zoo's Chimpanzee family and of course the chance to see and watch CAPRI, the cute wee baby, and note how attached are she and mum. Mind you we could have done without the battalions of mossies that attacked relentlessly.
Again another great National Seniors trip enjoyed by all. Thank you to our wonderful Activities Officer, Pauline
Judy A – Publicity Officer
Capricorn Caves Trip
GLADSTONE GADABOUTS
37 Gladstonites and 3 Mt Larcomites boarded a Rod North coach on Tuesday, 30th April at 7am and headed north to a much appreciated comfort stop at Rockhampton Botanical Gardens. All enjoyed a very welcomed cuppa and scones. It was great having the time to leisurely walk around the zoo to view all the animals and birds. Have to say the older Chimps didn't want to get out from under their blankets, despite Capri's efforts to wake/annoy them.
All aboard again at 10.30am and away to The Caves. Due to the cloud cover and occasional shower the day's outside ambience was very, very pleasant. Our driver John surprised us with a short trip around The Range area looking at all the beautifully appointed Queenslanders. ( homes ).
Enthusiastic, cheerful, gentle tour guide, Emilie, guided us for 60-70 minutes into and around, informing us about the cave area and environment. Some did share their singing voices in The Cathedral cave where the chatter of the resident Bats could be heard from an adjoining cave.
After the walk, all sat around long tables and enjoyed each other's company and chat over lunch before heading homewards. Checked out the Vietnam war memorial in Kershaw Gardens. Proved to be "find the needle in the haystack" hunt to locate the simple memorial and meeting area. Our legs got exercised and a light shower blessed us.
Again thank you Pauline and each of you who shared the day. Judy.
Fern's Hideaway (Christmas in July) Trip
GLADSTONE GADABOUTS
From Publicity Officer: Judy

On a 9 degrees morning in my kitchen on Friday 19th July, 62 rugged up young ones boarded a 7:30am bus or a small carrier driven by Trevor Heard and headed for Fern's Hideaway north of Yeppoon. Stopped off at Rockhampton Botanical Gardens for our obligatory scones, jam & cream washed down with a favorite warm beverage, then off to FERN'S.
Friendly welcoming faces greeted us.
All chose their preferred seat at the tables then many went walk–about viewing the peaceful surrounds. When getting to the creek I was disappointed with myself for forgetting to ask at reception for a paddle to enable Lurleen and I to canoe on the creek. Had to be satisfied with a 4 in group photo instead.
Lunch of turkey, ham and 5 veg followed by apple crumble & ice cream or plum pudding & custard was yummy, washed down with as many cuppas or wines as one wished. (Wines had to be paid for)
All the time we were entertained by John the singer guitarist and his Bongo drummer John. Many joined in singing, and or dancing. Well done to those ladies and one gentleman who dressed Christmassy and paraded for our Christmas in July outing. Congrats Norma Smith, Judy Finlay and our Christmas Elf, Leah Hall, who were judged Best Dressed. Oh! And not to forget the one & only Trevor Heard who flew the male flag. We were farewelled by John & his wife who seemed sad to see us go.
Both were overwhelmed by how "Happy a crowd" we were and shared how much they enjoyed having us visit.
Travelled home via Farnborough along the beach front and through Yeppoon who were preparing for their triathlon being held on the Saturday.

Thank You Pauline Bambling for another great Nat.Snrs' days' outing.

Judy A.
SPRING MORNING TEA - Gladstone Botanic Gardens
Tuesday 10th September is the date set for our annual SPRING MORNING TEA at the Botanic Gardens kiosk starting at 9:10am
Cost $15.00 -
This is an ideal opportunity for showing off your Pretty Spring Outfits.
MURIEL's WEDDING - Lyric Theatre Brisbane
Unexpectedly but happily I found myself at Gladstone Railway Station last Tuesday morning, meeting up with 18 smiling faces all preparing to board the Tilt train to Brisbane.
Surprisingly the train was only 10 mins late. All aboard and it didn't take long for the group to establish a jovial rapport with the conductor and a few cheeky comments to flow.
Due to sickness, staffing was down by 2 which necessitated those keen for their morning coffee hit to have to walk to buffet car to purchase same and rock & roll back to one's seat.
Disembarked at Roma Street station and well and truly stretched the legs walking to our Ibis Hotel accommodation near Queen's Park. Proximity to Queen Street Mall, Irish Pub, Casino and across Victoria Bridge to Southbank found many out and about on foot.
The reason for trip, to see the musical "Muriel's Wedding". An extremely well scripted, choreographed, amazing prop designs and changes with synchronized singing etc. A great musical.
All enjoyed the trip home and many of us learnt that Australia has had 3 Australian astronauts, and one can make the Native bird, the Eastern Spinebill fly by moving a $5 note around. (bird is in middle of opaque strip).
Everyone was in agreement that they enjoyed their train journey. Again, a great, relaxing National Seniors trip.
THANK-YOU Pauline Bambling and wonderful fellow travelers. Judy A ….
2019 CHRISTMAS DINNER - at Yaralla Sports Club
Once again we held our Christmas Dinner at the Yaralla Sports Club on Friday 29 November 2019.
Good Company, Good Food, Great Music, Raffles Galore, Trivia questions to try us, Fine Entertainment and Plenty of Good Old Christmas Cheer.
What more could we ask for?
Stanthorpe Apple and Grape Festival
Apple & Grape Harvest Festival Coach Trip
6-9th March 2020

With the effects that the drought was having on Stanthorpe, who would have thought that our trip would be so successful. Everywhere was green & lush and we even started our travels with showery rain. Over forty Gladstone National Senior (GNS) participants met at the Big W Bus stop from 5am on Friday 6th March. With it still raining, we headed for Gin Gin for breakfast and then to the Nanango RSL for lunch. Next stop was Black Forest Hill Cuckoo Clock Centre at Cabarlah, which displayed many German grandfather and cuckoo clocks of all shapes and sizes. After this, we had a long drive and arrived at the Coachman Inn Warwick, where we were accommodated for the next three nights.

We were lucky enough to have clearer weather for our second day and after a hearty breakfast at the Ruperts Bar & Grill at our motel we departed Warwick and headed for the Queen Mary Falls. To reach these falls, we had a little exercise but were rewarded with a spectacular 40 metre waterfall, part of the Main Range National Park.

We then travelled overland to the outskirts of Stanthorpe where we visited Kents Saddlery, the family business of Lyle and Helen Kent. This was one of the highlights of our tour as the Kents were generous hosts telling us about their factory where they craft custom made saddles and leather, vinyl and canvas products. They gave us an insight into their high-quality business, which they established in 1988 to cater for the Australian country people. Their motto is 'going the extra mile' and they spend five months of the year hawking to all the country areas. They travel from Stanthorpe north through Central Queensland, across to the west and through to the Northern Territory, the Kimberly's and around the west coast as far as the Pilbara. Lyle and Helen are retiring from these mammoth expeditions and were about to head out on the last one a couple of days after we were there.

We then travelled into the main area of Stanthopre where the Apple and Grape Festival was in progress. The Stanthorpe CBD had come to life with arcades down several roads and Weeroona Park was crammed with entertainment, music, food and general market stalls. There was much to see (& eat). Everyone was ready at 2pm for the grand parade, which was explained by the TV and radio stations on site, as it filed down High and Maryland Street. This would have to be one of the longest grand parades in a country area and many bands, schools, sport, old cars and equipment, as well as community services and some retail businesses were displayed. The festival and parade celebrate the Granite Belt region's produce and the booming wine industry. The festival is one of the leading carnivals and has been successful for over five decades. In the past it has had as many as 70,000 people attend and has won several Festival awards. Our evening meal that night was at the Stanthorpe RSL. We were to watch the fireworks but, after such a long day, everyone voted to just go back to our accommodation at the Coachman's Inn in Warwick.

Our third day was quite pleasant, and we headed for Stanthorpe to visit the Sutton Juice Factory & Cidery. This factory is famous for its scrumptious apple pies and we were all treated to a huge piece of apple pie, partnered with cream and an ice-cream (which the company has specially made) to intermingle with the pie!

Our next feature was to visit Law Dogs Australia & Truffles Discovery Centre. This was a real treat and we were able to get 'close up and personal' to watch the dogs demonstrate their law enforcement training. These kennels are the first Australian privately owned specialist dog training kennels and, as advertised, is 'a dog show with a bite'. The police have their own training programs and as this is a private firm, they prepare the dogs for security corporations etc. These dogs are trained to bark on command, develop their skill bites, train for future arrest scenarios, controlling suspects and work around agility equipment.

You might wonder what truffles have to do with trained dogs! First – a truffle is a fruiting body fungus, one of the many species of tuber (like a mushroom) and they are usually found in close association with tree roots. The type of truffle we are talking about here, is a highly prized food and orchards of certain trees are sown to bear this premium cuisine. Now this is where the dogs come in – some of the dogs at these kennels are trained to find different objects by their smell, such as drugs, fruit etc. To produce these exotic truffles, some dogs are trained to find them under the ground on the tree roots and they are harvested from there. The Centre has some of these trees growing on the property and they have a tasting and sell a gourmet product range in their shop. Our group came hard and fast with the questions at this collaboration.

Next, we had a lovely lunch at Jam Works and, of course, there was the sale of many of their connoisseur foods. A trip to Girraween National Park showed us where the granite mountains meet classic Australian bushland. The more adventuresome members took the 1.6 km circuit and were treated to a stone archway created by massive balancing boulders. Some members choose an easy stroll beside Bald Rock Creek where they found a few of the local wrens and a snake necked turtle.

Our last visit for the day was to Bellandean Estate Wines for a wine tasting. There were a large range of wine products on offer, which were sure to suit many palates. We then returned to our motel in Warwick for our evening meal and to pack ready for an early departure in the morning.

We felt that we had been well looked after at the Coachman's Inn, Warwick, for our stay and, after breakfast, headed for home. It was again raining as we started this trip and, after an hour of driving, we reached Toowoomba. Here we visited the Cobb & Co Museum, an institution of the Australian transport era. This is somewhere that no matter how many times one visits, there is always something new to discover.

Refreshed by yet another cup of coffee, we travelled on to Kingaroy to their RSL Club for lunch. Our last stop was at Gin Gin for an early dinner before arriving back at the Big W bus stop at Kin Kora. This was a very constructive trip that was full of adventure and amusement and, with good company, it was declared very successful. Many thanks must go to Pauline (Activities Officer for GNS), Raymond (Departure Point Travel) and John (our Bus Driver) for all the work and effect they put in, and we were rewarded with four marvelous days.