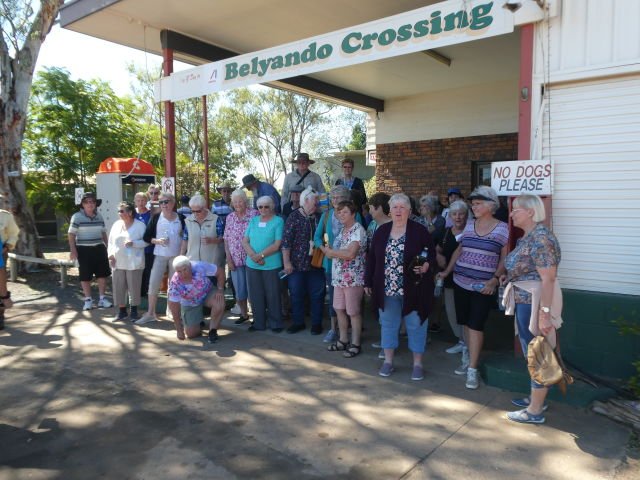 Gladstone
---
Yaralla Sports Club, O'Connell Street, Barney Point QLD Australia 4680

Third Tuesday of the month at 9am for 9:45am start (except December)
Memory Lane - Activities previously enjoyed by Gladstone National Seniors Group
2021

Gympie, 3 days 2 nights includes The Mary Rattler. - DONE - 2021



Mt Morgan/Biloela day trip including Bilo Silo - Heritage Park, Greycliffe Homestead, Mount Morgan railway, town tour and mine viewing - DONE - 2021



MARITIME MUSEUM and MORNING TEA - Tuesday 25 May 2021 - 9am.

Included morning tea at Auckland House at East shores.



PORT OF GLADSTONE HARBOUR TOUR (Coffee Cruise) - Done 2021



THE TRIP – Annual Tour to North-Central QLD trip

31 August 21 to 9 September 21 - DONE 2021



GLADSTONE BRANCH 25th BIRTHDAY LUNCH

April 21 was our 25th birthday and we had a very special lunch at Yaralla.



2020

Apple and Grape Festival - 6-9 March 2020



2019

Christmas Dinner at Yaralla Sports Club - 29 November 2019



Muriel's Wedding at the Lyric Theatre Brisbane - 8-10 October 2019



Spring Morning Tea at the Gladstone Botanic Gardens - 10 September 2019



Fern's Hideaway for Christmas in July Trip - 19 July 2019



Capricorn Caves Trip - 30 April 2019



Emu Park, Yeppoon and Rockhampton Trip - 5 March 2019
Planning for 2022 Activities
We've been having a difficult time so far this year, but things are looking up.



Activities in the planning so far - for 2022 include:



Lyric Theatre Brisbane -

Raymond can keep the "9 to 5 " (Dolly Parton show) at the Lyric theatre open until we get an idea of how many would like to go. The dates are 24, 25, 26 May. We would probably go by train unless we have over 35 members wanting to go.



Ferns Hideaway has been sold after 40 years of Marto and Genevieve welcoming and entertaining their guests - it might be a good idea to do another trip later in the year to meet the new owners.



I have had a suggestion for a day trip from one of our members which I will look at to see if they do anything for group tours.



It is our birthday in April and hopefully we will be meeting again by then. I have spoken to Liz at Yaralla and we can have a buffet lunch again this year.



Pauline will cherish all submissions.
Gladstone Branch 2022 Activity Calendar
There isn't a lot to report as until we have a meeting, I really can't organize anything.

I need to know how many members are willing to do day trips.

Raymond can keep the "9 to 5 " (Dolly Parton show) at the Lyric theatre open until we get an idea of how many would like to go. The dates are 24, 25, 26 May. We would probably go by train unless we have over 35 members wanting to go.



An interesting announcement - Ferns Hideaway has been sold after 40 years of Marto and Genevieve welcoming and entertaining their guests. It will be very different from now on. I am sure everyone wishes the new owners the very best. We may need to do another trip later in the year to meet the new owners.



I have had a suggestion for a day trip from one of our members which I will look at to see if they do anything for group tours.



It is our birthday in April and hopefully we will be meeting again by then. I have spoken to Liz at Yaralla and we can have a buffet lunch again this year.



Pauline