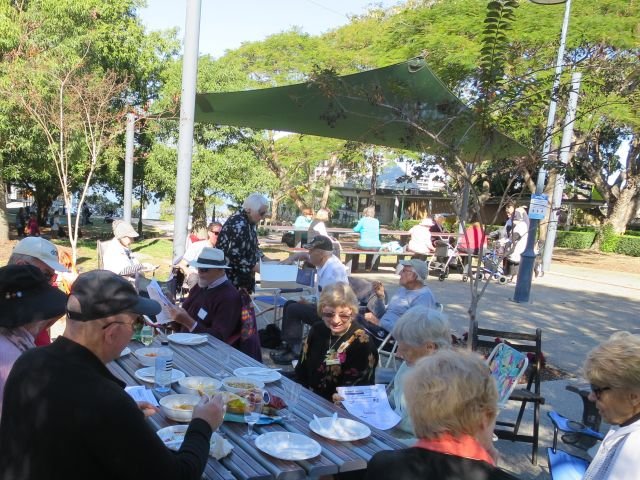 New Farm
---
Brunswick Hotel - 569 Brunswick St

First Wednesday of the month at 9am
The New Farm Branch has a very active group of members who meet once a month in the Brunswick Hotel and enjoy many other activities besides such as this BBQ in New Farm Park. We have a busy committe who work hard to cater for different tastes and to provide a varied programme each month. We have fun and try to look out for one another.
General Meeting
9-10am. Registration of attendance, payment of fees & expenses, morning

tea and a chat.

10-10.30am. Business.

10.30 - 11.30. Guest Speaker, Member Memories or Entertainse.
Lola Days. Different Days for Different
Different Days for Different People. Discovering Brisbane on public transport.
Brunswick Street Book Club
A lively group of interested readers discussing the book chosen for the month. Or, sometimes instead, we each bring along a book that we have enjoyed and share it with the group. Intelligent, informed opinions, good humour and excellent coffee.
Dinner
We support local restaurants and choose a different one each month. Check the Newsletter for details.
Committee Meetings.
Vicki Howards Office, on the corner of Merthyr Road and Lamington Street.

Elected members meet to manage business and plan acivities and special events for the next month.